How to Be a Professional Wildlife Photographer
I never have to wait long before I get an email or message on social media asking for advice on how to make it as a professional wildlife photographer. It's an incredibly popular pastime, and it's no surprise therefore that everyone is keen to make money and build a career behind the camera.
Lots of people really want to work for companies like National Geographic. The thing is, there are very few who actually join the legendary organisation on full salaries – and those positions are pretty much already full. That's not to say it'll never happen, but emailing Nat Geo for a job is not going to work. Instead, start your career as a wildlife photographer by working for yourself. Most photographers and film-makers in the world work freelance, rather than as employees of a company.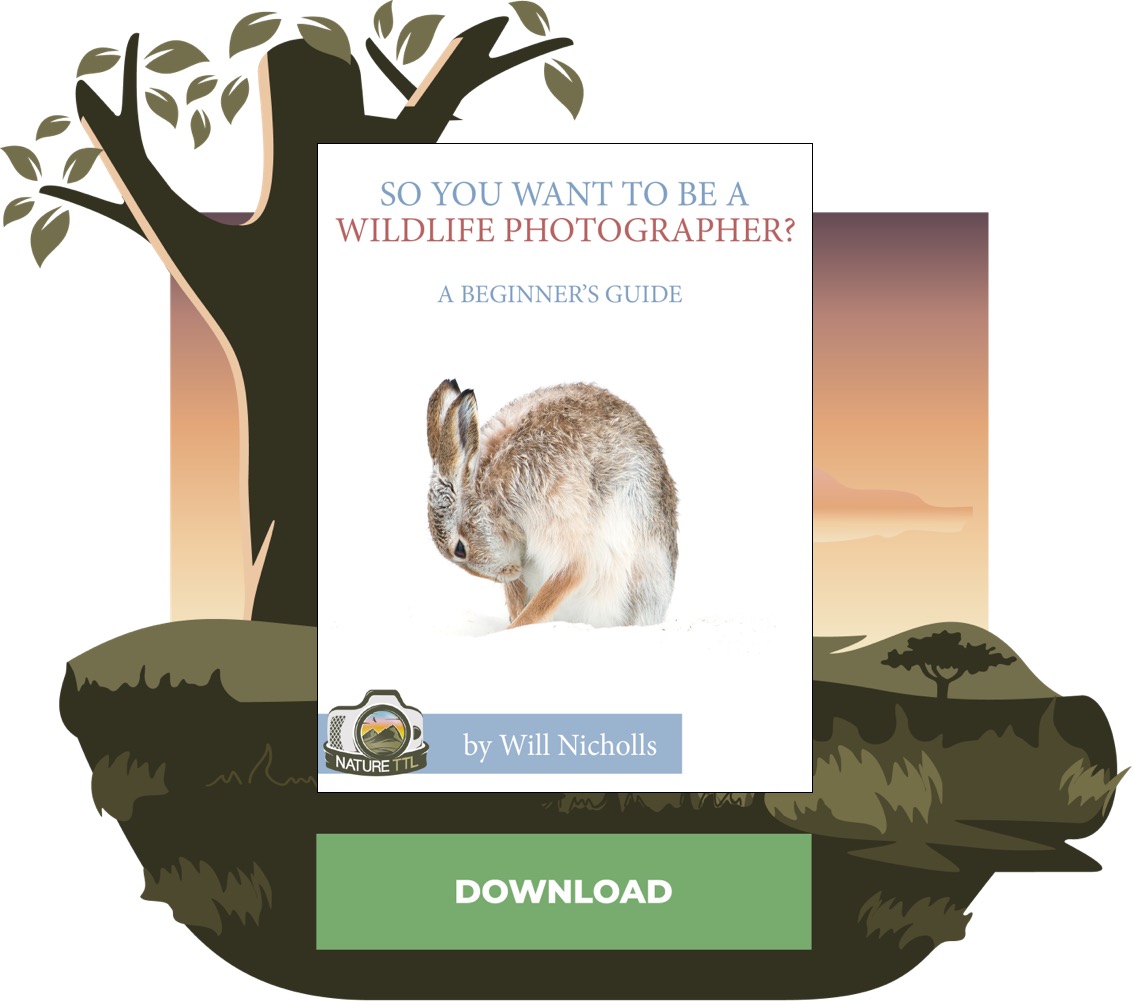 What is a Professional Anyway?
Some people argue that being a 'professional' in any field means that it makes up the majority of your income. Others argue that simply making some money from your venture makes you a professional to some extent.
In my opinion, there's no real 'requirement' to class yourself as a professional in any field. In fact, even offering your services for payment surely puts you into this category?
One thing worth noting is that you have to shoot good pictures to be a professional. Think about this really carefully. If your photos aren't quite up to scratch yet, then you probably need some more practice before you should start this journey. All of us are constantly learning, even the best photographers in the industry, but you need to be sure you are at a level of expertise and quality to command payment for your work.
How much do wildlife photographers make per year?
If you're looking at this as a career prospect, you're probably wondering how much you can earn as a wildlife photographer. Well, that is a very tough question to answer because of the nature of this industry.
Working full-time as a wildlife photographer, and assuming your images are up to scratch, you could exploit all of the below methods and sit somewhere in a ballpark of £20,000 – £50,000 per year revenue income. Remember, there are expenses that will come off of this and, depending how you structure your business and approach things, this is something to be aware of.
I know that there are some wildlife photographers make six-figure incomes, but this is very rare and usually comes with "celebrity status" within the wildlife photography industry.
The beauty of being self-employed is, however, that you have the ability to grow your business as you see fit. By exploiting all of the methodology below, you could quite easily find yourself with a handful of healthy income streams!
How to become a professional wildlife photographer and make money from your photos
There are a number of ways that wildlife photographers around the world are monetising their images. The industry is constantly changing and those that stay on top and earning a steady income from their cameras tend to be quick at reacting to changes to demand and desires of customers.
There was a time when you could make a five-figure salary just from selling your images on stock websites, however those days have passed with rise of micro stock agencies. Since then, photographers have started to exploit a number of different revenue streams to keep the money coming in.
1. Sell photos at craft fairs
Craft fairs and markets are a great way to start making sales. You'll need to invest money in product stock so that you actually have something to sell – this tends to be what puts a lot of people off. It's always a risk when you first start to make money, but if you believe that your photos have what it takes then don't hold back.
The holiday seasons are great for making sales, with Christmas markets all over the world attracting customers who are ready to spend and buy gifts for loved ones. Find a popular market near you, and make an enquiry into booking a table there.
2. Run wildlife photography workshops
You've no doubt seen the rise in people offering photography workshops nowadays. If you are serious about becoming a professional wildlife photographer, and you truly believe that you have the knowledge and confidence to run workshops, then this is an avenue you can look at.
With more people taking up wildlife photography as a hobby, there are more people looking for tuition and photographic opportunities. This is the reason that so many workshops and tours are popping up all over the place. However, they require hard work from the photographer running them and if you don't offer a really good quality experience to your clients, you'll quickly find bookings run dry and your name tarnished.
3. Give talks and presentations
Camera clubs, nature groups, and other societies are always looking for speakers to entertain their members on an evening. If you don't get nervous when talking to groups of people, this can be a really fun way to make money.
Put together a presentation on PowerPoint or KeyNote with your photos. Make sure it has a good story and flows well. Keep it entertaining and fun, of a length ranging between 30 minutes and an hour, and you're onto a winner.
Contact clubs and let them know how they can book your services and get started!
4. Sell to newspapers
Envious of the wildlife photos that get printed in glossy magazines and newspapers? This is one great way to make money from your photos and start your journey to becoming a professional wildlife photographer.
However, don't expect to be making weekly sales to publications. They don't just publish anything they get sent – there needs to be a good story and sequence to your wildlife photos if you're going to get them in print.
If you managed to sell a double-page spread exclusively to a broadsheet newspaper, they'd be paying out around £2,000 – £3,000 for the pleasure of printing your images.
Want more advice?
So, I've outlined some of the best ways to make money from your wildlife photos and become a professional wildlife photographer. Obviously, there is a lot more to it if you want to be a real success.
I've actually written an eBook, Breaking Into Business, which is packed full of information about making money from photography. In it I've shared all of the secrets and things I've learnt over 10 years of selling my photos. It's currently the fastest selling eBook we offer on the website, and we've had some fantastic feedback. Here's just one example:
"Your "Breaking into Business" book is probably the most comprehensive and up to date guide on the market that I have read. I can appreciate the hours of work that have gone into compiling it. It is direct and specific in its content and a breath of fresh air after some of the more general guides I have seen. An excellent reasonably priced guide to selling images." – Richard S. T.
Take a look at what's inside:
Interested? Then head to this page to download your copy and start your journey to becoming a professional wildlife photographer today!