How to Plan a Photography Trip to Torres Del Paine, Patagonia
Torres Del Paine is among the most famous of the Patagonian National Parks. It lies in Southern Chile, in the region of Magallanes and Chilean Antarctica, close to the borders of Argentina.
Located between rich sub-polar forests and the expansive Patagonian steppe, this area of remote wilderness has become one of the world's top wildlife destinations.

Comprising of mountains, valleys, rivers, lakes, and glaciers, there is no shortage of subject matter. On first arriving in the park, I was mesmerised by the rugged beauty of the landscape.
At 2,100 meters high, the imposing, jagged granite peaks known as the horns of Paine jut out of the otherworldly landscape. They form part of the Paine mountain range that runs like a backbone through the park.
Combine this epic scenery with an abundance of wildlife and ever changing weather and light, and it's no surprise that Torres Del Paine has become a top destination for photographers all over the world.
Wildlife of Torres Del Paine
There are spectacular landscapes and plenty of wildlife to be found all over Torres Del Paine. The park is home to over 3000 guanaco – a large mammal closely related to the llama. These animals can be found all over the Patagonian Steppe and, with some careful thought to composition, can make wonderful subjects for environmental images.
As the landscape is so dramatic, it shouldn't take too long to find an effective background!
Other mammals include two species of fox, huemul (an endangered deer that is found only in Chile and Argentina), and of course the puma. Pumas have suffered in the past but are now thriving, and Torres Del Paine is one of the best places in the world to see them in the wild.
They are solitary cats who can be found roaming the Steppe and hunting guanaco. Despite the increase in numbers, in order to photograph puma successfully you will need to be prepared to put in a lot of time searching, especially around dawn and dusk when they are most active.
They can sometimes be spotted in the triangle formed by the entrances of Laguna Amarga, Lago Sarmiento, and Lago Pehoe. I would highly recommend hiring a local guide for puma, as this will greatly increase your chance of success.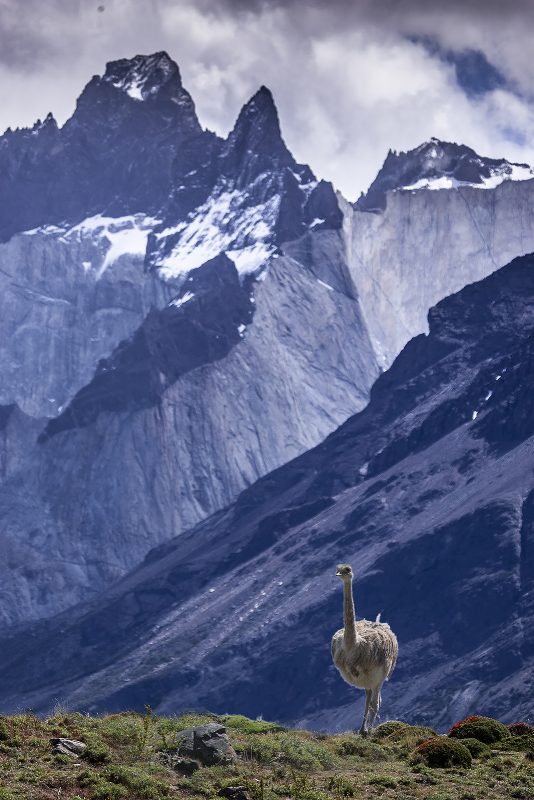 There are over 100 bird species in the park, including the lesser rhea, a large, flightless bird which can be found on the Eastern Steppe. They are now considered a near threatened species, and can make wonderful subjects.
The most colourful inhabitant is the Chilean flamingo. These photogenic birds can be found on or around salt lakes, such as Laguna Amarga and Laguna Los Cisnes. One of my most successful images from Torres Del Paine is a flock of Chilean flamingos in flight over the Paine peaks, taken just three days into my first trip.
For me though, the most exciting bird that can be seen in Torres Del Paine has to be the Andean condor. With a wingspan of over 3 metres, this iconic bird is the largest vulture in the world. Witnessing a condor soaring on a thermal air current over the Andean peaks is an unforgettable sight.
They can be found all over the park and, with some careful forethought and planning, can sometimes be photographed against a backdrop of mountains. To do this successfully you will need to try to get as high as possible. An eye level view will nearly always result in a more effective composition.
To get to high altitudes in the park you will need to hike, so bear this in mind when selecting which lens to take. A tele-zoom will offer the most versatility and should still be light enough to be manageable, depending on your fitness level.
Read more: How to Find and Photograph Raptors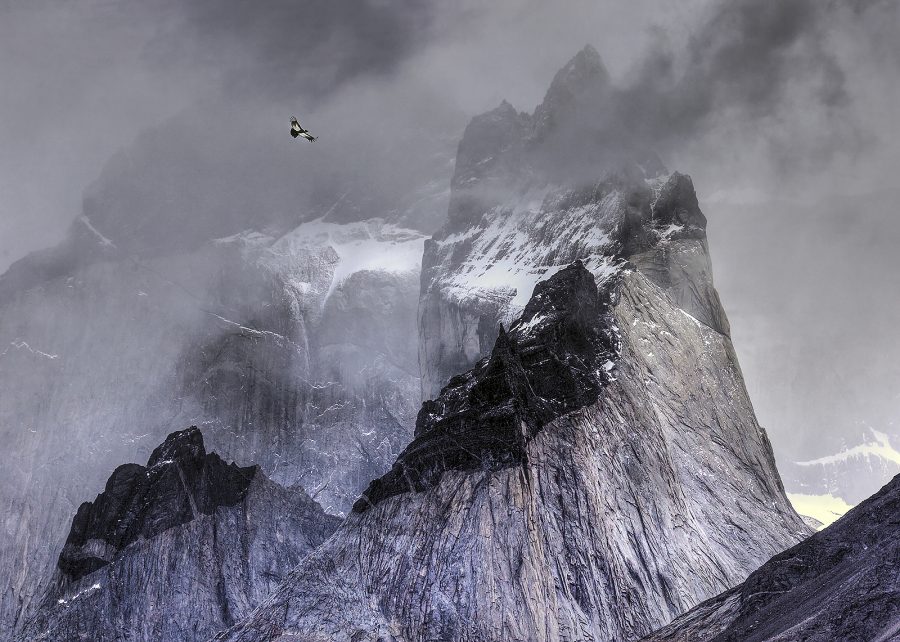 Equipment to take to Torres Del Paine
As Torres Del Paine is home to such a wide variety of flora and fauna, as well as some of the most breathtaking landscapes in the world, you should be prepared to take a variety of focal lengths with you.
A wide-angle lens is a must, as this will not only allow you to photograph the stunning landscape, but could also come in handy for wildlife, provided you are able to get close enough to your subject.
On my first ever trip, I came across a very approachable Patagonian (grey) fox. These animals can get very tame, and I was amazed when I was able to get within a couple of metres of the fox. I switched to a Canon 17-40mm L lens to capture it against the dramatic mountain peaks.
This image shows the relationship between the subject and its habitat and tells a more complete story. It's a concept that works so well all over Torres. Had I taken the same shot with a longer lens, the sense of place would have been lost entirely.
A tele-zoom lens such as a 100-400mm will prove useful for a range of subjects. I use my trusty Canon 100-400mm L IS Mk II for most of my environmental studies- the flexibility that this focal range offers is vital when it comes to composing a wider scene.
Despite the fact that I prefer to concentrate on environmental images, I would still recommend taking a longer telephoto such as a prime 500mm or even 600mm. There will always be opportunities for portrait images and, when tackling some of the more elusive animals such as pumas, a long lens will prove invaluable.
Read more: Should You Use a Zoom or Prime Telephoto Lens
A tripod will be necessary, especially when using a long lens or photographing landscapes. I always take a beanbag with me as a second option. One large enough will offer a stable support for even the longest of lenses, whilst still allowing plenty of freedom of movement.
A beanbag can be especially useful for ground level subjects and for shooting from a vehicle. One handy weight (and space!) saving trick is to travel with your beanbag empty, and then buy some lentils or rice to fill it once you arrive at your destination.
If you plan to take advantage of the dark skies and try some star photography, you will need to pack a remote shutter release. Graduated filters will be particularly useful for landscape photography, and don't forget spare batteries, plenty of memory cards, and a waterproof lens coat to keep your gear protected in bad weather.
Read more: 10 Important Things to Keep in Your Camera Bag
Weather and light in Torres Del Paine
The weather and light can change rapidly in Torres Del Paine. It is not uncommon to experience 4 seasons in one day, and the winds can be ferocious, with gusts commonly reaching over 100 kph. The weather is more stable during the summer months, from December to February.
This also coincides with the best flora, but it is also the busiest season and the number of visitors can get very high. The light is also harsh throughout summer, and your shooting will be limited to the hours around dawn and dusk.
For wildlife, winter and autumn are more favourable. There are less visitors, and those elusive subjects will become a little easier to find. Although the wind drops in the winter months, there will still be a very high chance of some dramatic weather.
Most people do their best to avoid storms, but for me, savage weather provides some of the best conditions for capturing the often foreboding atmosphere of Torres.
Dark storm clouds provide a fantastic backdrop for a soaring condor and, with Patagonia's erratic weather, there's a good chance of finding a stormy weather front somewhere within the park.
Constantly shifting clouds create fleeting moments of magical light, so try to be ready to fire at all times, and take advantage of these transient moments.
Composition
On my first day in Torres Del Paine I knew right away that this was the place for environmental images that show the subject in context and tell a wider story. For this reason, my most used lens is nearly always the 100-400mm L IS, rather than my 500mm prime.
There are dramatic peaks all over the park, including the famous Paine horns. Try to take advantage of this incredible environment, and look for ways of framing your subject in context.
When your subject takes up a small portion of the frame, the composition becomes even more critical. Following the rule of thirds can be an effective method of creating a balanced composition, but don't feel confined to the rules.
Read more: Composition in Wildlife Photography
Often, breaking the traditional guidelines and following your own instinct can lead to the most interesting and arresting images. Of course, backgrounds are critical in any type of photography, but for environmental shots you will need to consider this with great care.
Avoid over complicated and busy surroundings. Instead, try to simplify your images. Give extra attention to the background directly behind the subject, and make sure that it is either blown out of focus by the depth of field, or devoid of detail. Otherwise, you risk your subject becoming lost in the bigger picture.
Whether you are photographing a flower, bird, or mammal, it should be your main focal point. The eye should be naturally drawn to it, even if it appears very small in the frame.
Despite the breathtaking scenery and obvious potential for environmental images, you should also try to capture some closer portraits. You want to return home with a collection of images that tell the full story of the park.
Patagonian foxes, for instance, can be very approachable, making close portraits possible with even mid-range zoom lenses. Composing a frame-filling portrait is a little more straightforward than a wider shot, but you will still need to think carefully about your surroundings.
Shoot towards a distant background and use a wide aperture to blow it out of focus. Watch for those all-important opportune moments that help to capture the character of your subject. This is what makes portrait images so compelling.
6 top tips for Torres Del Paine
Hiring a vehicle with four-wheel drive will give you the most freedom, and is the best way of exploring the park and searching for possible locations.
Take a pair of binoculars. These will prove invaluable when scanning the landscape for potential subjects.
Take advantage of the first and last hour of the day and shoot during the golden hour. The light at dawn and dusk is much warmer and richer, creating unparalleled depth in the landscape.
The weather can be unpredictable, so pack plenty of layers and waterproofs. Sturdy footwear is also essential.
Spend time scouting locations and simply observing your subjects. Return when the light is optimal.
Try to visualise the type of images you would like to capture and, rather than trying to cram too much in, focus on coming away with a more in-depth coverage of fewer species.

In conclusion
Torres Del Paine is a prime destination for wildlife and landscape photography. With a wide variety of fauna set against such a dramatic landscape, there are endless photographic opportunities to be found all over the park. Enjoy your search, and best of luck!