How to Photograph Penguins in Antarctica
Antarctica is truly a photographer's paradise. The continent is perhaps one of the last remaining places that is relatively untouched by humans, with its dramatic icy landscape and majestic wildlife. As a dry, cold, and windy environment that covers nearly one-tenth of the globe, it is widely known as the most inhospitable and challenging continent on Earth.
Despite this, it brims with such an unrivalled beauty that this raw and untamed land is often found at the very top of our bucket lists. As photographers, many of us might dream of capturing that iconic group of birds: the penguin.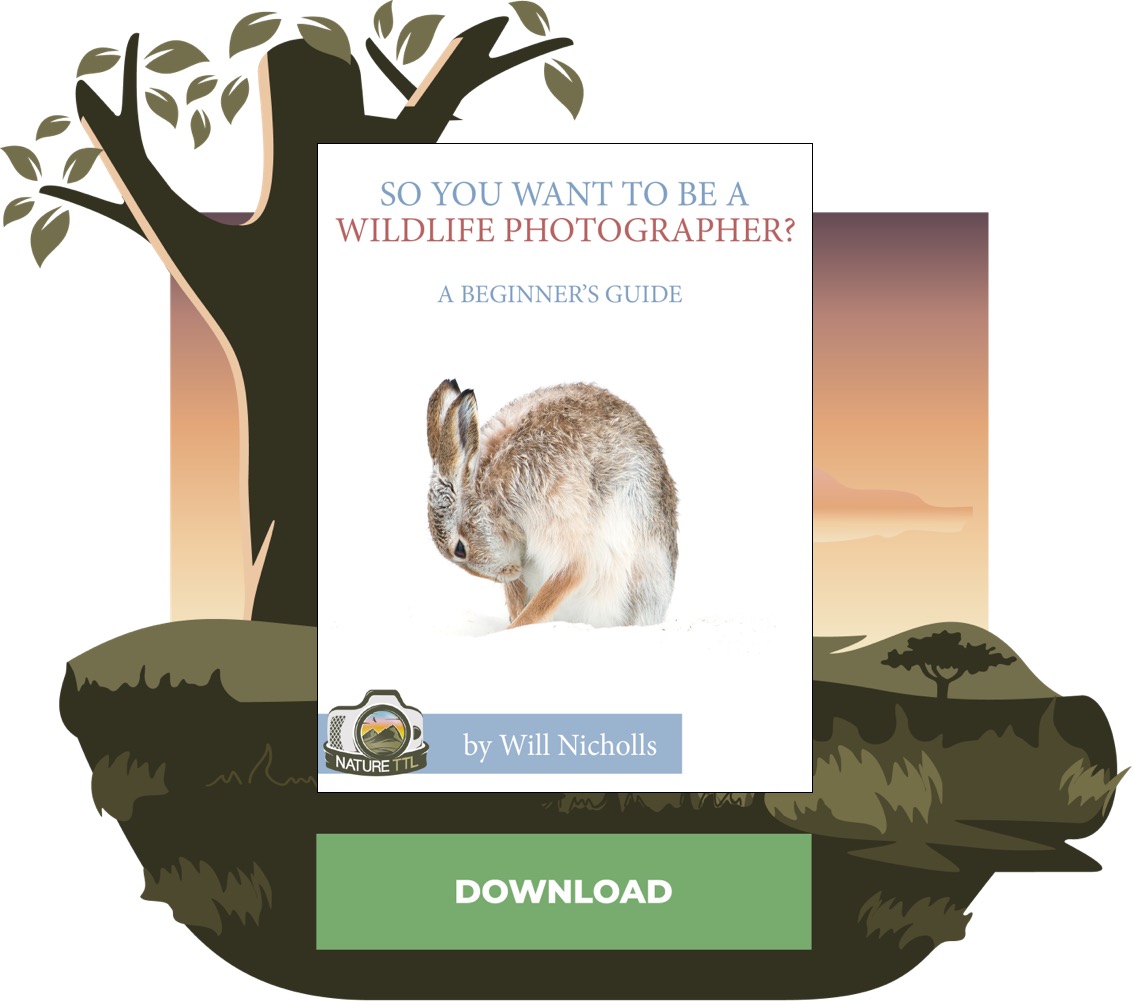 So, before you set sail towards the very south, there are a few things you need to know.
Getting there
Firstly, you have to be prepared. Getting to Antarctica is no easy journey; most fly into Buenos Aires and then onto Ushuaia in the very south of Argentina.
It is there that you embark on a ship, your home for the next few weeks, and set sail across the notorious Drake Passage towards the frozen continent.
Your time ashore and onboard the zodiac cruises will be largely dictated by the weather, so when conditions to leave the ship are good enough, you'll want to be ready to make the most of every available second!
The best time of year to visit Antarctica for penguins
You can travel to Antarctica in the summer season, between October and March, but you should consider what you most wish to see on your expedition.
I would always recommend travelling early in the season when the snow is pure white. Now, that might seem like a funny thing to say, but as the season goes on the snow begins to melt and the reddish excretion from millions of penguins builds up; trying to capture clean penguins on pristine snow can be very tricky.
Find a photography tour: Browse the Nature TTL Hub
In October and December, the early part of the season, you'll witness courtship behaviours, egg laying, and some hatching. However, from January to March the chicks will have hatched and you'll see some incredible interaction between youngsters and adults.
With this in mind, I'd personally recommend going in December or January, when the snow around the colonies is still in good condition and the eggs are hatching. It's the best of both worlds!
Penguin etiquette
Of all the penguin species worldwide, eight can be found on or near the Antarctic continent. Six species (chinstap, gentoo, macaroni, rockerhopper, magallanic and king) reside in the Subantarctic regions, where conditions are more tolerable and two species (adélie and emperor) remain exclusively on the continent.
With millions of penguins living in colonies larger than some of our cities, you will be sure to get some incredible encounters!
Antarctica's wildlife is generally not fearful of people. In fact, penguins are particularly curious about their human visitors. However, in this environment you must always remain respectful by keeping a distance of at least 3 metres, unless the animals decide to approach you of their own accord.
Read more: An Ethical Guide to Wildlife Photography
Penguins are often on the move between their nests and the sea, so take a step back and allow them to pass by. One of the most appealing reasons to photograph wildlife in Antarctica is its remoteness, so to preserve the wild nature of this continent we must leave only footprints.
Behaviour and composition
As highly social birds, there are some really interesting behaviours that you can try to capture, such as mating rituals between pairs, stone stealing, diving, and altercations.
Like when shooting other species, the best photos are always taken from a low position. Getting low will help stabilise your camera and telephoto lens, which is helpful if you choose not to bring a tripod.
It will also make you seem less threatening to the penguins, allowing them to continue their day undisturbed.
Composition should always be at the forefront of your mind. It becomes particularly tricky when dealing with a high density of penguins, as there's always one individual whose head is facing the wrong way, or where theres an estranged flipper creeping into shot.
Although difficult, and at times uncontrollable, try to position yourself in a way that limits this. Clear silhouettes are generally always best!
Some of the best Antarctic shots that have been taken showcase the scale of the landscape. Consider framing your penguins against dramatic ice sculptures, roaring seas, or the imposing mountains.
Read more: How to Photograph Animals in Their Habitat
This gives a photo more context and communicates a story to your audience. For example, in the photo below, I wanted to contrast the size of the looming mountain on the left with the tiny penguin group that had congregated nearby.
Composition is something which can be practised at any time, even when away from your camera. When looking at images online, try to identify the focus point or subject within it and think about how it is best framed in the photograph. Is there any unnecessary space, or is it perhaps too tight? I'm a strong believer that every megapixel matters so take your time, think, and put them all to good use!
Shooting on land
The first time your feet touch the ground on the continent is a moment you'll never forget. It's a very surreal experience and you can't help but be overwhelmed by the sound, smell, and aesthetics of the environment around you.
It's important to take a moment for yourself in order to take it all in before you start snapping away through the tunnel-vision of your viewfinder.
Experienced expedition leaders have a fantastic breadth of information about the locations you'll be visiting. They may just know the best spots or specific behaviours to look out for at certain sites, so make sure you engage with them before the landings!
Find an Antarctica photography tour: Browse the Nature TTL Hub
It can be overwhelming when you arrive on land in front of millions of penguins. There is so much opportunity and it's easy to get distracted by the chaos of the colony, which is why I'd always try to focus on capturing one or two specific things.
For example, I knew on a particular trip that I wanted to play around with overexposure (a high key style), so I located a small sub-group of penguins stood upon the bright white snow and photographed only them for the few hours I had on shore.
I find this method not only focuses your attention on being creative, but also gives the penguins an opportunity to get used to you.
Shooting from a zodiac
Taking photographs whilst perched on the edge of a rubber zodiac definitely has its challenges! However, these excursions can be some of the most rewarding, giving you the opportunity to witness and photograph penguins from a new perspective.
You'll see them diving from icebergs, porpoising in the water and even, if you're lucky, dodging a few leopard seals!
You'll need a fast shutter speed to capture the moving penguins from a rocking boat. If possible, and it's deemed safe by your guide, try to get low down and rest your lens on the edge of the zodiac to stabilise yourself and your camera.
Thinking outside the box
One thing that you won't be short of during the summer in Antarctica is light! In fact, depending on when you go, it will probably be light for nearly 24 hours of the day. Make this most of this and push yourself outside of your comfort zone. Get creative and imaginative!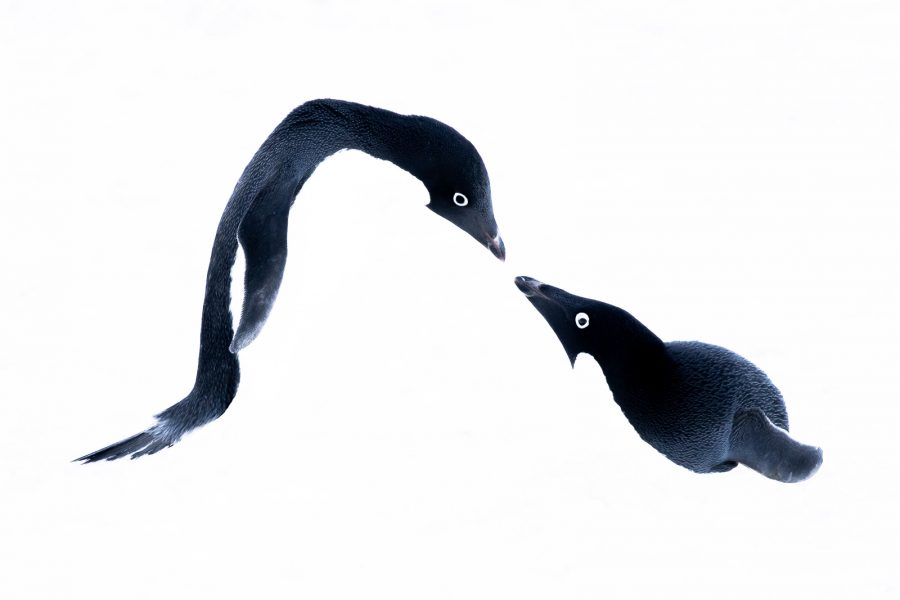 Bokeh is one of my favourite effects to work with in Antarctica. As the warm sun hits the ocean, ice, and snow, it creates these beautiful specks of light.
Don't be afraid, on occasion, to shoot into the sun and position yourself so that the background and the subject is separated by enough distance to get the best bokeh effects.
Photography equipment for Antarctica expeditions
Bringing two camera bodies with you will help you to capture sudden appearances from animals, like whales or birds, which may only appear for a short time. Having the different bodies will ensure you don't miss any golden opportunities by changing lenses or switching settings.
Additionally, due to the cold temperatures and common snowfall, it's good to limit changing lenses outside without proper cover or protection.
It's also essential to bring multiple batteries and memory cards. In extreme cold weather, your batteries may only last half as long as expected. Whilst memory cards don't fill up faster in the cold, there are so many great opportunities that you will end up filling them all extremely quickly.
Perhaps the most important thing to bring with you is a decent dry bag. It can be very wet getting in and out of the zodiacs, so a dry bag helps to ensure that your camera gear stays safe.
In conclusion
As humans, we often dream of reaching the most remote locations on Earth to try to capture its beauty through photography and to understand the dynamic nature the environment.
It's often a once in a lifetime trip, so my final top tip is to reiterate the importance of taking it all in. Before pressing that shutter, take a moment to experience the environment and think about what you want inside your frame.
Don't be afraid to try new things and experiment by pushing yourself and your camera to the max. Your audience will experience Antarctica through your eyes and vision, so think of the story and message you wish to tell.