How to Photograph Wildlife in the New Forest National Park
Nestled in the increasingly urbanised south of England, the New Forest National Park is an area rich with natural beauty. Its variety of habitats, from heathland, ancient woodland and coastline, allows it to support a wide diversity of wildlife. It is a paradise for the photographer looking to fill their SD cards with pristine nature. I have been lucky enough to grow up just outside the New Forest, photographing it season to season.
This landscape has something for every wildlife enthusiast. Here is my guide to making the most of what the New Forest has to offer, when to avoid the crowds, and how to respect this wild place that is vulnerable to many public pressures as it becomes a more popular place to visit.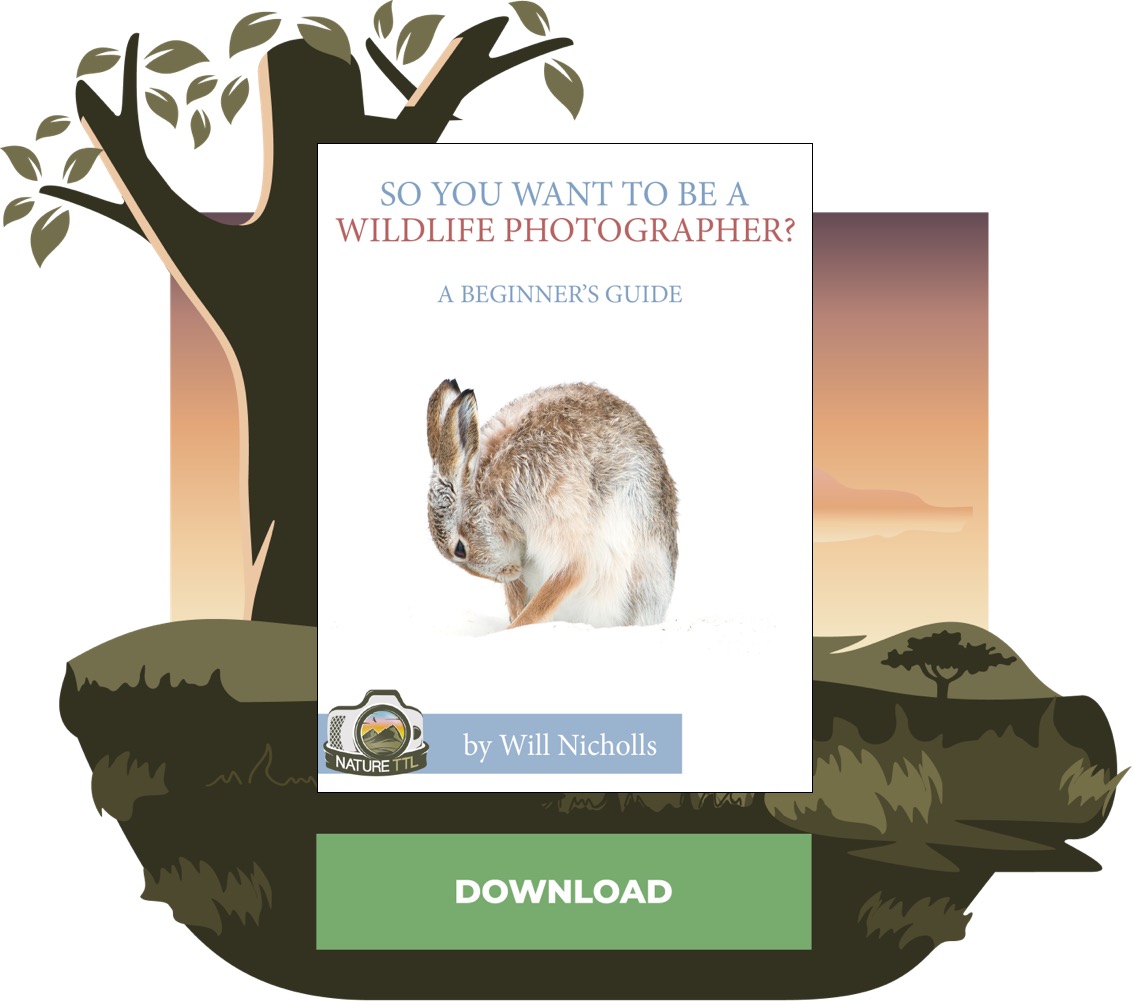 The best time to visit the New Forest
Each season brings a new atmosphere and different opportunities for us as wildlife photographers.
Winter in the New Forest is the quietest time of year for visitors, but a cold winter's morning here has endless photographic potential. Keep a close eye on the weather and pounce on any days where there is a clear night and temperatures that drop below 4 degrees. A frost may appear in the morning, which is great for mystical scenes of wildlife on the heathland.
Spring is a great time to look for animals. Wild flowers such as bluebells are preserved within the enclosures, which are fenced off from the hungry ponies and cattle. This is also a time when it is easier to find ground-dwelling mammals which are soon hidden by the bracken that grows during early summer.
Foals are born in May and June and provide us with more opportunities to capture the park's personality.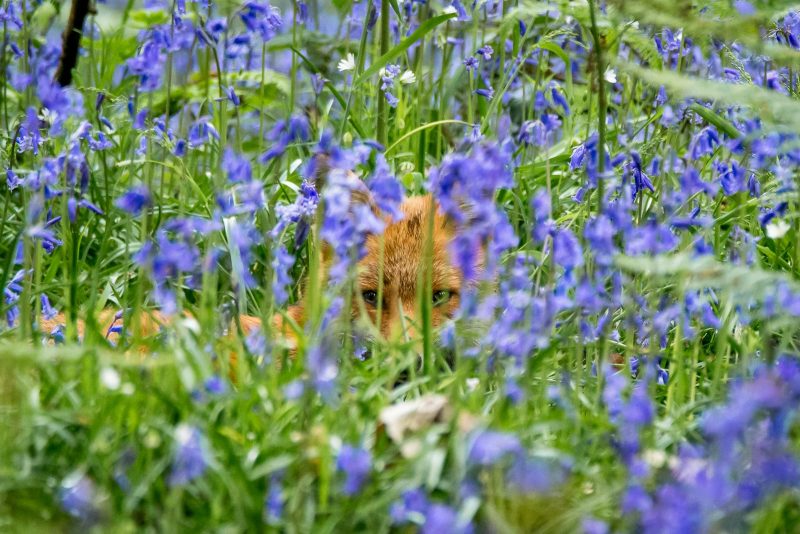 Summer is the busiest time of year with the public, but it is still possible to find quiet areas of the forest. Pick a location that is not near a campsite and get there for sunrise to avoid the crowds.
Sunrise in June can be as early as 4am, but an early start will often be rewarded with an atmospheric mist on the heathlands. In July and August, heathlands explode with colour as the bell and ling heather come into bloom. Butterflies and other insects are also abundant at this time of year.
Autumn is another great time to explore. Woodlands pop with colour normally in mid to late October, depending on temperatures, and host over 2,600 different species of fungi waiting to be photographed.
This is the best time to capture mist too; there are many high-points in the more open areas north of the A31 that offer the best place to photograph this phenomenon in the valleys below.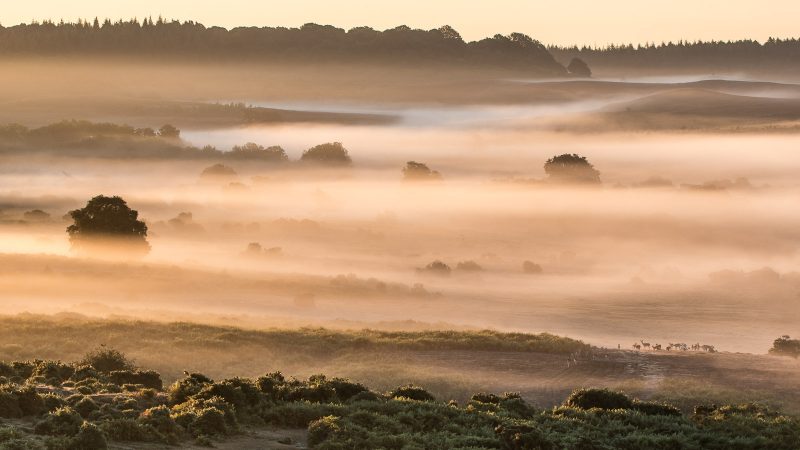 What wildlife can you find in the New Forest?
1. New Forest Ponies
Perhaps the most iconic animal to photograph in this national park is the New Forest pony. Although individually owned, they roam free and can be found wherever you go in the New Forest.
As they are rather used to humans, they are good to practise photographic technique with. Shoot them backlit and see how their breath illuminates in the light on a cold morning. Experiment with camera angles and focal lengths.
Read more: Choosing the Best Lighting for Wildlife Photos
It is a rare sight in Britain to see ponies roaming through such varied habitat, so don't shy away from shooting a little wider to show this unique relationship to the land they live in. Approach ponies slowly and don't make any sudden movements. Although accepting of human presence, it is important never to go too close and touch, or feed, the ponies. By associating humans with food, it may make them aggressive or put them at risk on the roads.
2. Cattle
Other livestock like cattle, donkeys, and highland cattle also free roam in the forest, giving us an opportunity to show familiar species in a new environment.
3. Deer
Home to 5 out of 6 of Britain's deer species, the New Forest is a unique place to see deer in a truly wild and natural environment. However, it can be a real challenge trying to capture intimate shots of these instinctively skittish animals.
For most of the deer here, if they see or smell a human they will run for cover. Deer will be on the move at sunrise; this is the time to sit and wait to capture them crossing the heathland or the edge of a woodland.
If you see them moving in the distance and want to get a little closer, walk around them and anticipate where they are going next. Always remain downwind and make as little movement as possible.
Moments with your subject will often be fleeting, so dial in your camera settings beforehand and learn how to change them quickly. Close-ups can be difficult and offer a high risk of disturbance, so try and look for opportunities to combine a well-composed landscape with the deer smaller in the frame to make things easier.
4. Waders
When people think of the New Forest, they often forget its stunning coastline that is home to many different species of migrant wading birds. The marshes around Lymington and Keyhaven are a great place to photograph waders from the sea wall. The birds here are quite used to walkers and therefore more amenable to photography than in many other locations.
5. Insects
For the macro photographer, the New Forest is a haven of insect life. Drawn by the decaying timber in the ancient forests, important populations of insects (such as the stag beetle, hornets, and dung beetles) are found here, as well southern wood ants. Look out for their large, dome-shaped nest made of conifer needles on a sunlit forest floor.
6. Reptiles
On a hot day, look for reptiles basking in the morning sun on heathland areas. Species such as common and sand lizards, adders, and grass snakes may be found here, but are very susceptible to vibration so will often hear your approach. Try to place your feet lightly on the ground and move slowly to avoid detection.
What equipment to bring with you
Use a lightweight lens with a large focal range. I use a Sigma 150-600mm f/5-6.3 Contemporary lens. The 600mm focal length is enough to capture the more shy wildlife, whilst still having the focal range to zoom out and include the atmospheric landscape around them. For ponies and other livestock, a 24-70mm is generally all you will need.
Most likely you will not need a tripod. New forest wildlife is unpredictable and it can come from all directions. It's best to have the flexibility to move covertly and frame up from any angle.
I use the Nikon D500 as this is a good camera for dealing with noise when using a high ISO. It can be common to find yourself in dark places under the thick canopy of the forest, or before dawn on the heath, and having the ability to use faster shutter speeds is essential for freezing action in the constantly changing lighting conditions. The crop sensor allows for a little extra reach which is always a bonus for wildlife.
Creating atmosphere in a shot
Keep an eye on the weather and look for nights which are clear with a low wind below 6-7mph. Head to the heathland and you'll be rewarded with some low hanging radiation fog, which is great for creating mysterious atmospheric scenes of the early morning wildlife.
Chasing these atmospheric conditions requires a bit of perseverance, as it only takes a small gust of wind or a bit of cloud to ruin it all, but the best thing to do is just keep trying.
Head to a woodland area on a morning with a bit of mist and try shooting into the light and you may see mystical rays piercing through the canopy. It is the holy grail for many wildlife photographers to capture a scene of good light combined with a wildlife subject. On mornings like these, with luck and perseverance you can make that possible.
Respecting the forest
Although the UK's smallest national park, it is also the most visited and therefore areas can become crowded with tourists, especially during the summer and bank holidays. To protect the wildlife from the ever-growing public pressure, always respect the forestry commission's by-laws. Stick to the path on any heathland between March and August to avoid disturbing rare ground-nesting birds.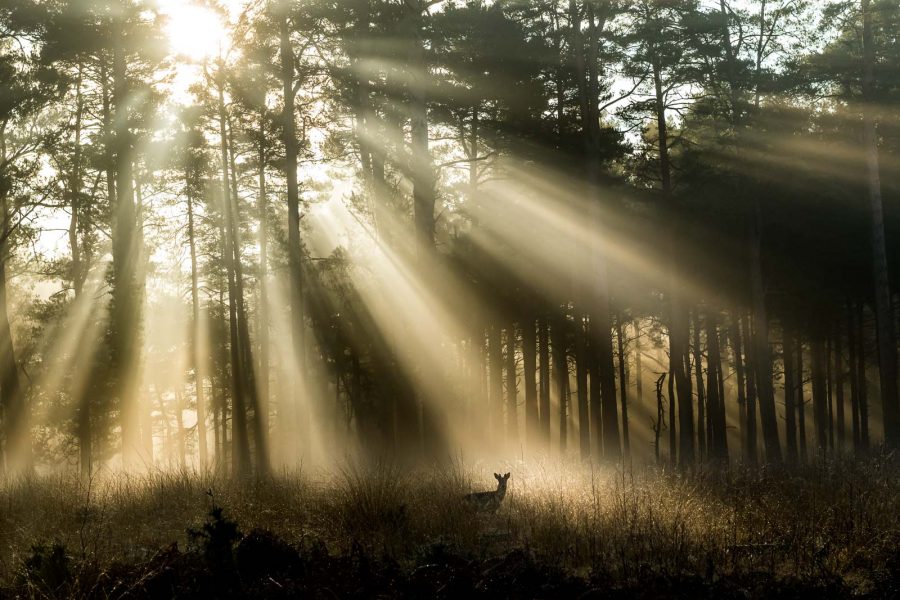 In specifically designated deer conservation areas, red and fallow deer rut during the autumn months so avoid approaching or leaving the path in these areas as disturbance can affect their breeding success.
As photographers it can be tempting to push closer to our subjects to get more intimate shots, but disturbing an animal is never worth the picture no matter how good you think it will be.
Read more: Ethics in Wildlife Photography: Code of Conduct
In conclusion
So, to summarise my top tips for New Forest wildlife photography:
Understand and always check the weather. I can go out for weeks and not get an image for my portfolio, but it only takes one morning with the right conditions to get 5 shots in 30 minutes.
Get to know specific locations well; understand the habits of the landscape, where the mist tends to be, where the deer cross in the morning, and the ponies rest for the night. Visiting time and time again is key.
Respect the New Forest as a sensitive habitat, abide by the forestry commission signs, and back away if an animal appears agitated by your presence.
Sunrise is the most atmospheric time to be taking photos and normally when wildlife is most active.
Always be ready. Anything can happen on a walk in the New Forest – you may suddenly run into a fox or a badger, so set your camera settings early and know how to change them like clockwork.
If you are looking to visit the New Forest for wildlife photography, you will be met with endless opportunities. Pick a subject and plan what conditions you want to photograph it in; soon you will be hooked to the challenge and will keep coming back again and again.
If you don't see results straight away then just stick with it. The bad days make the good ones even sweeter. Remember to always take a step back and appreciate what a privilege it is to photograph here and help tell the stories of the wildlife in this truly remarkable part of Britain.