Where to Photograph Landscapes in Banff National Park, Canada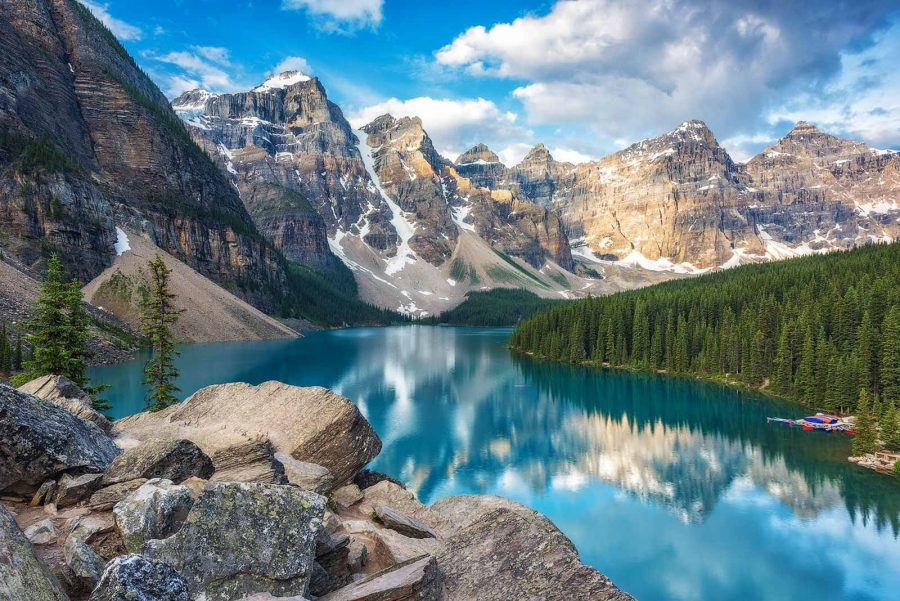 It's like you've stepped into a photographer's Narnia. Epic mountains, beautiful glacial lakes, roaring waterfalls, and wildlife everywhere. It can be quite overwhelming, but take a deep breath in and prepare for one heck of a jaw-dropping experience while exploring Banff National Park in Alberta, Canada.
With 6,641 square kilometers of eye candy, Banff has limitless opportunities for landscape photographers, but who has the time to explore all that? If you only have a handful of days to spend in the park, here are 9 fantastic landscape photography locations in Banff that I wouldn't miss out on.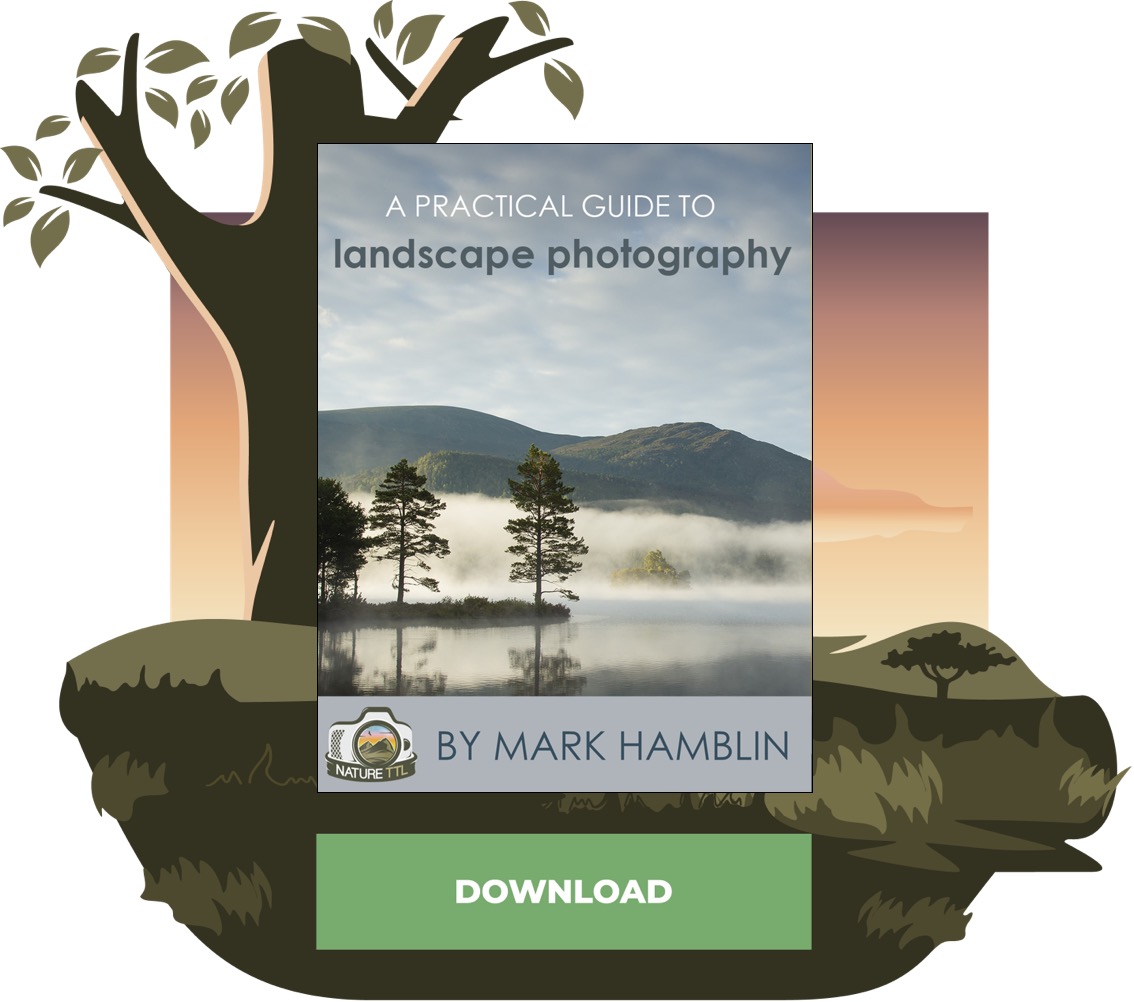 1. Vermilion Lakes
Mount Rundle is the iconic backdrop of the town of Banff. Its unique shape and isolated posture makes for one heck of a shot, but bring in some foreground with Rundle and you've got yourself a stellar image.
The Vermilion Lakes provide that foreground year-round. They are easily the most accessible place to shoot if you are staying within the town of Banff, simply just a five-minute drive from the city centre. There are three different lakes, all providing various views on Mount Rundle. My personal favourite view is from the second lake, especially during winter.
With the lakes freezing, the second lake actually has a few hot spots on its shoreline that don't freeze, even in the -40ºC temperatures. If you're looking to capture an image from this location, I would highly recommend going for sunrise. The light works its way in from behind Mount Rundle beautifully, and in the winter, can even create stunning rays of light radiating out from behind the mountain.
Bring all your lenses here as there is a plethora of compositions awaiting.
2. Lake Minnewanka
Don't be intimidated by its size, but Lake Minnewanka is huge and requires some work to find that perfect composition. Working great for both sunrises and sunsets, I'd recommend hanging out on the north shore of the lake in search of compositions. Whether you decide to frame your image around the jagged Mount Inglismaldie or the pyramid-looking Mount Astley, the shoreline is going to be your friend.
Keep an eye out for interesting driftwood, rocks, or perhaps the famous "lone tree" on the north shoreline.
Read more: Landscape Composition – Using Foreground to Create Depth
For Lake Minnewanka, my primary lens choice here is my Nikon 14-24mm. You are so close to the mountains here that any shorter of a focal length makes it challenging to include them. Also, if there is a chance of northern lights during your time in Banff, get up to Lake Minnewanka! It has some of the darkest skies with a northern view in the area.
3. Morant's Curve
I know, I know… waiting for a freight train to come by in the snow isn't exactly something you think about when visiting the mountains, but trust me, it's worth every bit of waiting.
Morant's Curve, located just a few miles away from the famous Lake Louise on the 1A, is quite the magical spot. For this shot here, you'll want a few things to make the image happen. First, a tripod. Second, a medium to wide-angle lens. Third, a soft grad filter. Fourth, a warm cup of coffee and patience.
Patience is key to make this image happen as there is no schedule for the trains that run on these tracks.
Some days I have waited ten minutes and on others up to three hours. Oh, and to make things a bit more challenging, the trains can come from both directions, so you really need a train coming from the north to get the locomotive shot.
I find that weekdays are the best for train frequency; avoid holidays and weekends as the tracks are almost completely quiet. There is a small parking area and platform to shoot off of here, so it's a nice place to just spend some time enjoying the birds chirping and waiting for that distant train horn.
4. Castle Mountain
A mountain of varying shapes and looks depending on how and where you photograph it, Castle Mountain is one of my favourite mountains to photograph in Banff. The thing about Castle Mountain that I love most is not only can you shoot it for both sunrise and sunset, but during stormy weather too as the clouds break. It has such an attitude to it as the mist weaves in and out of the peaks.
My favourite angle to shoot at here is down by the Bow River, right at the Castle Junction bridge. To get here, simply plug in "Castle Junction" into your GPS and, before crossing the bridge, pull over and park. There will be a chain linked fence on the left side that you can open up and that allows you to walk down to the river.
Depending on the water level, there are usually a handful of awesome reflection shots available and, during the winter months, intricate ice formations. A wide-angle lens is great here, with a polariser to help cut glare out of the water.
5. Lake Louise
Brace yourself for the crowds and selfie-sticks, but you'll understand why Lake Louise is so popular the moment that you set eyes on it.
Located about a 45-minute drive from Banff, Lake Louise is one of the most sought-out locations for tourists in the area. I don't understand why though, it's only a gorgeous glacial lake surrounded by incredible mountains, and a fantastic glacier feeding into it off in the distance.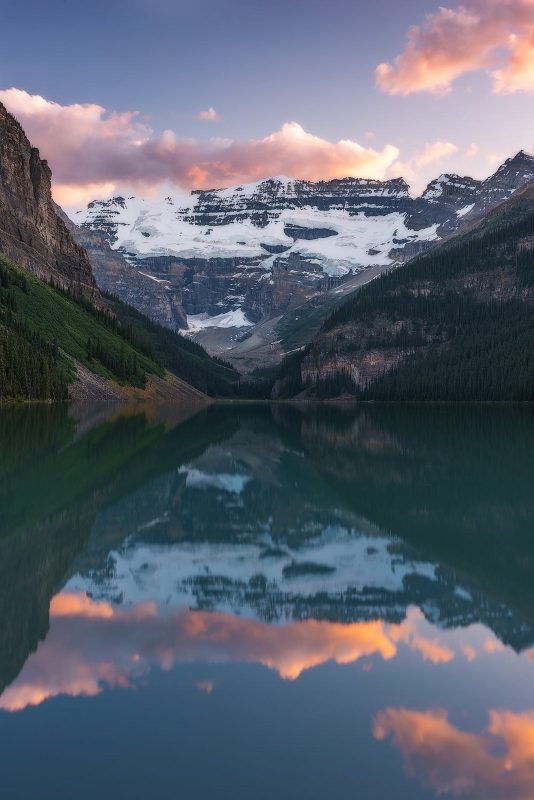 If you want to avoid the crowds here then come for sunrise, especially in September through November, when the lake remains unfrozen but fresh snowfall can decorate the surrounding landscape.
The shoreline in front of the Fairmont Chateau provides you with the iconic views of the lake, but make sure to explore all around the lake. There is also a lookout called "Fairview Lookout" on the south side of the lake that gives you a breathtaking, elevated look down onto the lake. Once you are done with shooting your heart out, take a hike up to Lake Agnes for even more epic landscape shooting.
6. Lake Agnes
After picking your jaw up of the floor from Lake Louise, take a two-mile hike up to Lake Agnes for some more stunning views. Take some cash with you as there is a lovely tea house located at the lake where you can get some tea and snacks, but it is cash only.
Lake Agnes makes you work for your shot, though, as foreground can be a bit limited around the shoreline. Driftwood, flowers in the summer, and crystal-clear water are some subjects you can use for foreground here.
I'd recommend visiting for sunset if you'd like colours behind the mountains, or sunrise if you're looking for Alpenglow.
Make sure to walk to the back of the lake for a nice view of the tea house and mountains in the distance. If you've still got energy after Lake Agnes, you can continue up to the Beehives and Devil's Thumb for more extreme landscape angles.
7. Moraine Lake
If you're talking about a gem of a place, look no further than Moraine Lake. It is located just a 25-minute drive from Lake Louise.
In my opinion, it is easily the most beautiful spot in the Canadian Rockies. A short window during the summer and early fall allows you to visit this spectacular spot.
To get the iconic shot highlighting the beautiful blue glacier water with the mountains in the background, you will want to take the small trail from the parking lot to the top of the rock pile.
Once at the top of the rock pile, you can work so many different compositions and frames, but please stay on the trail. You will see dozens of signs asking people to stay off the vegetation, and then trails leading past them. Do your part in helping keep this landscape beautiful. You can also hike around on the rocks themselves in search of different angles. A wide-angle and mid-zoom lens are my choices for this location, as well as a polarising filter.
Sunrise is a great time to visit, but make sure you arrive at least 90-minutes prior as the parking lot is small and fills up fast. Once that perfect sunrise light fades away, don't pack up your gear just yet. Some of my favorite Moraine images were shot an hour or two after sunrise as the valley fills with beautiful soft light.
8. Two Jack Lake
Another great location, and within just a 10-minute drive of Banff, Two Jack Lake provides a different perspective on Mount Rundle. Two Jack Lake doesn't offer much for foreground during the warmer months, but you can create wonderful panoramic images here during both sunrise and sunset.
During winter months, the lake freezes and wonderful textures come alive on the ice. From hoar frost flowers to methane bubbles, cracks and more, I prefer photographing this location in the deep winter when it offers more foreground and is safe to be on the ice.
9. Peyto Lake
Although it's a one-and-done kind of location, you don't want to miss out on Peyto Lake as you travel through Banff. This location provides a stellar elevated view of the one of the most aqua blue coloured lakes that exists in the Canadian Rockies.
Read more: 10 Best Landscape Photography Locations in the Canadian Rockies
From the viewing platform, you can utilise both wide-angle lenses and telephoto lenses to create compelling images. You will want to visit Peyto Lake during the summer months as it begins freezing as early as October and won't start thawing until early June.
In conclusion
Banff National Park is one of the most beautiful locations for landscape photographers to visit at any time of the year, just make sure to give yourself at least a week in the area. I also highly recommend making multiple visits to the park during different seasons to truly experience all Banff has to offer.
Although we've focused on landscapes in this article, the park also flourishes with a wide variety of wildlife, so keep a keen eye out for animals while you're out and about!