How to Photograph Snowdrops
It's great to watch as the first flowers of the year herald the coming spring, but there is one flower which has usually come and gone before winter has relinquished its grip: the snowdrop.
From a distance, a snowdrop might seem to be a delicate and vulnerable flower; particularly when its small white blooms are surrounded by frost and snow. But don't let appearances deceive you – snowdrops are actually highly adapted to life in the freezer.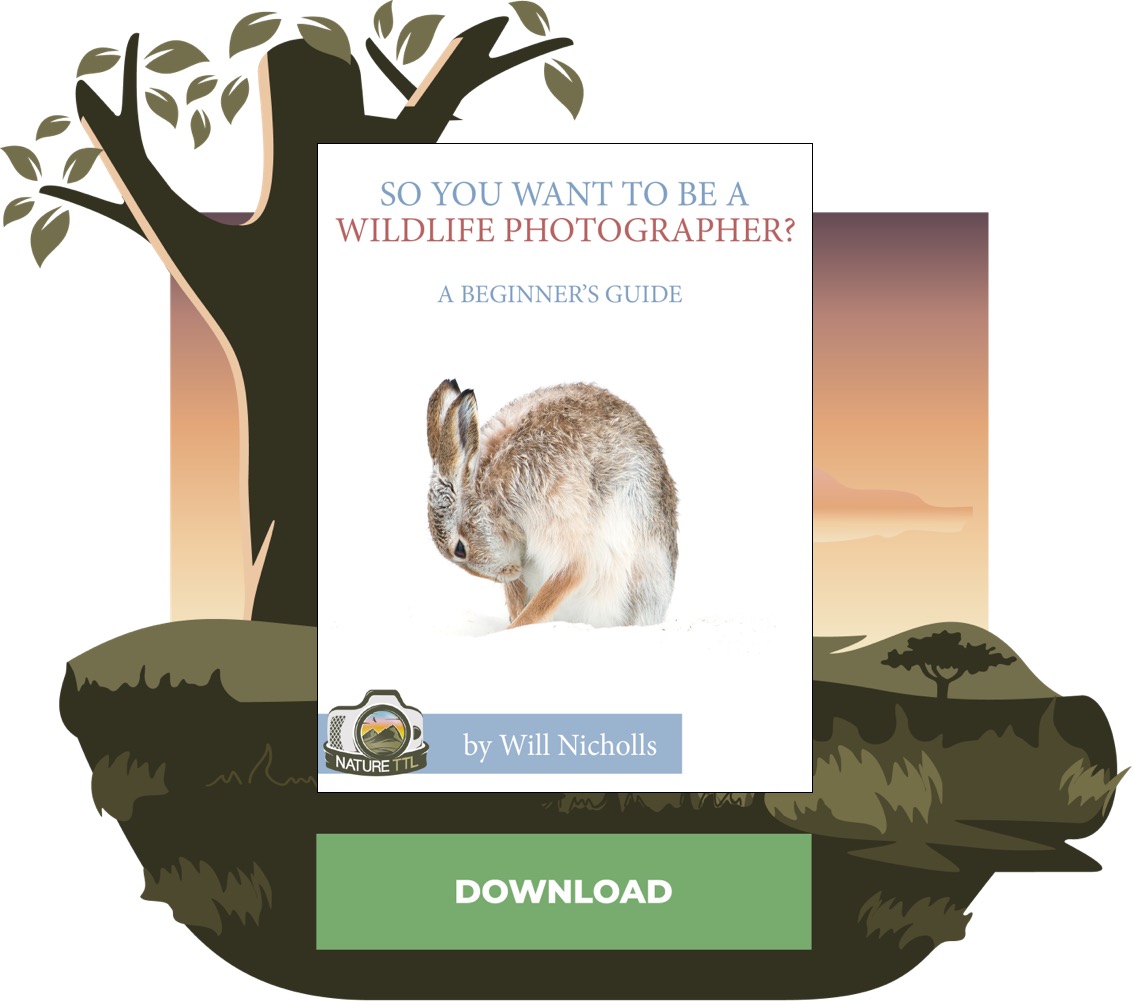 The snowdrop chooses to climax at a very difficult time of year when frosts are commonplace. Lying dormant underground as a bulb, it has the ability to emerge quickly at a time of year when most species have no choice but to wait. The chisel-like leaves are able to penetrate frosty ground, and a leaf-like structure protects the emerging flowers as they force their way through.
Even with the ability to grow quickly, snowdrops still need to withstand the formation of ice inside their stems. Most plants would wilt and die in such conditions, but snowdrops can withdraw water from their cells and store it in voids so that when it freezes it doesn't cause damage to the fragile cell structure.
Their nodding heads, which close at night, open in the morning to reveal a supply of nectar – but attracting insects at this time of year is difficult. Snowdrops certainly have the ability to produce seeds, but their reproduction is more often through the production of further bulbs and so their distribution changes very slowly.
What is a snowdrop?
The scientific name for snowdrop is Galanthus nivalis – literally 'milky and snow-like'. This is a perfect description of the scattered white blooms of snowdrops in a wintery woodland setting.
The wild snowdrop stands at about 10cm tall with nodding, bell-shaped flowers. The flowers consist of six petal-like structures which are called perianths or tepals. The three inner tepals are tipped with a green mark, the outer three are pure white and form a protective umbrella. Their leaves are long and narrow but stout and strong.
Because they grow from bulbs, they tend to emerge in clusters with smaller groups merging into carpets of white where they are left undisturbed for many years.
Snowdrops are popular with gardeners, so many cultivars have been developed, however these varieties remain more common in garden settings than in the wilder parts of the UK. Other than the cultivars, which can be difficult to distinguish, the only likely confusion species is the snowflake which has much bigger leaves but smaller flowers on which each petal has a green mark.
Where can you find snowdrops?
Snowdrops are typically found in woodland. They grow and flower early in the season before the leaves on the trees cast shade on the ground beneath. Having said that, in the UK – where they have been introduced – their distribution is biased towards gardens and churches.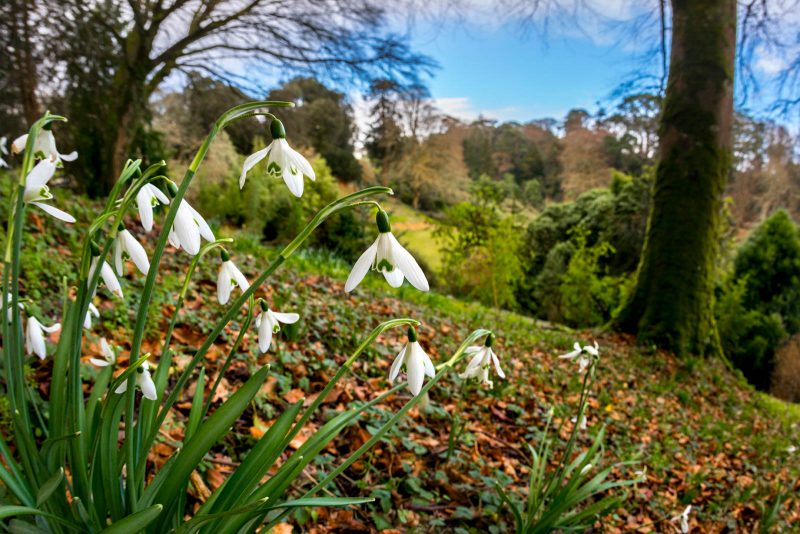 The greatest concentrations of snowdrops are often found around ecclesiastical sites. The grounds of churches, monasteries, and abbeys, whether ruined or not, are often bedecked with snowdrops in early February. Most of our snowdrops have been introduced either by gardeners for their beauty or religious people for their spiritual significance.
Going the extra mile
The snowdrop is one flower which most of us should be able to find. There are some well-known snowdrop locations where snowdrop walks are a feature, or where a particularly large number of them occur.
Here are a few places to research in your hunt for snowdrops in the UK:
Snowdrop Valley, Exmoor
Easton Walled Gardens, Lincolnshire
Kingston Lacy, Dorset
Cambo Estate, Fife (holds a national collection of snowdrops)
Wellford Park, Berkshire
Burton Agnes Hall, Yorkshire
Hopton Hall, Derbyshire
Walsingham Abbey, Norfolk
Pencarrow House, Cornwall (has organised snowdrop walks)
Shaftesbury, Dorset (has become a 'Snowdrop Town' with plenty of snowdrops growing wild and many events to celebrate the snowdrop season).
This is literally just a shortlist of places. It's surprising how many gardens have an annual planting programme for snowdrops, so have a look online to find places nearer to you.
How to photograph snowdrops
What gear is best?
You are going to have to get down low for any snowdrop photo, so you need to take either a beanbag or a tripod which can get your camera down to ground level (has no neck column). A remote release will be needed for tripping the shutter.
In terms of lenses, I suggest going prepared for anything. A 100mm macro lens is my favoured option for close-up shots. For many flower species, I like to use a 300mm lens for photographing individual flowers but I often find that snowdrops grow in such messy places that it makes this option quite difficult to manage.
Read more: What's the Best Macro Photography Lens?
For wide-angle shots, I tend to opt for a 16-35mm lens on my full frame camera. This is versatile enough for most landscape images, but sometimes I want to get in really close and look up from underneath; for this purpose I use the 15mm lens which focuses much more closely.
The benefit of getting in very close is to make the snowdrop flowers much larger in the frame, whilst the 15mm lens also gives a big depth of field so I can get the distant landscape identifiably (if not pin) sharp. I also find that a very wide-angle 15mm lens allows me to shoot in landscape format, whereas if I was trying to use 24mm I might have to shoot in portrait format to get foreground flowers and distant landscape in frame.
Read more: How to Photograph Flowers in a Landscape Scene
Quick composition tips
For individual flowers, try to have the stem leading in from the bottom corner of the frame. The main flower should be offset to one side, and it's usually best to have it pointing into the larger part of the frame.
I always think it's best to have foreground blur to mask where the stem goes out of frame, and the rest of the frame can be full of out of focus snowdrops or plain, distant landscape.
For wide-angle landscape shots of snowdrops, choose the foreground clusters carefully. Move around a little until you find a cluster which can be separated from the masses, and this might become your focal point which can be placed off-centre of the frame.
Light and aperture
Choose your time of day carefully. As with most forms of photography, it is best to avoid the middle of the day with a full sun – even in winter.
If it's sunny, then head out early or late in the day when the sun is low. If cloudy, choose a calm day because the flowers might be swaying faster than your shutter speed will be able to freeze.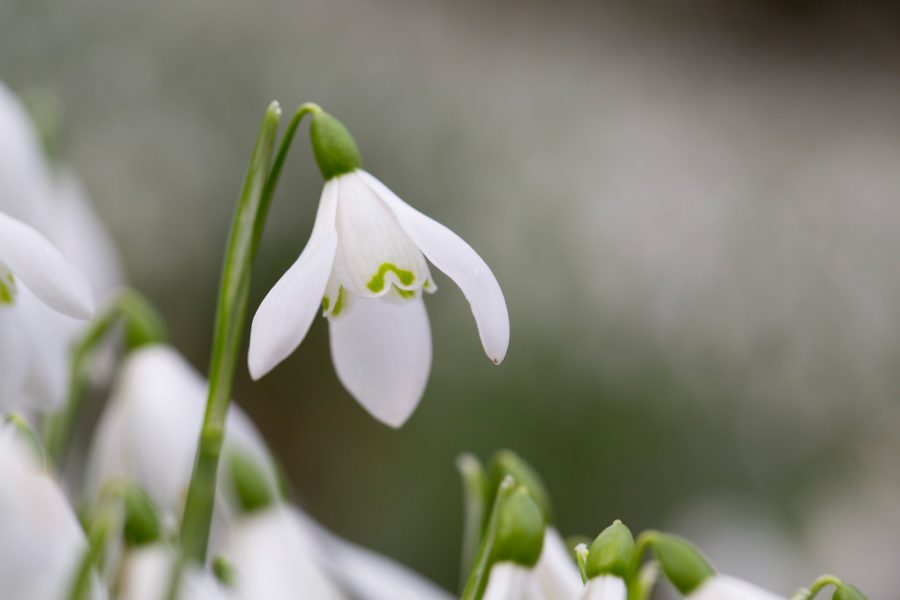 Exposure needs careful consideration, so we should be using the manual metering mode. The aim should be to expose the scene as brightly as you can without clipping the detail in the snowdrop flowers. Once your exposure is set, you can shoot away to your heart's content until the light level changes.
Generally for wide-angle landscape shots, we need to choose a small aperture (high f-stop number) for more depth of field. For close-up shots of individual flowers, we need a wider aperture (low f-stop number) to help blur the background and make the flower stand out. Having said that, I would always advise playing with different apertures with close-up photos.
Snowdrop flowers are quite wide, and to get a whole flower sharp with a macro lens at close range will require quite a small aperture. You might not deem it important to have all the tepals sharp, in which case carry on with a wider aperture, or you might want to try focus-stacking so you can use a wide aperture and amalgamate a number of images to get the whole flower sharp.
Just be aware of the issue, and if you can only get one part of the flower sharp it is usually best to choose the green spot on the most obvious middle tepal.
These photos show a comparison of two different apertures. Photo A was taken with an aperture of f/4, and photo B was f/6.3. A small change in aperture has led to a very different bokeh.
Apertures have an impact not only on the sharpness of the main subject, but also of the background. For creative photography, it is often more important to consider how the background (and foreground) looks than whether the whole subject is sharp.
With snowdrops, I like to get a macro lens really close to the subject and fill the frame with out of focus flower heads. With the camera really low and shooting upwards, I use the screen to focus and compose the image. Since it takes quite a lot of effort to get into this position, once there I will vary the apertures and compare the bokeh in the different images from the comfort of my computer chair.
Processing your snowdrop photos
Processing an image in which the main subject is white requires a bit of care and attention. I find that I usually want to tone down the highlights a little, but it is important that the snowdrop flowers remain properly white. In fact, I usually want the snowdrops to be the whitest part of the image.
It is possible to put a bit of texture and detail into the flower's tepals. In Adobe Camera Raw, I use a brush which darkens the blacks and apply that to the tepals. As well as bringing out texture, this also makes the flowers look sharper – but don't overdo it.
Photos C and D show the same photo processed differently. For photo D I toned down the highlights in the whole image and brushed some deeper black tones into the white snowdrop flower, taking care to ensure that the tepals remained white in their lighter parts. This puts more contrast into the whites and reveals more texture in the tepals, making them look sharper
In conclusion
Snowdrops are an iconic species of flower. They have a strong association with people and are universally loved. Fortunately they are readily accessible to most of us and they make a challenging but rewarding subject to photograph, so what's not to like?