How to Photograph Polar Bears
Will we see a polar bear? This is probably the most frequent question asked while people go on a photo tour in the Arctic. If you are lucky, you might even see more than one. This article will share with you everything you need to know about how to photograph polar bears.
Few creatures on the planet inspire and evoke emotion like the polar bear. They are the absolute balance between power, delicacy, and aggression. Living in some of the world's most remote and inhospitable regions, polar bears have incredible adaptations to the polar region.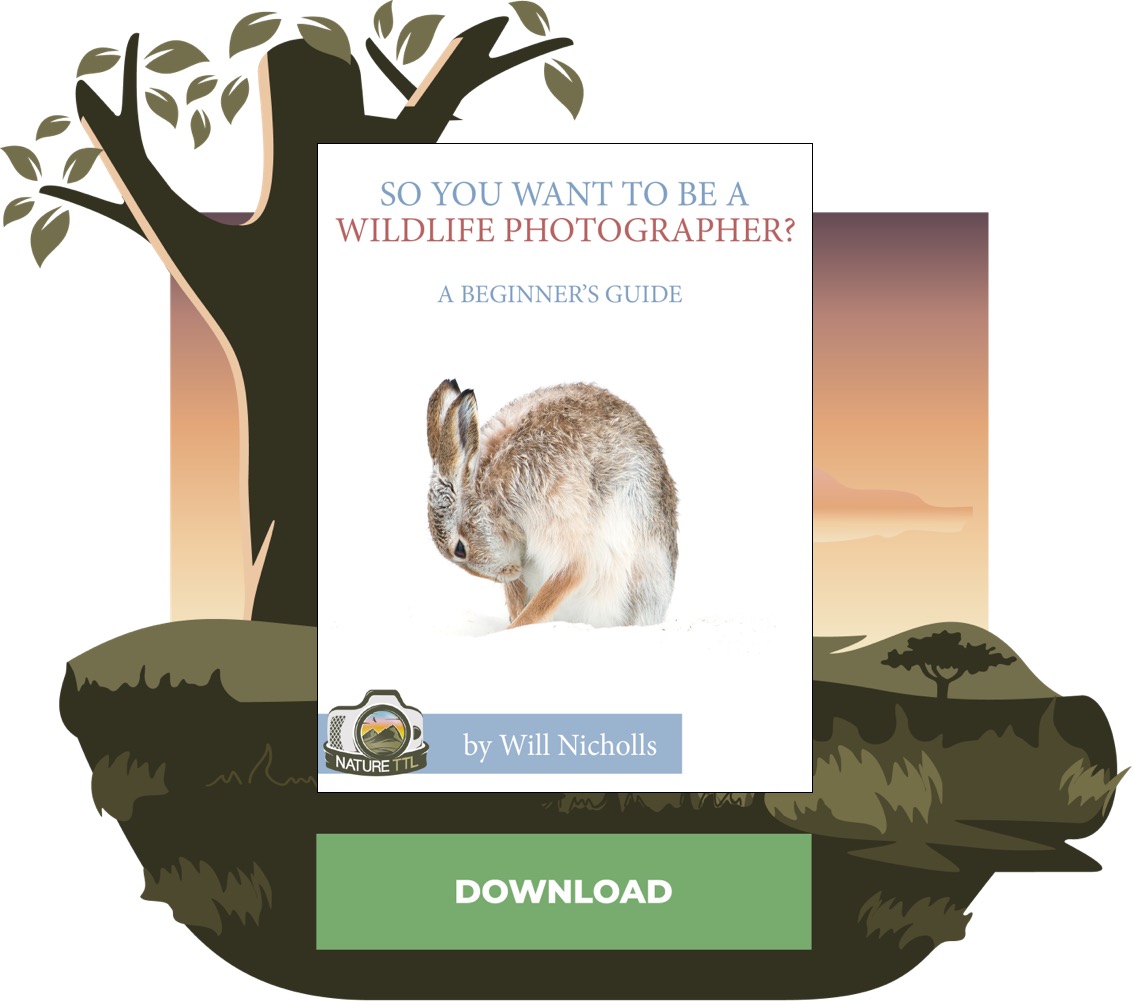 Inuit in the Arctic call them Nanoq/Nanook – meaning "the one who is worthy of respect". They may also use Pihoqahiak – "the ever-wandering one".
Find polar bear photography tours: Explore the Nature TTL Hub
Where should I go?
You can see them all around the Arctic regions, either in Greenland, Canada, USA, Russia, or Norway. However, there are a few places where it is much easier to access these days, depending on if you are in Europe or America.
Svalbard is an archipelago under the governance of Norway, located between the mainland of Norway and the North Pole. The north coast of Svalbard is only 1100km from the north pole.
It has extremely cold winters with a long dark season, as well as a long daylight summer.
Churchill National Park in Canada around the Hudson Bay also has a great population of polar bears. Many people refer to Churchill as "The Polar Bear Capital of the World". It is the most accessible place, too. However, the scenery is very different and less typical of the Arctic as this is probably the latitude where you can find polar bears.
I have seen a lot of polar bears in the remote region of Baffin Island – up to seven polar bears in one day. But this kind of location (including East or North Greenland, Franz Joseph Land, Wrangel Island) is much harder to access.
Should I go in the winter or summer season?
There is no season better than another when it comes to watching a polar bear. They are just all different.
To decide what is best for you, you need to know what you want to see in the first place. The polar bear does not hibernate, and so it is possible to see them all year round. However, depending on which location you are going to visit it might get difficult during the winter time. The further north the location, the darker it will be in winter months – so keep that in mind.
One great option is to go there in spring. In the Arctic, spring is not the spring you are used to knowing in the rest of the world. Here we refer to spring when the sun and light returns, rather than flowers and other typical "signs of spring". For instance, if you go to Svalbard in April or May, the landscapes will still be white.
You will have a great chance to spot polar bears and other wildlife on the sea ice during spring. On top of this, you will also have the best light to photograph in, as the sunset and sunrise feel eternal and magical.
Keep in mind that the forecast in the Arctic is often very overcast, but it will provide even better images of the animal than a clear blue sky will. With a grey sky, the ice will naturally look more blue and exposures will be better.
On the other hand, if you go to Svalbard in summer you will experience it in a very different way. Ice retreats further north, and this leaves many polar bears ashore on the island with a rockier background.
Best lenses for polar bear photography
Here you want to have a long telephoto lens. If you want to show the animal in its environment and you are fortunate to have the bear approaching you close enough, then you can also use a wide-angle lens. But you will never be close enough to fill up the whole image with a wide-angle – but is this necessarily what you want anyway?
I like to work with two cameras at the same time: one with a zoom lens and one with super long prime lens. This way I can quickly switch between them without having to change lenses.
It is very important to be working with a camera that you know like the back of your hand. This makes sure that you don't spend time looking at your camera instead of looking at the animals. I'd recommend the following in your kit bag for polar bear photography:
70-200mm – for polar bears close-up and landscapes at a distance.
A longer zoom of 400mm prime or a 150-600mm zoom for more distant wildlife.
A long prime lens with a converter (equating to 700mm or 800mm)
A good pair of binoculars to spot the animal in general and be able to observe them.
I have got many nice images of polar bears with a 60-600mm lens. If you have a modern camera with a full-frame sensor and a large number of megapixels, you can also crop directly in APS-C framing (x1.5) to get more reach.
Polar bear behaviours to watch out for
When the polar bear is sat on the coastline, a zodiac boat is definitively the best way to approach. It gives you the opportunity to get close enough in a really safe way. It is how I have gotten my best shots of polar bears.
Here are some behaviours that you should keep a look out for.
1. Bathing and cleaning
Polar bears like to be clean and dry because matted, dirty, and wet fur is a poor insulator. In winter, polar bears clean themselves with snow (and with water, when available). They also rub their heads in the snow, push forward on their tummies, and roll on their backs. This moment can give you some nice images with a "cute factor".
Read more: 12 Ways to Evoke Emotion in Your Wildlife Photos
Keep your distance when the polar bear is in the water, though. Even though they are extremely great swimmers, they are not as agile as on land. If you get too close while the animal is in the water it will feel threatened. Keep a good 50 metres away.
2. On the attack
Like many large animals, a polar bear's charge is something one will not forget – nor a situation you should get into. Be extra cautious when a bear has its head down and ears pinned back, as this means that the bear is on the attack.
3. Sounds and alerts
Polar bears use a number of different sounds, and each has a purpose or meaning. When a bear is angry or feels threatened, it makes a low growling sound as a warning. The sound is similar to that of a trumpeting elephant.
A polar bear will also hiss and snort when challenged by another bear. When in distress, a bear makes a chuffing noise. Learning behaviours like this is key to good wildlife photography – and that applies to any field of the genre, not just with polar bears.
Read more: Photographing a Species In-depth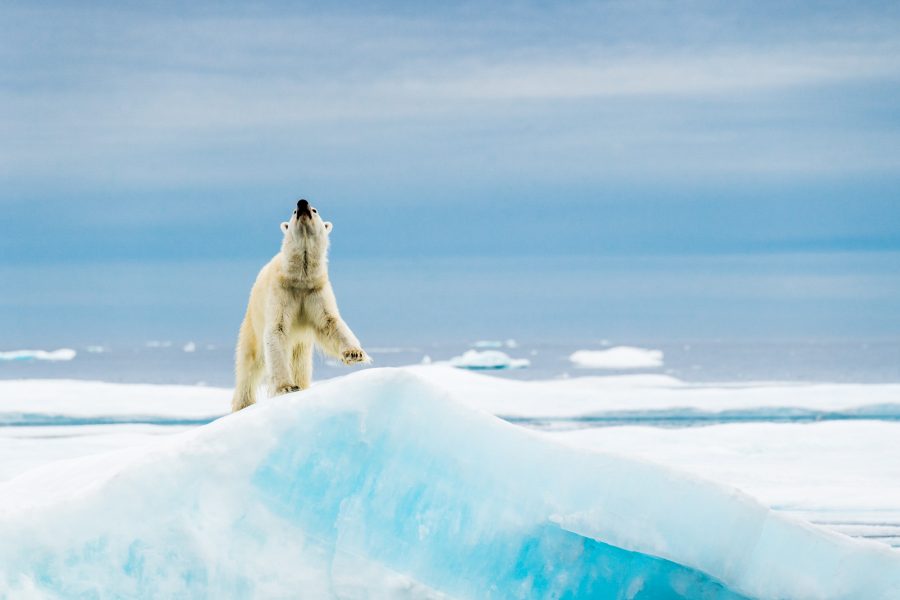 Above all, be patient. This is all about working with wildlife, and we all know that you can never predict when you will see something. Once you have spotted a polar bear, the approach can take hours. Remember, the main goal is to not disturb the animal.
In the end, don't forget to put down your camera
Enjoy the moment, as this encounter is pretty unique. My first encounter was one of the absolute highlights of my photography career. I will always remember that moment when I saw my first polar bear; I had tears in my eyes.
There is no better feeling than being close to those magnificent beasts, sharing the space with them. When I find myself in the remote Arctic, co-existing in harmony with the wildlife that calls it home, I know that this is where everything makes total sense to me. It gives me the inspiration to create meaningful images that can bring a better understanding of the world and its wildlife.