Nikon D6 Review: Wildlife Photography Field Test
As far as I am concerned, a camera is a tool and it needs to help me capture high quality wildlife images in difficult scenarios and harsh environments. However, I must admit I was a little bit excited to review the mighty Nikon D6 – Nikon's newest flagship camera. It boasts improved auto-focus, noise control at high ISO, and 14 frames per second shooting speed (continuously for 200 frames). As a D4 and D5 user for years, on paper it looked like my next obvious upgrade.
Buy the Nikon D6: Available now at major camera retailers.
First impressions of the Nikon D6
It should be considered, on reading this Nikon D6 review, who this camera is intended for. The D6 is primarily a stills camera, with video function. This indestructible beast is for photojournalists, sports photographers, and hard-use wildlife photographers. By hard-use, I mean those who work bouncing around in 4x4s, boats, or slogging through mud into cold, wet hides on a daily basis. It is for photographers who need speed, reliability, and indestructibility. As such, it is big, solid and heavy.
Ergonomically, the D6 is virtually identical to the D4 and D5. I even lined all three up in comparison, and they looked like battle-ready ships-of-the-line in formation to combat the Canon or Sony fleet – or perhaps the newer combined threat of mirrorless technology?
So, in this shifting world of digital imaging, how did this new flagship live up to its predecessors' legacy? Aside from taking great images, when someone is looking to upgrade their wildlife camera they are looking at two main areas: low light capabilities (ISO handling), and autofocus.
Low light and ISO handling
ISO range has increased on the D6 to between 100 and 102,400 – expandable to 3.2 million. To test this, I had the D6 and 200-400mm f/4 lens rigged and waiting for a barn owl to hunt across a meadow at dusk. Unfortunately, the light went and the owl never showed – and then the light dropped some more until it was almost completely dark.
However, a fallow deer stopped on the near horizon, so I thought I would it a go. I was amazed that it focused in such dark conditions – I could barely see the deer with my eyes! So, thumbs up for the autofocus. However, I will let you judge the resulting image for yourself. Fallow deer at ISO 3,276,800; it begs the question, what is the point?
Who will ever use an ISO of that value? Far better to improve the ISO handling in the 3,200, 6,400, and 12,800 area – realistically, doing this will give the wildlife photographer or photojournalist more time to work. An additional 30 minutes at the end of the day can make all the difference between getting the shot or simply enjoying the view. We do not get paid for enjoying the view, nice though it may be.
As direct comparison, I switched between the D5 and D6 at ISO 6,400, 12,800, and 25,600 using a Nikon 70-200mm f/2.8 – this is surely the ISO area potential buyers are looking for improvement and potential upgrade? Again, judge for yourself. But, viewed at 100%, frankly I cannot see an enormous difference!
ISO 6400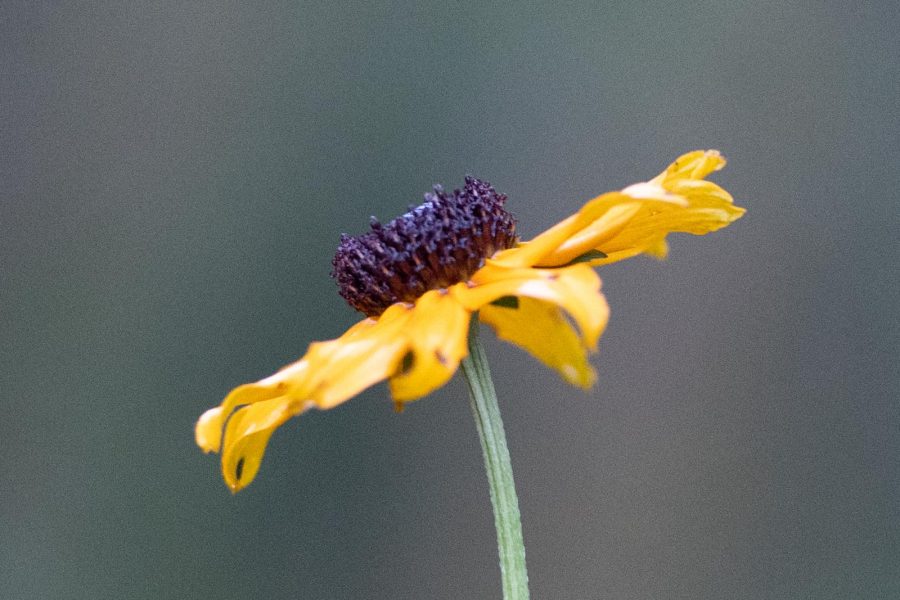 ISO 12800
ISO 25600
Autofocus
Next, I tried more low-light handling on badgers. I couldn't help getting nervous with the increasing ISO, so I foolishly let my shutter speed drop which kind of defeated the point of the exercise. But, in hindsight, it was a very realistic field test of the capabilities of the camera.
The lens used was the 200-400mm f/4 – combined with the D6, it's a dream-team. So, the entire rig was pretty top notch – but I know I really was pushing it; badgers emerging way after sunset, within woodland, under the canopy.
Once my gorgeous badgers emerged and started performing, I found the autofocus only worked initially when the contrasting faces of the badger were facing towards me, and then as light dropped more it wouldn't focus at all. Any side profile shots just resulted in the lens hunting; me swearing (quietly), manically twisting the manual focus ring to bring it into the ballpark, followed by more swearing etc etc. It is not the way I would normally photograph badgers, but I thought I would give it a go. I had pushed it to its limits, and beyond.
From the session, I pulled out one image at ISO 16,000 just so you can see the noise. It does prove the point that wildlife photography is not all about super equipment, but choosing a better time of year, situation… and badgers that want to come out a bit earlier!
Locking on to fast-moving subjects
The next practical test I thought of probably pushed my skills just as much as that of the camera – dragonflies in flight. As a target species, I chose the migrant hawker dragonfly, as it is possibly the most predictable flyer. It flies around in a random loop but then hovers for a couple of seconds, whereas other species just fly around and – although they may land in predictable places like the broad-bodied chaser – they don't give you that couple of seconds mid-flight.
It is a tall order for any auto-focus system to lock onto them. I used a long lens with a 1.4x converter for this. It gives 40% more magnification with no increase in close-focusing distance, which is a distinct advantage. It may sound counterintuitive to use a long lens, but it means panning the camera less to stay with the dragonfly. If you use a macro lens, you need to be very close and swinging the camera all over the place to stay with your insect. The long lens also gives the effect of compression in the image, making it more dramatic as far as background is concerned.
Read more: How to Photograph Insects in Flight
I again tested it directly against the Nikon D5. With the Nikon D5, the camera locked onto the dragonfly well. By the time I swapped bodies, conditions had changed and the dragonflies were flying less. However, the D6 did indeed lock onto the dragonflies as well. The resulting image is certainly not as good as the D5 shot, but that was not the camera's fault.
Both cameras did the job, however, I think it is worth pointing out that the D6 did not perform particularly better at doing this than the D5. According to Nikon, the autofocus system on the D6 is more advanced having more cross-type AF points, but in the field I did not notice much difference as both cameras performed well.
Looking at the dragonfly images on either body, it is worth noting that I was going up to ISO 3200 on the D6 and ISO 5000 on the D5. Although noise is evident, it is not problematic and can indeed be solved in post production. If I think back to the first Nikon DSLR I owned – the D200 – anything above ISO 800 meant it was time to go home!
Read more: David Plummer – From Amateur to Professional
Wireless connectivity
There are a couple of positive, smaller changes that I should mention such as increased connectivity. This is more in the wireless download/upload area, rather than being able to wirelessly control the D6. So, I think it will be of more use to the sports photographer or photojournalists who need to get the images out to the world as it happens. In truth, the world can wait to see whether the cheetah I am following made the kill or not. So, maybe not an advantage to the wildlife shooters?
Nikon put the capability to wirelessly control the camera from a smartphone or tablet into the recent D780, and I really enjoyed that feature;. For wildlife photographers, it has obvious creative advantages.
Although it is present in the D6, you are limited in what you can control; that is disappointing. When you consider that virtually every other photographic device manufactured these days is entirely controllable in this way, why only include it partially?
Other changes with the Nikon D6
The camera has been made even more energy efficient, so the super long-life EN-EL6 battery can do even more. It lasts for days and can apparently shoot over 8,000 frames. Compared against other batteries, it makes this a tool for the field. I am lucky if the D850 battery lasts 3 hours!
The viewfinder is beautifully clear and bright. The rear screen is fully touchable and "swipeable", not just in playback but the menus too. This is not of great importance to me, but may be to you as it makes the user interface more friendly and accessible.
In conclusion
The D6 is an incredible camera, and probably the best camera Nikon have ever produced in my opinion. It is an indestructible, a speed machine that can fire at a rapid rate (and for so long without the system clogging up), and work in such low light that is the perfect tool for the people it is designed for.
I would love to have tested this camera in the Masai Mara, capturing high-action situations that inconveniently occur in diminishing light – and I think anyone would be grateful to be using a D6 in such scenarios. But Nikon have simply not produced an exponential leap in technology that warrants the purchase and upgrade from the D5.
Although my tests were not lab tests, they were realistic direct comparisons to the D5 by a photographer whose workhorse is the D5, and – honestly – I have been left feeling underwhelmed. I upgraded to the D5 for two reasons: I wore out my D4 (yes really!) and, crucially, I felt the advance in technology and performance justified the upgrade.
And here's the rub, would I upgrade from the D5 to the D6 for the same reason? The simple answer is no. There is insufficient advance in performance to justify such a costly upgrade for me. When my D5 wears out will I then purchase the D6? Maybe, but actually I would look for a used D5 in mint condition beforehand.
In conclusion, and going back to my nautical analogy, the Nikon D6 is indeed Nikon's formidable, flagship, pro-level stills camera. However, I get the impression that it is sailing the Nikon DSLR fleet over the horizon and towards the sunset. In artistic terms, it reminds me of the painting by Turner 'The Fighting Temeraire' – a poignant image depicting the end of an era.
Personally, I am indeed sad if that's the case, but it is the reality of the dynamic, evolving world of image capture. Consequently, what I now await is the release of Nikon's first pro-level mirrorless camera body.
The Nikon D6 is available at major retailers for £6,300 ($6,400 USD).
Summary
Reviewer
Review Date
Reviewed Item
Author Rating





Product Name