How to Plan an Astrophotography Trip to Yellowstone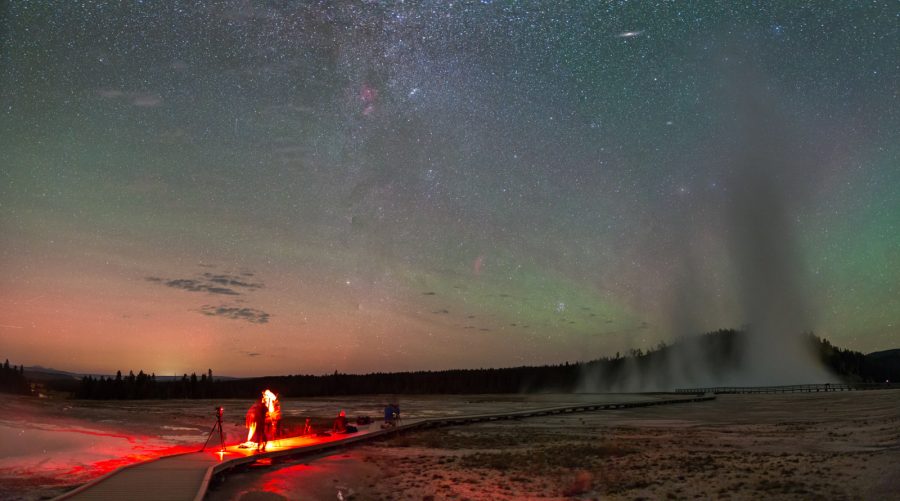 Yellowstone National Park is the oldest national park in the United States and is also considered to be the oldest in the world. It lies in the north-western corner of Wyoming and extends just a little into Idaho and Montana. The park is world famous for its multitude of geothermal features.
It is a wonderful destination for astrophotographers. Combining the landscape in Yellowstone with the dark skies above it will result in beautiful nightscapes.

When to go to Yellowstone
You can go to Yellowstone all year round. If you are after the most prominent part of the Milky Way and the core of our galaxy, go during the summer months. Unfortunately, this is also the time when the park is the most crowded.
Also, in winter time, snow makes the landscape a bit flatter than in summer, when more of the intriguingly-colored soil is visible.
There is a lot of choice for accommodation, from camping grounds to luxury estates. There are roads leading to most of the important landmarks. The roads are very well maintained and safe to drive at night. Just watch out for wildlife crossing or walking along the road.
Be aware that wildlife freely roams around the park, so keep your senses sharp when shooting. I recommend going in a group, and avoiding shooting alone. This is actually a piece of advice I give to anyone that wants to get into astrophotography, no matter where they are planning to shoot.
What gear to bring to Yellowstone
Simply put, bring as much gear as you can. Sky quality is wonderful in Yellowstone, and you can do both landscape astrophotography and tracked astrophotography. Bring as many lenses as you can, as well as a portable star tracker, and you'll be covered.
I wouldn't go as far as to bring heavy equatorial mounts and big refrectors onto the premises of the park.
You can bring a fisheye to get shots of the whole sky with the Milky Way visible from horizon to horizon, and sometimes with very bright airglow all around the horizon. Then, you can use focal lengths between 14 and 35mm for untracked tripod nightscapes.
If you want to travel exceedingly light, and you can only bring one lens, choose a 24mm lens. It is probably the most useful for nightscapes.
By the way, this is my favourite focal length for shooting landscape astrophotography. I believe it perfectly allows you to include a good part of the sky, and still have enough space for a meaningful landscape.
I know that many people prefer a wider focal for nightscapes (like a 14mm lens), but I think sky features become less prominent with such a wide angle. 14mm is a wonderful focal length for vast landscapes and aurorae, though.
Yellowstone is a great place to shoot panoramas. Just don't forget to overlap your frames by at least a third.
Where to shoot in Yellowstone
I am most familiar with the area around Old Faithful village, so will focus on this.
1. The Grand Prismatic Spring and surrounding area
One option is to go to the geothermal complex around the Grand Prismatic Spring. You can get wonderful images of the Milky Way with various features on the ground. You have geysers, turquoise pools, and more.
The most beautiful features here are the Excelsior Geyser Crater, Turquoise Pool, Opal Pool, and the crown jewel: the Grand Prismatic Spring.
The boardwalk that goes around the Grand Prismatic Spring offers the best views towards the south and the west. Therefore, if you want to get shots of the Milky Way and the wonderfully colored spring, the best period to visit would be from late June to mid September.
Even though the Grand Prismatic Spring is splendid during the daytime, it will be quite tricky to photograph it in all its glory at night time. The air gets colder, and there's much more condensation above the pool at night.
In order to photograph the wonderful colors of the spring under a backdrop of stars, you have to be quite lucky, and be there on a warmer and windier night so that steam will be blown away. But even on a regular night, the colors will be somewhat visible at the base of the steam column rising up from the hot pool.
Excelsior Geyser Crater can be approached from pretty much all angles except from the east, so it will be almost impossible to shoot a setting Milky Way above this dormant geyser.
Nonetheless, there are a plethora of framing options available. And, don't forget that astrophotography is not only about shooting the Milky Way.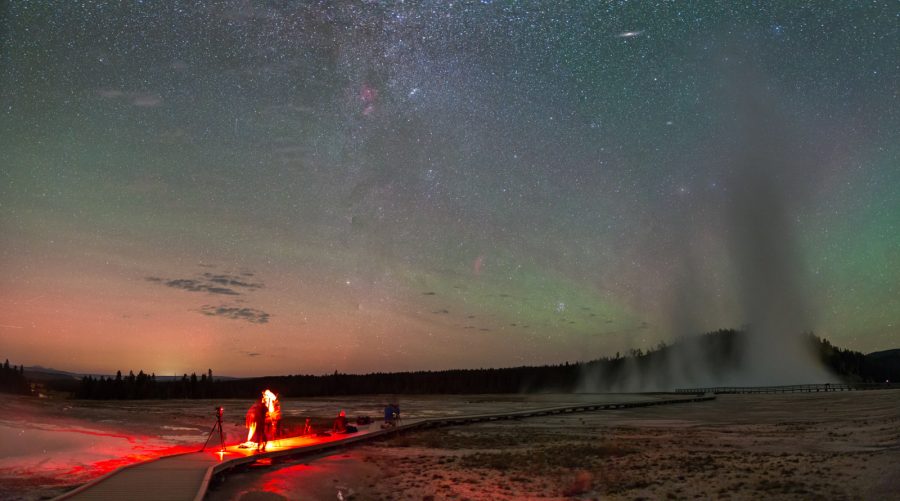 The two blueish pools on the north side of the complex can only be shot from the south, giving you less options with regards to the parts of the sky that can be used in the photos.
Luckily, the Big Dipper is an easily identifiable constellation, and can be shot above these two beautifully colored thermal pools. Another good idea is to shoot star trails here.
2. Old Faithful
Another option is to shoot in the area around what is probably the most famous geyser in the world: Old Faithful. Old Faithful is highly predictable, with eruptions happening roughly every 70 minutes. The park offers a daily timetable of the eruptions, so you can plan ahead for your photography sessions.
Eruptions last between about 2 to 5 minutes. The average height of the eruption is 44 metres. It's not the highest geyser in the park, but its predictability makes it the easiest to shoot.
You can photograph Old Faithful from pretty much any angle, so it will be easy to include any sky feature you like. There will be a bit of light pollution in the frame from all the accommodation venues in the area, especially if you shoot towards the south.
Luckily, most lights are properly shielded and they will not be a huge nuisance. You can get some wonderful photos of a majestic Milky Way above the erupting geyser. Colorful airglow will make the scene even more interesting.
There will be other photographers wanting to shoot Old Faithful at the same time as you, so I suggest arming yourself with a lot of patience. Some people will want to light paint the steam rising from the geyser, and some will want to photograph themselves or their friends in front of the geyser, etc.
Just be patient and don't get angry at them. We are all tourists and we all want to enjoy the amazing location.
Read about our recommended photography destinations: Nature TTL Hub
3. Blue Star Spring
In addition to Old Faithful, there are lots of other geysers in the area. There are also lots of hot pools in this same vicinity, and in my opinion these are maybe even more interesting than the geysers.
My favourite is Blue Star Spring. I just love how this small pool composes in the frame, together with a few nearby trees and the starry skies.
In conclusion
At the locations I've discussed, there are boardwalks that allow you to safely walk in between the unique hydrothermal and geologic wonders. Please stay on the boardwalks and don't be tempted to get closer to any landmarks. You can damage them, and it is also dangerous for you.
There are many other wonderful locations around Yellowstone Lake and at Mammoth Hot Springs. I am yet to cover these two areas, and I can't wait for my next trip to Yellowstone to shoot more nightscapes.
Clear skies!
Read about: Photographing at Acadia National Park in the USA.