How to Photograph Deer at Bushy Park
Bushy Park, in the UK, is a fantastic location for deer photography. For those of you who are unaware of this unique and endlessly surprising trove of photographic delights, let me give you a little bit of a summary. Bushy park isn't located out in the English countryside or even on the outskirts of a sleepy rural village. Nope, it's in London: Britain's largest city's which is home to over 9 million people.
Not exactly what you would call remote or wild. Perhaps unexpectedly, then, this is one of the best places in the UK to photograph red deer. Bushy Park is an enclosed Royal Park that is free to enter, but contains an abundance of wildlife and two deer species (red deer and fallow deer).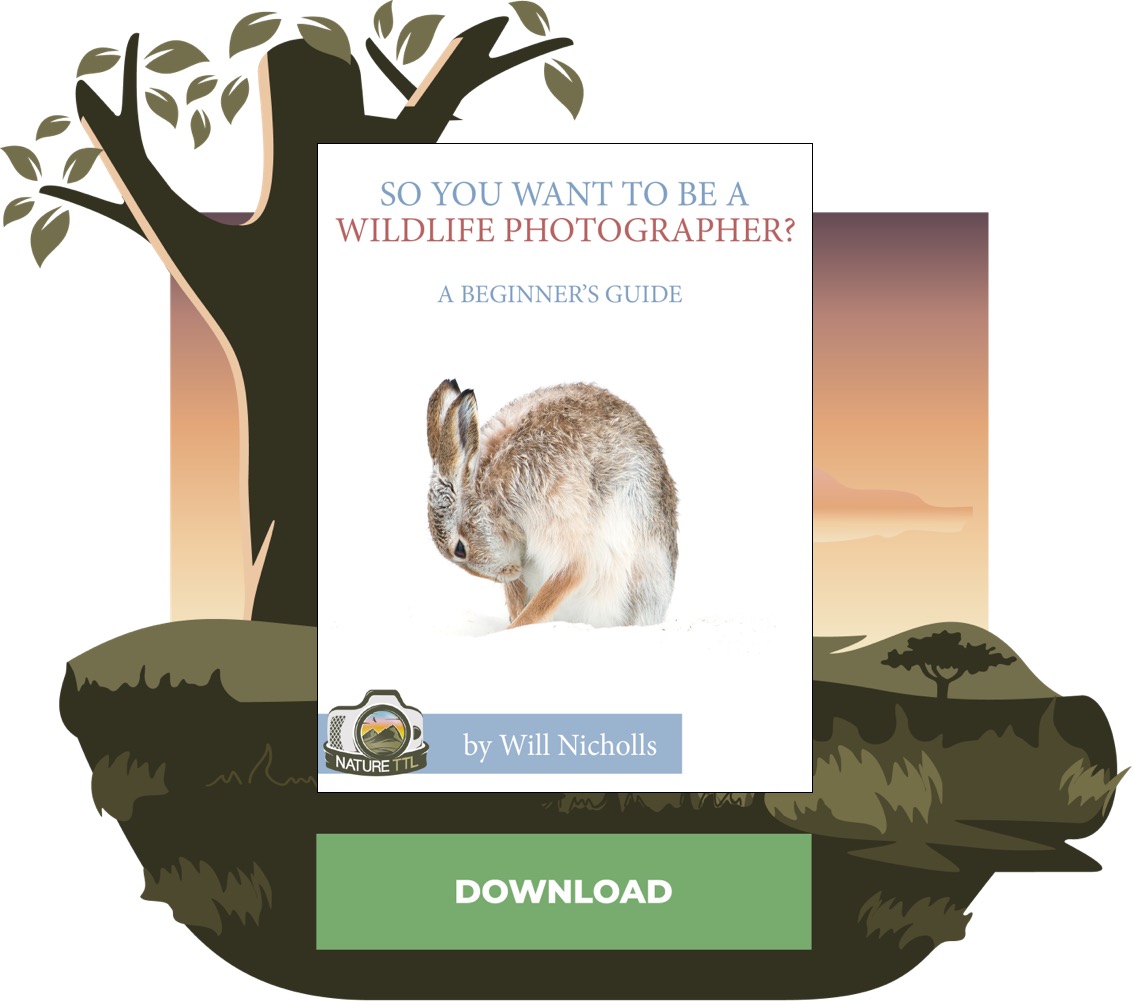 Deer can be hard to find and photograph in the UK; this can be down to the amount of time and skill needed to locate the deer, or simply down to the fact they are rarely in places considered accessible, which is what makes this place so intriguing. You can get up close with these majestic creatures, without the leg work, knowledge or tracking skills needed to photograph them in the wild.
So how do you make the best use of this fascinating place? Well, let's dive in!
Read more: Photographing the UK's Secretive Roe Deer
When are where to photograph deer in Bushy Park
Time of day
First of all, timing is key. Whilst I believe there is no bad time to visit Bushy Park, there are a few things that should be taken into consideration before planning your trip.
The first is that we all love a bit of early morning or late afternoon golden hour magic. Luckily, the park's gates are open to cars from 6:30am and open to pedestrians 24/7. Though, having said this, the park is closed early in the morning for a few weeks each year in the late autumn and winter.
The specific dates can change slightly so it is always worth visiting their website before you set off. Otherwise, you may end up just a little fatigued and frustrated, having woken at 5:00am only to find yourself parked opposite the closed gates, watching the sun rise and the magic light fade into flat daylight.
The deer rut
A lot of people who visit Bushy Park do so with the aim of photographing the deer during the rutting season. The rut is the time of year in which the stags and bucks are most active, have fully formed antlers, and can sometimes be seen clashing with one another.
Fallow deer and red deer rut at slightly different times of the year. The fallow bucks tend to reach peak rutting behaviour in October, whereas the red deer can be as late as November. Having said this, with the changing climate and other factors it seems to be a little unpredictable at the moment.
Top Tip: If you want to be sure of the right time, keep an eye on Instagram posts tagged with Bushy Park to time your trip perfectly with the rut.
The rest of the year
Although it is understandable that the rut is at the top of most photographers' lists, I would also encourage you to visit the park at other times of the year.
Bushy Park has several areas of freshwater in which the deer seem to enjoy taking a dip. Some have even been photographed cooling off in the main fountains.
This red deer hind was photographed taking a short cut to the other side of the lake. The park's lakes, for the most part, have low lying or sloped banks which allow you to lay flat by the water. Getting level with the subject's eye level is always something I would recommend, and if you find yourself waiting a while for the perfect moment, the lakes are always full of waterfowl to photograph whilst you wait.
If you are struggling to get yourself low enough, remember it's where the camera is that counts. Switching the camera into LiveView mode and holding it low to the water can get you into a better angle.
To keep the camera steady when holding it low to the water, stretch your arms out fully and pull the neck strap tight around your neck – this should help give some extra stability.
Composition: Framing a shot with antlers
Some males will have large, spectacular antlers. However, they do make it rather tricky to fit them in the frame whilst maintaining a good composition.
The first way to achieve better compositions is that if you are going to crop out the antlers, it must be done in such a way that it appears intentional. When cropping out parts, make sure the viewer has something else to focus their attention on in the frame.
For example, this shot of a fallow buck laying down has a patch of light catching its eye. That, coupled with the large amount of negative space and out of focus foreground, focuses your attention away from the antlers that have been cropped out of the frame.
The second technique involves the behaviour of the animals. If you spend time around the red deer stags, you will find that there are two occasions where they tilt their heads right back.
These are when they are calling, and when they are sniffing the air to find other individuals. At first this may not seem like something worth mentioning, but it completely changes the shape of the animal and is an important behaviour in the rutting season so is worth documenting.
Take your time
One of the key things that makes Bushy Park so rewarding is that the deer, for the most part, are comfortable with human presence. This means that you can relax and take time to think about your composition.
The photo below shows a stag sniffing the air, but it is quite small in the frame. You can often find yourself stood with the masses of photographers, photographing a group that seem happy with you being close.
If you're not careful, Bushy Park can often give you tunnel vision. Try to take a step back and look around you for a moment. You will start to see other things happening around you.
Stags will often move between groups, sometimes tentatively like this one. When they do this, it gives you time to move around to find a unique composition.
Top Tip: If you move your camera close to the surrounding bracken it can create a lovely out of focus area to help draw the attention to the subject.
If you do find yourself stood focusing on a rather tolerant group, then why not take the time to stroll around them. Crouch down for a new perspective, or try the same image from different positions in relation to the sun.
Read more: Choosing the Best Lighting for Wildlife Photos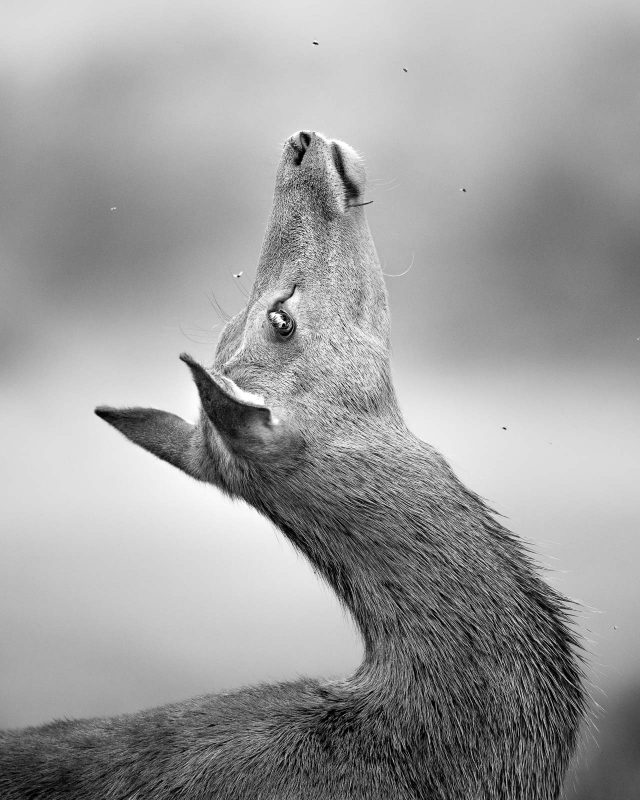 In conclusion
Before you head off to see what you can find, let me leave you with one final piece of advice. Deer are big; deer are not domestic animals; deer will win in a game of chicken. So avoid getting between stags and other deer, and be vigilant and respectful when you are exploring the park.
Read more: An Ethical Guide to Wildlife Photography
If you do all that, then you should have quite the photographic adventure; one that will no doubt leave you wanting to visit year after year.