Google Images Now Includes Image Rights Metadata
Following the recent EU ruling favouring the rights of photographers for online publishing, Google Images has taken the leap to include image rights metadata.
The decision comes as a consequence of a collaboration between Google, photo industry consortium CEPIC, and IPTC, a global standards body for the news media. Although in the past it has been tough to easily access image rights data in detail, the new Google Images feature makes it possible with a single click.
"This information is often part of image metadata, and is key to protecting image copyright and licensing information," states Google.
Creator and Credit metadata are now present on Google Images through an "Image Credits" link, bringing up a window with the information. Google is also planning to include Copyright Notice metadata to each image, identifying the intellectual property owner.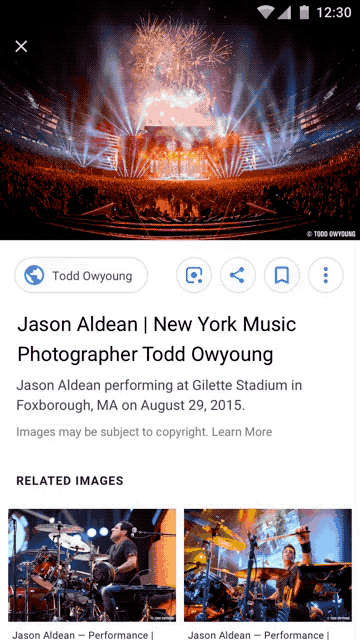 The company is also planning to create improved usage guidance for photographers, photo agencies, and publishers, in further collaboration with CEPIC and IPTC. This guidance will advise on how to best include copyright and attribution information in image data, in an effort to curb intellectual property theft. Currently, the IPTC Guidelines give instructions on how to best implement IPTC metadata.
"Employing IPTC metadata standards in Google Image results will help ensure proper attribution of credit and support photographers' copyright, while also boosting the discoverability of content and creators," said Andrew Fingerman, CEO of PhotoShelter.
"This is a win for the professional photo community."
The new feature is a followup to Google's decision to remove the "View Image" link from their image search function, making it more difficult for people to download full-sized images without visiting the original websites. These measures are received with open arms by photographers, as a recent survey by Pixsy found that 64% of professionals have reported having photos stolen online, and an equally staggering 44% of amateurs.
Although Google's new initiative will help curb theft to an extent, it is also a good idea to take extra steps, such as adding a watermark to each image, or a copyright notice to your website.
For more information, visit the Google blog post, and check out our guide to protecting your photos online.