The Best Fall Locations for Landscape Photography in the USA
Fall is by far one of the most enjoyable seasons to photograph. The cool, crisp mornings – with a warm coffee in hand – allow for a nice, relaxed outing to document the vivid colors of nature.
Now, not everywhere experiences fall colors, nor at the same time. Personally, I have three favorite locations within the United States to visit for fall colors, and with all three peaking at different times of the year it allows me the opportunity to document all three if I'd like.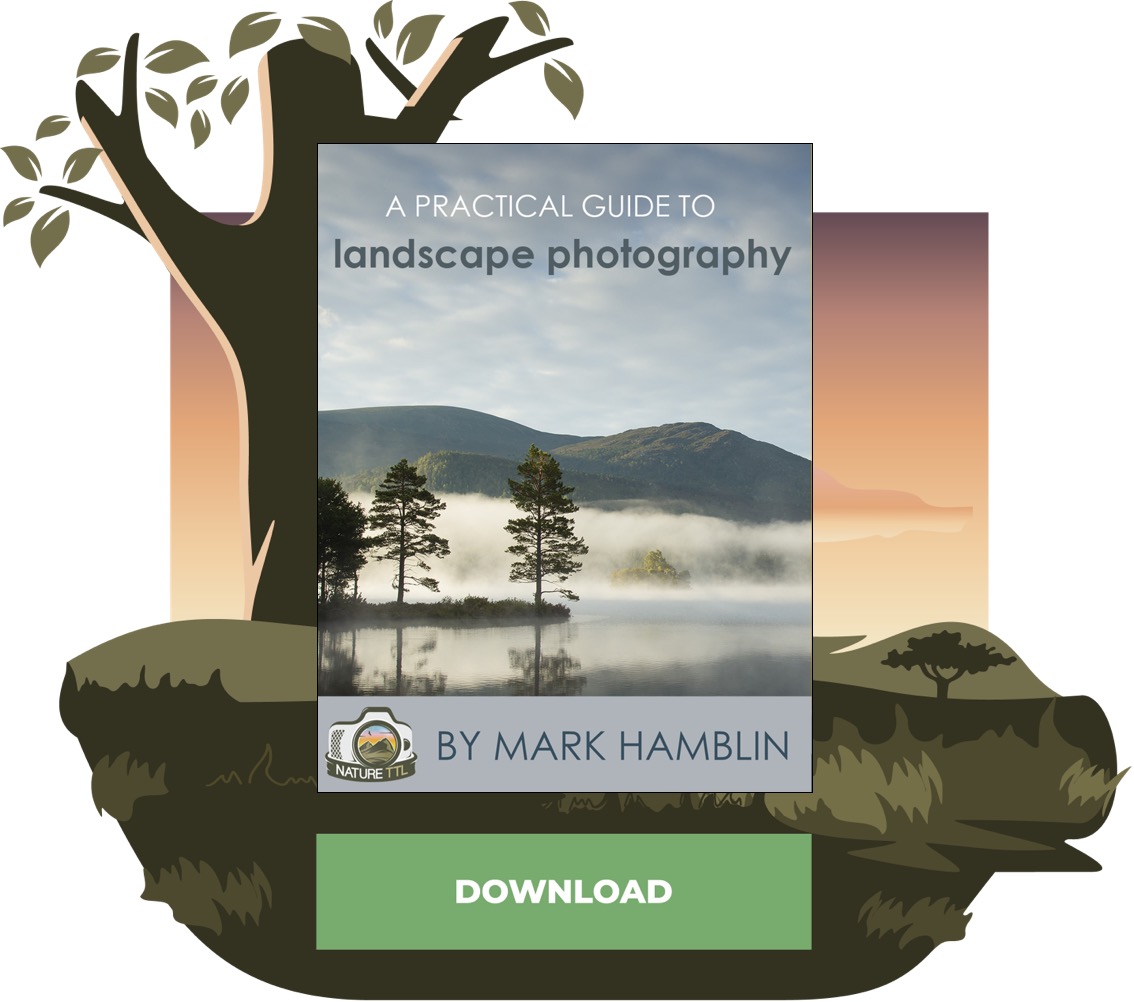 Let's look at some of the best fall locations for landscape photography in the USA.
Read more: How to Take Creative Photos of Autumn Trees
Southwest Colorado
The southwest region of Colorado can be one of the biggest playgrounds of fall colors for photographers. This region typically peaks around the last week of September into the first week of October, but can fluctuate by about a week or two depending on rainfall and temperatures.
For this area, I'd recommend basing out of the tiny town of Ridgway. Home to some great little restaurants and cozy cabins, it puts you within an easy drive of several stunning locations for colors.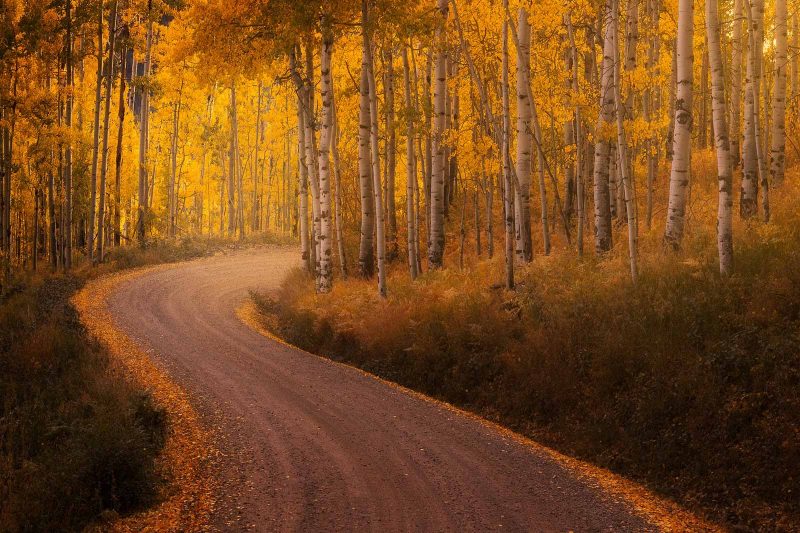 Now, in Colorado, don't expect the vivid red and orange leaves but instead the golden yellows.
The aspen trees here are what provide the stellar fall colors. If you're lucky, though, the underbrush can also turn a vibrant red during the right conditions. Most locations within this region don't require a 4×4 vehicle, so here are some of my favorite locations to check out:
1. Owl Creek Pass
Located about a 20-minute drive from Ridgway, you'll be treated to twisting and turning dirt roads surrounded by towering aspens. A few locations along the road provide stunning vista views over the forest, great for both sunrise and sunset.
As you make your way through the pass, you'll want to spend most of your time near the Silver Jack Reservoir. This location provides an absolutely breathtaking view of the mountains around you, decorated with fall colors.
Wildlife is in abundance here, so keep the long lens handy as you can see black bears, moose, and deer.
Read more: Where to Photograph Wildlife in North America
2. Ralph Lauren Ranch
Owning over 16,000 acres of land beneath the San Juan Mountains, this area provides absolutely stunning views of fall colors with the snow capped mountains in the background.
County Road 9 & 7 provide some of the best vantage points in this area. Not all the land here is public, so please be respectful to private property. You also want to be careful on these roads after a heavy rain or snow as a non-4×4 vehicle may have trouble traversing.
These landscape photography locations are great for both sunset and sunrise, and can be quite dramatic after a fresh snowfall.
The Dallas Divide overlook is another very popular location for sunrise shooters located here. If you decide to shoot sunrise there, plan to arrive at least 90 minutes prior to sunrise to grab a spot.
3. Red Mountain Pass & Million Dollar Highway
If you're looking for a nice, leisurely drive to take in the fall colors, I'd recommend both Red Mountain Pass and/or the Million Dollar Highway.
If you're coming out of Ouray, then Red Mountain Pass it is. If you're heading towards Telluride, check out the Million Dollar Highway. Both options are fantastic and don't require a 4×4.
These locations, though, are more prone to snowfall due to higher elevation, so prepare accordingly. They are also tiny – one lane each way roads – so give yourself plenty of time to travel as there is usually a bit of a slow pace at times.
New England
Typically peaking in mid-October, the New England region provides some of the most colorful fall foliage in the United States. From Vermont to Maine, you'll find more color than your eyes can handle.
For shooting in these USA landscape photography locations, you'll want to make sure to have a bit of patience. The roads and trails are usually quite busy with leaf peepers. So, once again, plan accordingly.
Two locations you don't want to miss out on in New England are the White Mountains and Acadia National Park. Both locations typically peak around the same time, so give yourself a few days and try to visit both as they are only about a five hour drive from one another.
Read more: Where to Photograph Landscapes in Acadia National Park, USA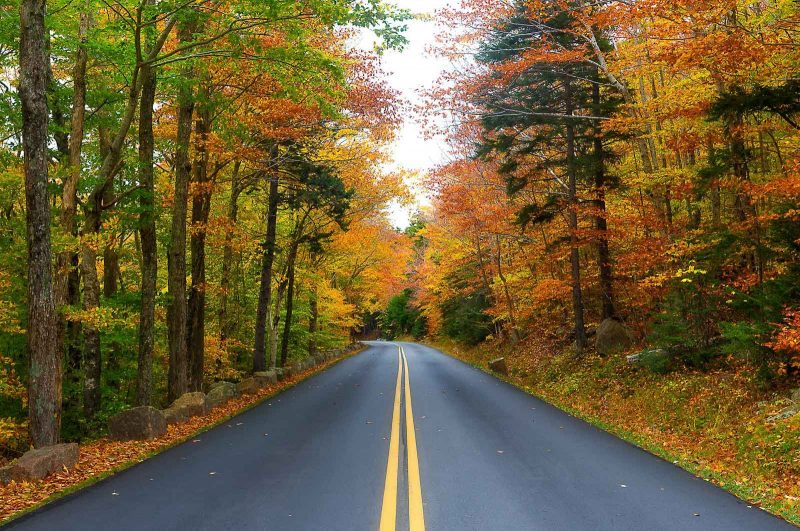 It's really hard to pinpoint exact locations to shoot as the coverage of the fall colors varies based on temperatures and, especially in these areas, the wind. So it takes more of a "drive around and get lost" approach.
The Swamps of the South
That's right: the swamps. Probably one of the last places you'd expect for a suggestion to go shoot fall colors, but – trust me – it's one of the most uniquely beautiful scenes to document.
Peaking in the early weeks of November, the swamps of Louisiana can be otherworldly as mystical cypress trees turn a fiery orange and red.
I would base myself out of Shreveport and chat with locals to get information on which swamps are starting to change over. Caddo Lake is probably one of the most popular locations to shoot at.
But to get to your shooting locations, you'll need a kayak or to hire a guide. This is because the best spots are shot from within the swamps. Most are only about four-to-six feet deep, so with a tall tripod in the right area you can shoot steadied shots.
Now, I've seen photographers actually get in the water with waders – but I've also seen photos of people who have lost toes due to snapping turtles… so choose wisely.
On cold mornings, the water can be quite dramatic with a layer of fog spreading across the top. Not only will you be in for a treat with the swamps as far as fall foliage goes, but there is also a good amount of wildlife too. From great blue herons to alligators, don't forget to bring the long lens.
Arkansas
Well, if you can't get enough fall color, and you happen to be exploring the swamps, take a day to head up north to the Ozark Mountains of Arkansas.
Petit Jean State Park and the Roark Bluff on the Buffalo River are two fantastic spots to spend a day or two at. Neither require an extreme amount of hiking, but you'll definitely want to get out of the car and walk around a bit. At Petit Jean, make sure to check out Cedar Falls. It's an extremely photogenic waterfall that can be surrounded by fall colors.
In conclusion
Fall colors can be extremely fun and rewarding to chase and photograph in the USA. Just remember to be patient and to monitor the weather, as that plays a huge role in when peak colors will be!
Don't get set just on the big wide landscapes either; make sure to give some love to the colorful details and the wildlife that gets to call these places home.
If you have any doubts on your location and how the colors are coming along, I've learned that locals are very helpful and willing to offer updates; so don't be afraid to give a local hotel or visitor center a call.