Moose Drowns After Being Surrounded by People Taking Pictures
A moose has reportedly drowned in Vermont, U.S., after being surrounded by people taking pictures.
According to The Independent, wildlife officials in Vermont said the animal had likely already swum "several kilometres" in crossing Lake Champlain from New York state. Upon reaching the shore at South Hero (part of Grand Isle in the centre of the lake), pedestrians noticed the moose and began to crowd the animal to take pictures while it was resting.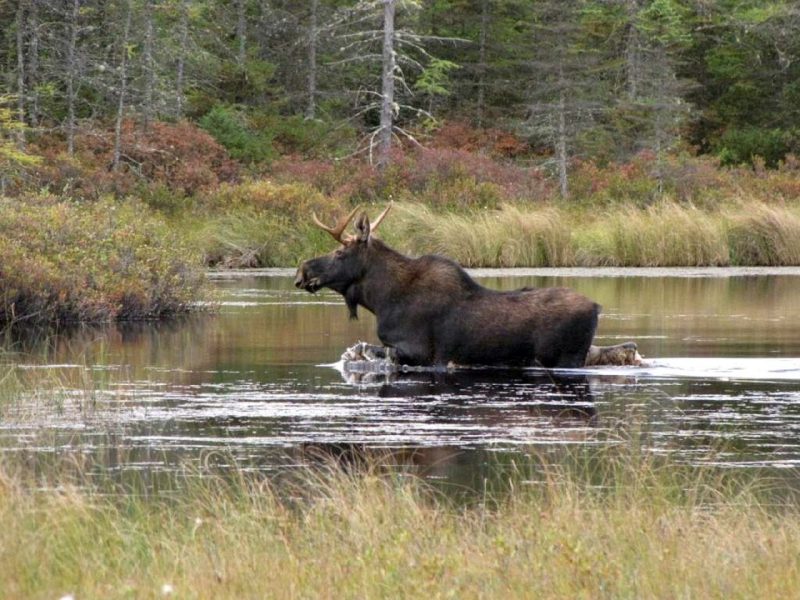 Intimidated by the crowd it re-entered the water and drowned due to exhaustion. Reports say the body of the animal was then bound and taken away by wildlife officials.
"The best practice is to stay away from it, keep your distance. Don't crowd the moose," said Fish and Wildlife Officer Robert Currier to WCAX3.
"If a moose feels threatened it's going to respond by either leaving the area or it's going to respond with aggression, and obviously we don't want anybody to be the victim of the latter of those two."
One bystander stated that the moose surfaced close to a bicycle path, resulting in the mass crowds that sought to capture an image of the powerful mammal.
The North American moose are renowned for their iconic antlers, which can span 6 feet across, and are the largest of all deer species in the world. As strong and agile herbivores, they are adept swimmers – allowing them to feed on aquatic plants throughout summer. Able to swim many miles at a time, they are also able to submerge and stay underwater for more than 30 seconds.
Therefore it is surprising and saddening to hear of this moose's death due to human interference. However, a specialist from the Vermont Fish and Wildlife Department told Burlington Free Press that the animal may have had brainworm parasites, contributing to its disorientation and eventual death.
An autopsy is impossible, as the moose was swiftly given to a butcher for the meat to be donated to a charitable organisation.
Regardless, it is imperative that photographers retain an awareness of the species they are capturing to avoid distress or injury of the photographer and/or animal.
Recently, a photographer was killed by a hippo whilst attempting to get closer to the species. There have also been reports of people disturbing nesting birds and breeding seals, by flying drones in close proximity.
Images are stock photos and are not associated with the incident.