Canon EOS R Review: Hands-on and First Impressions
The announcement of the new Canon EOS R has taken the photography industry by storm, marking Canon's first real foot into the mirrorless market. This is Canon's first full-frame mirrorless camera, and was announced early September. I was invited to the UK launch of the Canon EOS R, and got to spend some time with the new EOS R in my own two hands! As a result, I am able to provide you with this hands-on Canon EOS R review.
This review forms my first impressions from using the camera, and a much more thorough review will be soon to follow. However, it is clear from the moment you pick up this mirrorless camera that it is a serious contender – not just for photographers who shoot mirrorless already, but photographers across the industry that work with different camera formats.
Canon EOS R Review: Who is it aimed at?
The first question to be answered is where this camera is actually aimed. As a full-frame mirrorless camera, it joins the Canon 1DX Mark II, Canon 5D Mark IV, and Canon 6D Mark II in the full-frame line-up. Canon were very clear that this camera is not replacing anything, but instead bringing its own strengths to the line-up.
Canon have touted this as a second camera for professionals, and a primary camera for enthusiasts. I would totally agree with this, and as someone who is shooting with a Canon 5D Mark IV already, I'm not going to be switching for this particular model just yet.
However, a very exciting thing to have heard straight from the mouth of Canon was that this camera is paving the way for the next 30 years of development into mirrorless technology. Not only that, but Canon have promised to release a huge line-up of lenses (although what they are remains a mystery). That is a big deal, with the potential for everything from wide-angles through to telephotos exploiting the RF mount technology.
First Impressions of the Canon EOS R
The moment you pick up the Canon EOS R, you can tell that it is a very well-built camera. It is definitely not a "beginner's" camera; far from it. I can see immediately why this camera will appeal to nature photographers in particular, with its lightweight (600 grams) body making for easy travel and reducing the burden of taking equipment on long expeditions.
One huge strength of the Canon EOS R is that it is very customisable. There are a number of wheels which you can adjust; what you would typically see as the shutter and aperture wheels on a DSLR can be assigned to whatever you wish.
Plus, if you're using one of Canon's new RF lenses, you can assign a separate wheel to anything too. That means you have a wheel on your lens to adjust your ISO, shutter speed, aperture, or exposure compensation! This makes for a very versatile camera that you can mould to your own workflow.
The camera seems very "modern." It feels like you're holding the future of photography, and considering that I was someone who was sceptical about mirrorless technology… I think that says something in itself! One example of this futuristic tech is that when you power off the camera to switch lens, a curtain swings down to protect the sensor from dust. This is a brilliant feature, and one that should settle any worries about continuously getting dust spots over your images.
I was both pleased and disappointed to see that the camera is pretty much the same size as a 5D Mark IV DSLR camera (albeit lighter). The camera features a deep grip, so it will feel relatively familiar to you. However, one of the advantages of mirrorless technology is being able to keep everything small and compact. This camera is far from the smallest mirrorless available, but then again there is something really great about a lightweight yet sizeable camera that feels like a new generation of professional technology.
The autofocus performance of the EOS R
Canon's launch event was an interactive theatre performance, with various strange characters performing around the room we were in. They had lit the scene very dimly to highlight the low light capabilities of this camera. The EVF is capable of focusing at EV -6. Yes, you read that right! That means that you can nail the focus in very dim conditions. In fact, one of the Canon officials stated that it worked under a candlelight – although I have yet to test this for myself.
With 5,655 AF positions, this camera boasts the world's fastest autofocus speeds. You can lock focus in just 0.05 seconds, and even in poor light that proved possible today. It was really very impressive; Canon's dual pixel AF technology, which compares the variation between two pixels rather than using a "basic" contrast system, is lightning fast.
I haven't had a chance to explore its tracking abilities yet, and I imagine I won't have a real test of this until we have a copy of the camera to play with in the field. But if it is equally impressive, it'll be a formidable camera.
Low light capabilities
I've already said that the camera's autofocus performs very well in the dark, but what about the actual images it shoots? I will be updating this article with more sample images soon, but for now what I have for you are a few JPEGs straight out of the camera (Raw drivers are not yet released!).
This image was shot at ISO 6,400. The room was dim, although there were some spotlights to light the scene. The ISO performance seems very good. Surprisingly good, actually. Last week I shot a frame at ISO 6,400 on a 1DX Mark II, and I can't really see much of a difference at the moment.
With a closer crop, you can see the levels of noise in the shot are definitely more than acceptable.
Another image, taken in even lower light, at ISO 6400 shows the image degrading slightly but it is definitely still usable and the application of noise reduction would make an image you could be proud of.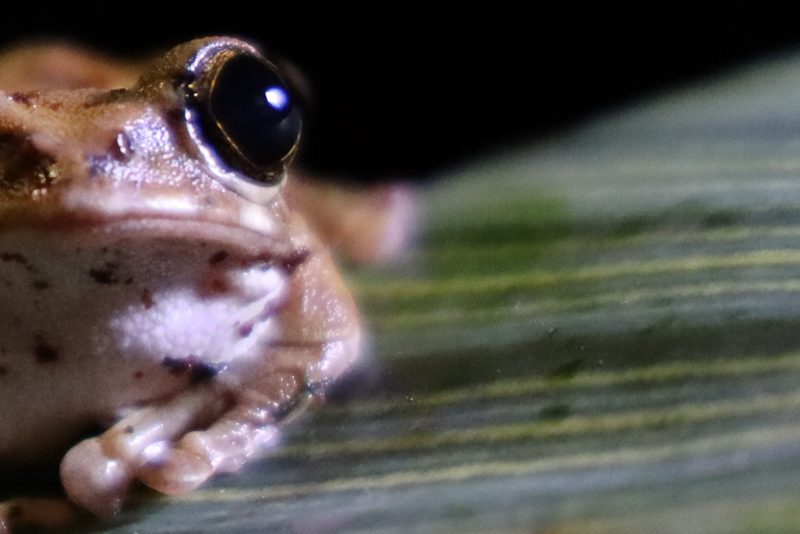 The EVF itself
With mirrorless technology, the EVF is obviously not optical (there's no mirror to project the image). It's an LCD, and some people just can't get along with EVFs that are LCDs. Honestly, using this camera, I didn't even notice that it wasn't optical. The EVF is so detailed, with 3.69 million dots, that you'd be forgiven for thinking it was optical.
You can also use the LCD screen as a touchpad, when looking down the EVF, to touch and drag the selected AF position. This is very important, as using a joystick to move between 5,655 points would take forever. Being able to touch and drag makes life a lot more simple. Plus, you can set it so that only half of the LCD works as a touchpad, meaning that you aren't trying to cram your finger under your chin to reach the LCD while looking down the EVF. There was clearly a lot of thought put into developing this system, and it definitely paid dividends.
Weaknesses of the Canon EOS R
Ok, so I've said how enjoyable it was to use the camera. What about the negatives? Well, when you just look at the specification list you may wonder what this camera has over something like the Canon 5D Mark IV. With the same megapixel count, and an extra frame of shooting speed, it's clear that the camera is not going to take the flagship spot in Canon's line-up.
Having said that, is it really surprising? This is Canon's first full-frame mirrorless camera. They've said that it is paving the way for future developments and this is an incredibly solid second shooter for a professional. In fact, if I wasn't focusing so much on film-making nowadays, I would buy this as a secondary camera.
If you were looking to get your first full-frame camera, the Canon EOS R is a serious one to consider. There is no doubt there. However, if you're already shooting with Canon's full-frame range then you'll need to look at the other strengths of this camera before you decide to switch. For example, does the lightweight advantages of this camera make a difference to you?
I think the biggest disappoint has got to be the fact that the frame rate of the camera slows down when you use AF Servo. Continuous focus means that the camera will go from 8 frames per second down to 5. It'll drop even further if you're focusing whilst shooting, having focus set as the priority, to 3 frames per second. This is a shame, and it gives a clear advantage of Canon's full-frame DSLR cameras for those looking to shoot things with a bit more action. However, you can be sure that Canon will be bringing out a mirrorless camera in the future that targets sports and wildlife photography. So hold tight, if you're in that genre!
About those new RF lenses
The Canon EOS R has a 54mm mount diameter (the same as EF), but the flange distance is reduced compared to that of a DSLR. This means that lenses can be more simply constructed, whilst using state of the art technology. There are currently 4 RF lenses on the market, with the promise of many, many more to follow. So far, I have used the Canon RF 24-105mm f/4L IS USM lens.
The RF lenses are very sleek. They look the part, and they feel like your typical L series lenses. However, as mentioned earlier, they have that extra ring around the barrel that you can customise to control a particular setting of your choosing. They are incredibly sharp, too, and I can't wait to have a proper chance to test out the new glass.
It's also worth mentioning that the RF lenses do not have any markings on them for focus distances. Instead, that is all shown on the LCD (or EVF) within the camera. This means that when you are looking to find infinity, for example, you can see this on the LCD. Interestingly, you can also adjustsharp stars the position of infinity depending on where you are shooting. For example, in hot environments, you'll see the position of true infinity move because of the temperature (see our article on for more info). You can adjust the camera to fit this, ensuring for sharp stars in each shot. Also, you can set the focus ring to be linear if you wish (more like a traditional focus ring) rather than a 'focus by wire' system.
One interesting takeaway from the launch event was that the RF lenses will come in both L-series and non-L-series forms. That means there will be cheaper options for mirrorless users, as well as more high-end lenses for professionals and enthusiasts.
Where does the EOS R fit in for nature photographers?
I think this camera opens up a world of possibilities for nature photography. I am really excited to see where Canon goes with this technology. As a wildlife photographer, this camera could be interesting. It performs really well in low light, and it boasts a completely silent shooting mode. This is also potentially a very good camera for wide-angle remote work, and camera traps, where you don't have to worry about scaring your subject. However, you do need to consider the fact that the frame rate drops when using continuous focus.
Not only that, but I think a fantastic setup would be this camera alongside one of the new prime 400mm and 600mm lenses. They weigh 2kg and 3kg respectively, so you can have an incredibly lightweight telephoto setup with this camera body (which, again, weighs just 600 grams).
In all honesty, I see more landscape photographers buying this camera than wildlife fanatics. It's geared more for the slow-moving, rather than capturing action-packed scenes.
In Conclusion
We're going to see some really amazing things from the photography market in the next year or two. Canon, Nikon, Sony, and other manufacturers all have mirrorless full-frame cameras on the market now. But with 130,000,000 EF lenses in circulation, which can be used with this Canon EOS R camera thanks to its RF mount and the subsequent adapters Canon have released, it makes sense to use a "main brand" mirrorless camera.
For the full specification list of this camera, check out our write-up of the announcement.
You can pre-order the Canon EOS R camera on the WEX Photo Video website. Cameras will start shipping on the 9th October 2018.
Summary
Reviewer
Review Date
Reviewed Item
Author Rating