Brecon Beacons: Best Places for Landscape Photography
The Brecon Beacons: 520 square miles of undulating river valleys, lush woodland, waterfalls, pastoral fields, and upland mountain summits. There really is all sorts to explore here! It is one of three national parks in Wales, and one of my favourite places to explore. I have spent many days here over the years, wandering off the well-trodden tracks and photographing the area across all four seasons.
There is a great sense of peace and wilderness once you are inside the national park. Just take a short journey from the towns and villages nearby into one of the many upland environments, and you will feel like you are miles from civilisation. However, the national park is probably one of the most accessible in the UK, being 22 miles from Cardiff and the M4 motorway, and only a stone's throw away from the English border which makes it an easy getaway for a wild wander in the Welsh wilderness.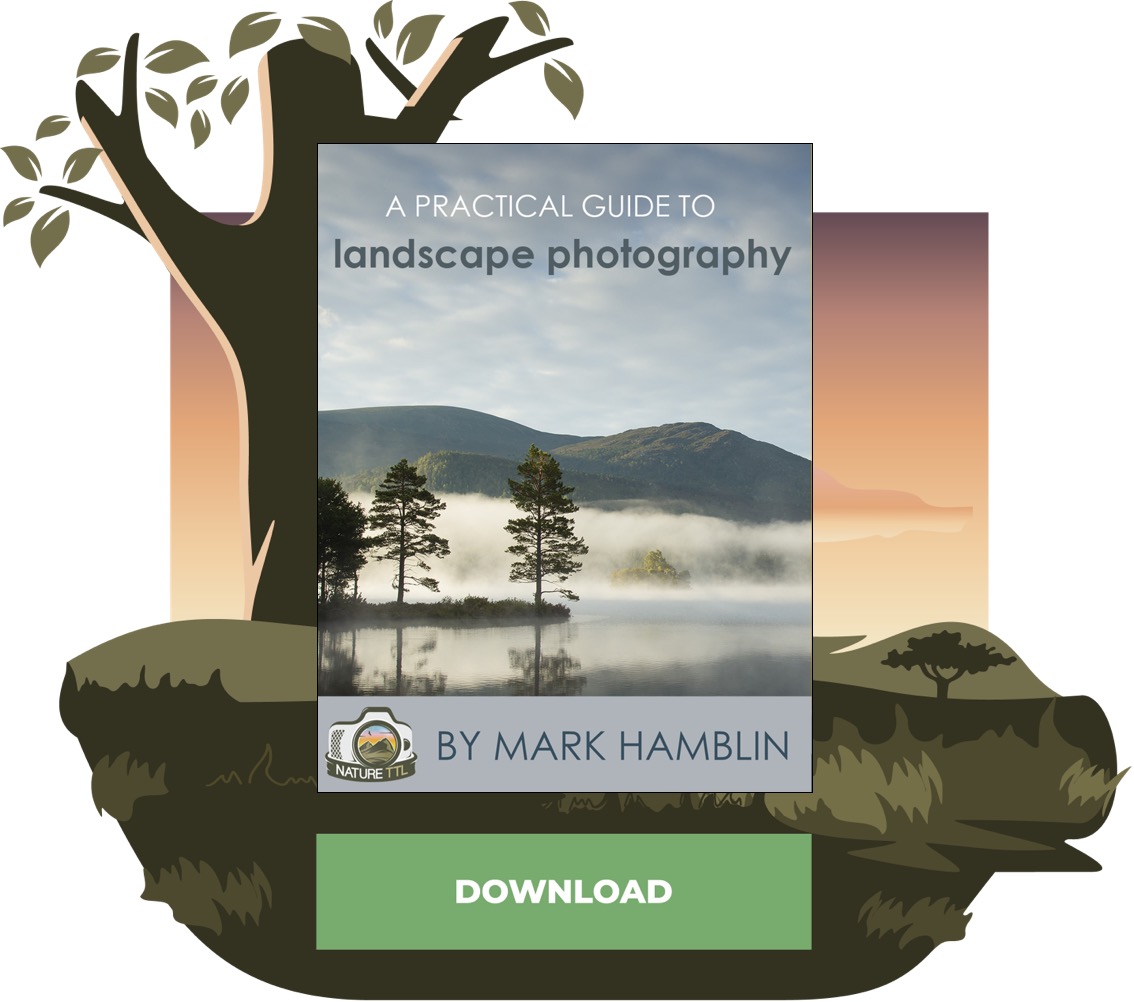 Weather tips
The weather can make a real difference to your experience in the park. The countryside is generally a lush green, and the waterfalls are always flowing, so there is no denying that the area gets its fair share of rain. Like much of Wales, the weather here can be unpredictable and quickly changing – even more so when mountains are involved, so keep an eye on the forecasts.
The likes of Pen y Fan may be easily accessible, but it is still a mountain environment and sometimes even when it is calm at the bottom there can be gale force winds on the summit. Furthermore, due to their altitude, the Brecon Beacons are always the first place where snow falls during winter in South Wales. If visiting at this time you should expect to encounter hordes of other visitors, all hitting the hills and enjoying the first snowfall of winter.
I have put together a selection of some of my favourite locations that showcase this area. These are places I return to time and time again – they vary in accessibility, but the rewards are always worth it, especially for the panoramic hilltop views across one of Britain's finest areas.
1. Llangorse Lake
You will find the largest natural lake in Wales just a short distance east of the town of Brecon, nestled between the central Beacons and the Black Mountains. This one mile-long freshwater lake not only offers fantastic mountain views and a diverse amount of wild and birdlife throughout the year, but also an interesting building known as a crannog. This ancient dwelling is the only one of its type to be found in the entirety of England and Wales.
Llangorse Lake is surrounded by a patchwork of green hills, fields, and meadows: most of this is common land, so there are plenty of pathways to walk to gain access. The crannog that stands on the lakeshore today is a replica of what once-there homesteads would have looked like in the past. From the car park, head down towards the boat hire centre, and then past it to the left to access the floating jetty.
Here is a great place to capture the crannog in its environment, with a distant Pen y Fan and surrounding summits in the background. Try using longer lenses too, and experimenting with long exposures using neutral density filters to blur any water or cloud movement (also handy for making swimming ducks and their ripples disappear)!
Parking Postcode: LD3 7TR
OS Map grid ref: SO 127270
2. Llyn y Fan Fach
This is a secluded lake, backed by a stunning mountain ridgeline that is aptly known as the Carmarthen Fans. It is nestled just inside the Carmarthenshire county border, towards the west of the Brecon Beacons National Park. This mountain range is also known as the Black Mountain, and the lake itself is synonymous with a folklore legend that tells the mythical tale of the 'Lady of the Lake', in which a 13th century young farmer agreed to marry a beautiful girl he saw emerge from the lake.
There's no denying that this is a truly magical location, and is a must-see when visiting the area. Lying at over 600 metres above sea level, the first snowfalls of winter completely transform this landscape and create an amazing spectacle of terrain and textures. It can be tough going in the snow, especially through the snow drifts on the final ascent to the ridgeline, but definitely worth it!
Read more: 7 Tips for Photographing Mountains
Parking is down a dead-end lane, and you'll reach the small car park at the end. You then continue on foot and follow the track uphill, passing the River Sawdde, and soon come across a small trout farm and fish ladder (which you'll divert around), before heading on the track up to the lake. From here, you can head around the western side of Llyn y Fan Fach and up to the top of the cliffs.
However, you may prefer to follow the path towards the lake itself before continuing up the cliffs. Here, a path traverses along the northern escarpment of Bannau Sir Gaer. You will be greeted by stunning curved cliffs, characterised by horizontal strata of old red sandstone and millstone grit that enclose Llyn y Fan Fach, which lies peacefully over five hundred feet below the ridgeline.
Parking Postcode: SA19 9UN
OS Map grid ref: SN 79997 23809
3. Sgwd yr Eira
Sgwd yr Eira is found on the 'Four Falls Trail' which, as you may have guessed, features four waterfalls on its wooded walk. It's one of a collection of falls found in 'Waterfall Country' – one of the most beautiful areas in the Brecon Beacons National Park. With steep, tree-lined gorges and an abundance of tumbling water, there are more than 10 waterfalls in this relatively small area.
The most well-known waterfall is Sgwd y Eira (Falls of Snow) on the River Hepste, famous for its natural pathway that leads right behind the curtain of falling water: a truly magical experience.
From the car park the pathway is quite undulating and it's a good few miles to get to Sgwd yr Eira falls, but you'll pass plenty of other falls along the way. The whole route requires a good level of mobility due to the many ups and downs, slippery areas (in wet conditions), crossing over fallen tree roots, and finally the hundred or so steps to get down to the waterfall. The falls are most spectacular after a heavy spell of rain, with thousands of gallons travelling through them every minute.
However, for photography, if there is too much water falling you'll just end up with a white-water overload on your photos, and will also probably have to clean your lens every minute due to the amount of spray generated. For these reasons, visiting during calmer conditions a few days after heavy rain would be ideal.
Coupled with the amount of water falling, the seasons play a big part too. In springtime the surrounding foliage and tree colours will be a vivid green as new leaves spring into life. Through the summer months the tree canopy will close in, reducing available light and affecting your shutter speeds. In my opinion, the best time of year is autumn. Vivid, russet colours will frame the falls in classic autumnal orange tones, and fallen leaves will be found all around, resting on rocks and swirling in the water.
Occasionally we get cold snaps in South Wales, so ice, snow, and icicles are possible – but I'd predict that access to and from the falls would be severely hampered in these icy conditions, and wouldn't recommend it unless properly kitted out and prepared. Although the paths accessing the falls are well maintained, I would still recommend a good pair of walking boots, or preferably wellies that you feel comfortable covering some miles in.
When navigating near falls, tread carefully, walk slowly, and you will remain nice and dry! Lastly, do not forget your circular polarising (CPL) filter when visiting. Waterfalls in general are superb places to use them to full effect, boosting natural tones and reducing reflections and surface glare. If there's one place I couldn't be without a CPL filter, it would be a waterfall: they really will transform your image.
Parking Postcode: SA11 5US
OS Map grid ref: SN 918105
4. Llangattock
These towering rocky cliffs and grassy hills are surprisingly easy to access, and offer not only superb geological features but one of the best vistas too! This rocky ridge is found towards the eastern end of the Brecon Beacons, dominating the skyline above Crickhowell and visible from quite a distance.
Once a huge quarry, the limestone was extracted from the ridge here and taken via tramline to the Monmouthshire and Brecon canal in the valley below. It was then taken by boat to be burnt in kilns and used as a vital part of the iron-making process in the iron foundries around Clydach Gorge. Filling the air today are the croaks of ravens and the bleats of sheep, a far cry from the hustle and bustle of the area's industrial past.
The best way to gain access to the clifftops is to park at the Llangattock Quarry Car Park and walk west along the old tramline route. After a short distance on easy-going pathways you'll find yourself in a strange landscape of grass-covered conical spoil heaps, weathered limestone boulders, and the stony ruins of old quarry buildings.
After 200 yards or so, look out for a well-worn sheep track to your left. It's a little narrow in places, but this will take you up and around the edge of the cliffs and along the top. Also explore around and in-amongst the spoil heaps for interesting views of this majestic terrain.
Parking Postcode: NP8 1LG
OS Map grid ref: SO208154
5. Pen y Fan
I don't think I could write an article about Brecon Beacons locations without mentioning this magnificent mountain range. Standing at 886 metres tall, Pen y Fan is the highest mountain in South Wales and southern Britain. Along with its neighbouring summit Corn Du (873 metres), it features a distinctive flat top – a characteristic found on many of the summits of the Brecon Beacons.
These are formed due to weathering of the softer brownstone, which erodes away and leaves the harder plateau rock behind. From up here on a good clear day you can see for miles. It is a fabulous place to spend a day, take in the panoramic views, and enjoy a great feeling of being on top of the world!
You can get your mountain fix here without too much effort. There are many walking routes to the top, varying in difficulty and enjoyment, but for a first timer try the path from the Pont ar Daf Car Park: it's nicknamed 'the motorway' for good reason. Hundreds of thousands of visitors walk up this route every year, and I'd recommend this path for a first time visit as it's nigh on impossible to get lost, and will give you a great idea of the terrain and views to be had.
It's generally a flat and easy path underfoot on the way up, albeit with a few small stream crossings. It takes about forty-five minutes to the ridge line when going at a steady pace, or around an hour or more in snowy conditions (when there's path to follow)! Once up on the ridge line and looking out to the open space in front of you, it's important to remain conscious of working on compositions and keeping scale.
Use any natural elements to create interesting foregrounds, and also hone in on any aspects that are unique to this area. The name Pen y Fan roughly translates to the 'Top Peak' or the 'Beacons Summit' and this is certainly accurate. A 360-degree view greets you from the top on a clear day. You will be able to make out the Bristol Channel in the distance, see west to Carmarthen Bay, and the Gower Peninsula to the south west.
In addition, out to the west and north will be the Black and Cambrian Mountains, the town of Brecon, and much of mid Wales and the South Wales Valleys. On exceptionally clear days and with the right light angles, even as far as Exmoor and South Shropshire can be seen. At the summit, I'd thoroughly recommend stopping on the cairn trig point to take a quick selfie: this is a great way to celebrate all that effort on the climb!
Even though you can pretty much step out of the car here and already be on your way on the easy path up, it's important to be correctly dressed for changeable mountain weather, even on sunny days. Also, be sure to wear correct footwear to lower the risk of potential ankle injuries.
Use the mountain weather forecast to give you accurate conditions for the summit – it can be a whole different day up there with gale force wind, freezing temperatures, and especially snowy conditions. Although if conditions work out in your favour, it can be a spectacular visit.
Parking Postcode: LD3 8NL
OS Map grid ref: SN 98690 19993
In conclusion
There are far more places to explore in the Brecon Beacons National Park than just the locations I have listed above: as the park is so large, there really is something for everyone.
As well as going to the more well-known locations, it is best to grab a map and jump off the beaten tracks. Follow anywhere along the 'Beacons Way' footpath and you will not go too far wrong.