'Blood Micro Moon' Will Be Longest Lunar Eclipse of Century
If January's Super Blue Blood Moon wasn't enough to whet your lunar-photography appetite, then get your lens aimed to the night sky this July 27th.
The full moon will transform to a brooding 'blood moon', in what will be the longest lunar eclipse of the 21st Century.
With the total eclipse lasting a spectacular 1 hr 43 minutes, this will be flanked by a partial eclipse before and after bringing the total event to a staggering 3 hrs and 55 minutes.
So if you're an avid astrophotographer, this means there'll be plenty of time to set up your gear and capture a blood-red slice of the celestial.
This lengthy change occurs because the July full moon and July lunar apogee (when the moon is at its farthest point from Earth) fall on the same date.
Known as an apogean full moon, this miniature-sized moon takes much more time to travel the Earth's shadow than one closer to our orbit. This small size combined with the reddish glow gives it the title of a 'Blood Micro Moon'.
Visible primarily from the planet's Eastern Hemisphere, those in Europe, Africa, Asia, Australia and New Zealand will get the greatest view of the eclipse. If you're keen to get a view, this will occur from 7:30 pm to 9:13 pm GMT.
Unfortunately, North America, most of the Pacific Ocean, and the Arctic will miss out on the blood moon this July.
The searing red of a blood moon occurs when reduced sunlight is bent by the Earth's atmosphere, grazing the moon's surface. Due to scattering by Earth's air, only the longer-wavelength light remains, where the redder colouration lives.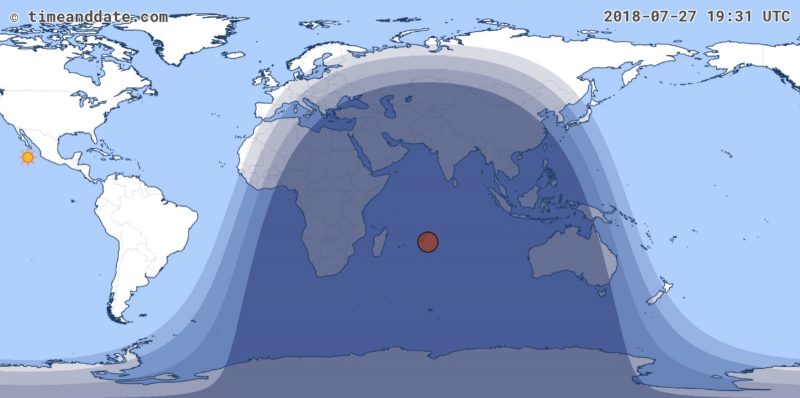 If you're in one of the regions that gets a view of this century-topping eclipse, then be sure to visit this page from Time and Date. There you'll find the best times and positions to view the eclipse, with helpful maps, charts, and a countdown.
Before heading out, watch our helpful tutorial on How to Predict and Photograph the Perfect Moonrise.