8 Beautiful Photography Locations in the Yosemite Valley, USA
Spanning nearly 1,200 square miles, Yosemite National Park in the USA offers a seemingly never-ending arsenal of incredible landscapes to photograph. There is a catch though, as much of the park requires intensive hiking into the backcountry.
Now, if spending days hiking and camping around doesn't fit your schedule (or if you'd like something a bit more lax), the Yosemite Valley is a wonderful place to take advantage of a handful of easily accessible and stunning photography locations.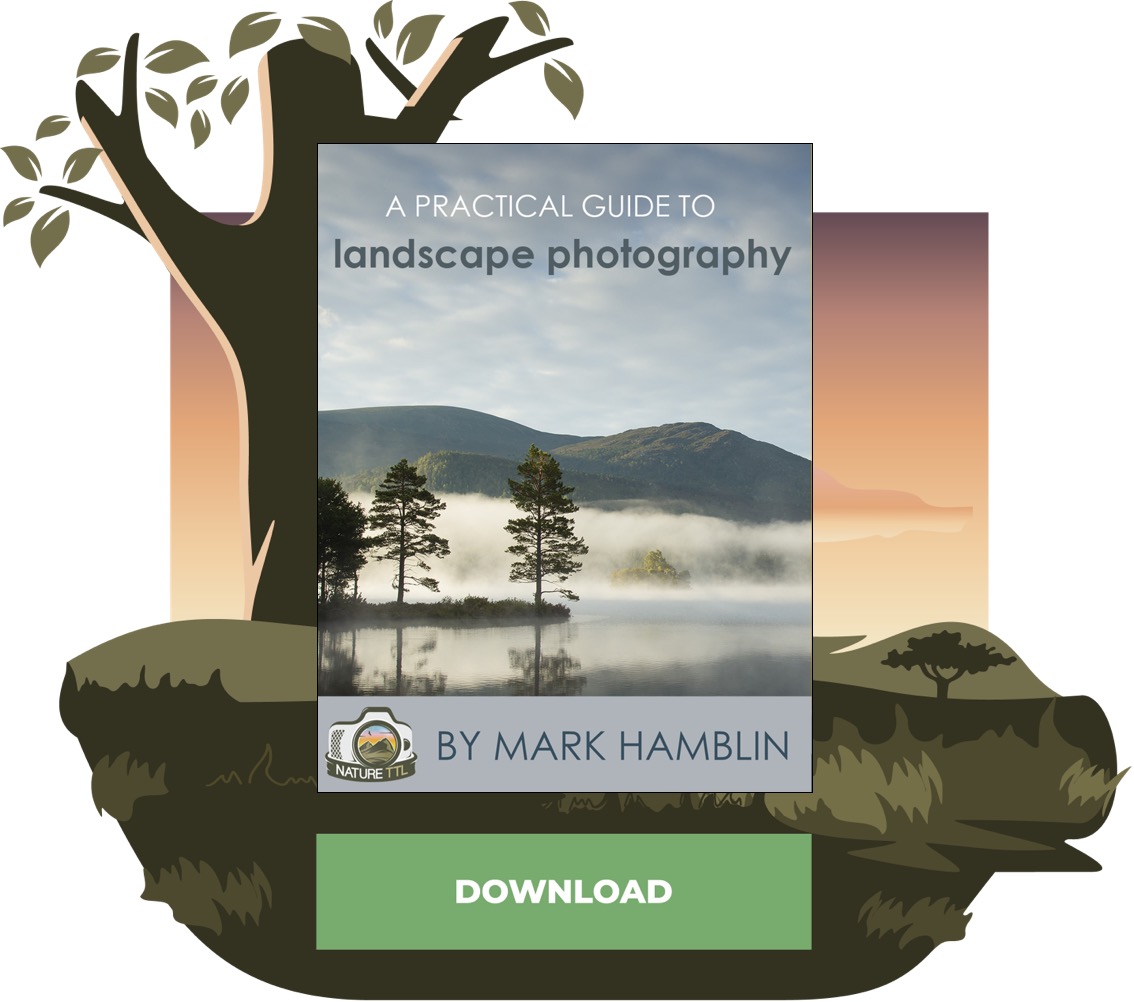 When to visit Yosemite Valley
I'd like to share a few quick tips before we get rolling. Yosemite is one of the most visited national parks in the United States, it sees over 4-million visitors each year, so plan accordingly.
My favourite times to visit the park are either in February or late April. February can be incredible with snow storms moving through the valley and decorating everything in a blanket of white, fluffy snow. Dry waterfalls briefly flow again and it truly is magical time. Plus, you'll find yourself almost alone in the park.
In April, visitor numbers starts to ramp up, but it's still not swamped like in the summer (during summer months, you can spend up to an hour just finding a place to park). The falls are raging from snow melt and the landscape flourishes in green. Once schools are out and summer break is in session, the park becomes quite busy with tourists.
Now without further ado, let's talk about some awesome locations for landscape photography in the Yosemite Valley!
1. Tunnel View
Easily one of the most iconic Yosemite scenes, Tunnel View offers great perspectives of the valley regardless of what time of day you to choose to photograph it.
I would recommend focusing on sunrise, though, for two different reasons. First off, the sunrise glow behind all of the mountains creates quite dramatic lighting.
Secondly, any time after sunrise the overlook becomes quite busy and spots to set up your tripod can become limited. With that said, even if you are planning on shooting sunrise, you will want to get to the overlook at least 45 minutes prior.
The secret is out amongst photographers that this is a "go to" location in Yosemite, so it can be quite crowded with just photographers in the morning.
I also recommend bringing a variety of focal lengths with you. A wide-angle is great to capture the entire valley floor, but a telephoto can help you hone in on some wonderful details.
Read more: What's the Best Lens for Landscape Photography?
2. Valley View
Another iconic view of the Yosemite Valley, but a bit lower and having much more foreground to work with, Valley View is not a location you want to miss out on shooting. Unlike Tunnel View, Valley View has the beautiful Merced River flowing in its foreground and various pieces of driftwood, hay stacks, and rocks to add to your composition.
This spot is fantastic for sunrise, and even more fantastic when you have fresh snowfall covering the hay stacks and rocks.
For this spot, your wide-angle lens will be your friend. It is also wise to bring a pair of water boots or short waders to allow you to get into the water and approach various foreground. Don't worry though if water isn't your thing, as you can shoot quite a bit from the shoreline.
A big tip for this spot is to get here early if you want to shoot sunrise as there is only enough parking for about eight cars.
3. Vernal Fall
Now if you're looking to get some movement going in those legs of yours, Vernal Fall is a fantastic waterfall to visit. The trail is a bit over 3 miles round trip with some elevation gain. But, unlike our first two locations, I feel this spot is best shot in the middle of the day. Yes, yes, I know… horrible light, right? Actually, no.
The higher sun angle helps create a beautiful rainbow at the base of the falls! But, be careful on this trail: as you get closer to the falls, it becomes incredibly slippery.
Vernal Fall is definitely a location that you want to visit in late spring once it gets roaring. In winter months, the fall becomes nothing more than a trickle. Be sure to bring your circular polariser with you for this shot as it can greatly help with the vibrancy of your rainbow.
4. Cook's Meadow
One of the things that I love so much about Yosemite National Park is that once you pick your jaw up off the floor from the towering mountains and cliffs that surround you, you will have your mind blown again at all the small, wonderful, intricate photo candy that the valley floor has.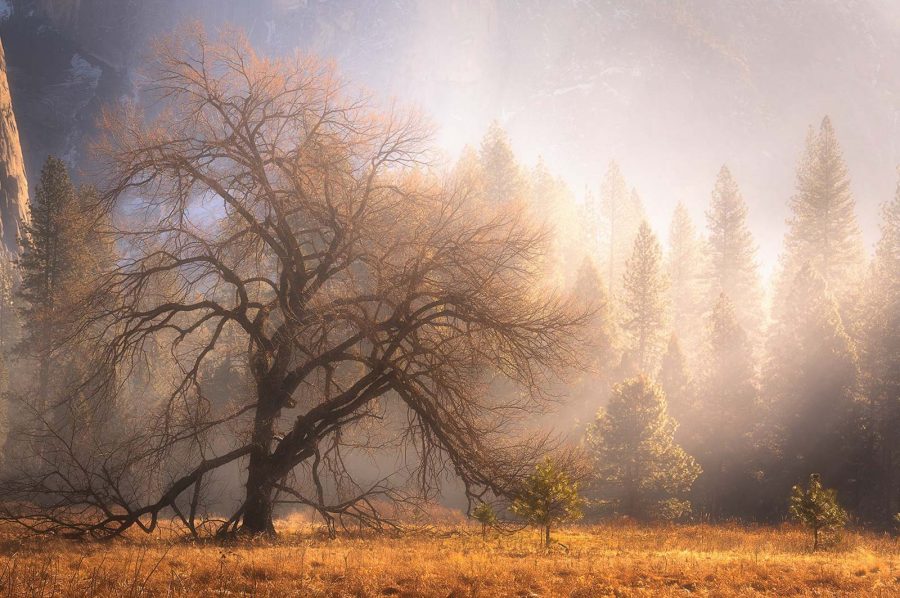 I especially enjoy the Cook's Meadow area. Not only does it provide you with one of the best views of both Lower and Upper Yosemite Falls, but there are some lovely trees that have some great characteristics to them. In particular, I am thinking of one large elm tree located across from the falls in the meadow. If you find yourself in the valley with some smoke or fog, this area can get your creative juices flowing.
5. Lower Yosemite Falls
I'm a sucker for waterfalls, and Yosemite has some great ones, but I think that Lower Yosemite Fall has to be one of my favourites. It's not the biggest, tallest, or most powerful, but it ties in oh-so-well with the forest around it, and I love finding new and unique vantage points of this fall each time I visit.
If you're looking for an easy scene to wander around in that is full of stunning redwoods, vibrant green moss, winding streams, and of course a great waterfall, then check out Lower Yosemite Falls trail.
Oh, and with some luck you may even be able to photograph some wildlife here. I've been fortunate enough to see bears, bobcats, deer and more on this short little loop.
You can walk right up to the base of Lower Yosemite Falls or explore various frames throughout the forest, so expect to spend more than just a few minutes here.
A quick heads up, though. When at the base of the falls, prepare for you and your gear to get quite wet. I'd recommend having some sort of poncho for yourself and a cover for your camera.
6. Sentinel Beach Picnic Area
As you drive into Yosemite Valley, you can't help but not stare in awe at the pure scale and stature of El Capitan. This vertical wall of granite rises nearly 3,000 feet into the air and is a haven for rock climbers.
It is a beautiful feature of the valley to photograph, but clean views of it can be a bit hard to find from the valley floor. One of my favorite locations to shoot from is along the Merced River near the Sentinel Beach Picnic Area.
This is a great location for sunset shooting of El Capitan. Just by a walking a few hundred feet in one direction or the other, your views of the stunning cliff side will change quite drastically – so give yourself a bit of time to scout here.
I typically recommend shooting with either a wide-angle or mid-zoom focal length. A circular polarising filter can be quite beneficial to help cut down glare on the water and also a 6-stop neutral density filter can help frost over the water on windy days.
7. Yosemite Valley Chapel
Yosemite has enough beautiful landscape scenes to fill your memory card daily, but there are some manmade hidden gems scattered throughout the park that should also end up in front of your lens. If you don't pay attention, you can easily drive past the tiny Yosemite Valley Chapel as you explore the valley.
Built back in the 1870s, this chapel makes for a wonderful addition to your Yosemite collection. Make sure to not only photograph it from the front, but walk behind it and incorporate it with the Upper Yosemite Falls off in the distance.
The chapel is also absolutely beautiful when decorated with fresh snowfall, but try to get there right after the snow stops as footprints can easily destroy the pristine scene.
8. Glacier Point
If you feel you have seen all the Yosemite Valley has to offer, then think again. The valley isn't just visible from ground level.
Typically accessible between May and October, Glacier Point brings you high above the valley floor and introduces you to the park in a very different way. The highlight of this spot for me is the breathtaking view of Half Dome. It is literally eye-level with you and feels like just an arm's reach away.
For this spot, I'd recommend all focal lengths from a wide-angle to telephoto, as you can zoom in on several waterfalls from high above. Also, make sure to stay after the sunset and take it the incredible dark sky above the park. The stars shine brightly from the valley floor, but nothing quite like what you can see from Glacier Point.
In conclusion
Yosemite National Park is without a doubt a photographer's paradise. With its immense size, if I found myself in a crunch for time then I'd definitely focus my photographic efforts on the Yosemite Valley.
No matter what season you decide to visit in, I can assure you that you will not only walk away with some incredible images, but also memories that will last a lifetime.
Yosemite is truly a location that you can continuously return to year-after-year and never walk away with quite the same scene being captured.