Nikon Officially Announces Z Series Full-Frame Mirrorless Cameras
After much speculation and many teasers, Nikon has officially announced their full-frame mirrorless lineup to the photographic world, along with their brand new Z mount system.
This announcement involves the unveiling of two mirrorless cameras, three Nikkor Z lenses, and an FTZ lens adapter for those with F-mount glass.
The new Z mount system is at the centre of the release, with Nikon hoping it will revolutionise the mirrorless market.
Consisting of a 55mm inner diameter and a 16mm flange focal distance, the Z mount allows for apertures as fast as f/0.95 – Nikon's fastest to date.
"It is about redefining possibilities to provide image makers with tools to pursue greater creativity," states Nikon.
Equipped with this mount are the two new full-frame mirrorless systems – the Nikon Z 7 and Z 6.
Nikon Z 7
The Nikon Z 7 is spearheading the launch, wielding an all-new high-resolution sensor and outstanding autofocus capabilities.
The sensor is a 45.7 megapixel backside-illuminated Nikon FX-format CMOS, supporting an ISO range of 64-25600.
This goes alongside Nikon's EXPEED 6-image processing engine, that purportedly reduces noise and renders subjects sharper than ever, whilst supporting 9fps continuous shooting.
A hybrid autofocus system means the Z 7 has a staggering 493 focus points, allowing for approximately 90% coverage of the imaging area both horizontally and vertically.
The hybrid system switches between focal-plane phase-detection AF and contrast-detect AF when focusing for increased accuracy and speed.
The camera is also capable of full-frame 4K UHD recording, with full pixel-readout.
Nikon Z 6
What the Z 7 has in image quality and autofocus capability, the Z 6 makes up for in terms of speed and low-light performance.
Equipped with a Nikon FX-format CMOS sensor, the camera holds a 24.5 effective megapixels resolution.
To compensate, this comes with a ISO 100-51200 (equivalent to 50-204,800) – meaning some serious low-light shooting is on offer.
Built with the same EXPEED 6 image processor, this versatile body can perform at 12fps continuous shooting. Whilst sporting the same hybrid autofocus system, the Z 6 only makes use of 273 focus points.
Like the Z 7, it also records in 4K UHD with full pixel readout, meaning high-quality, low-light movie recording is made possible by the Z 6.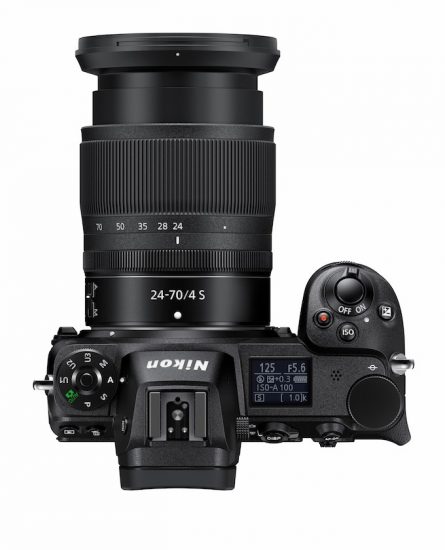 Other Key Features of the Z 7 and Z 6:
Electronic viewfinder with a 3.69 million dots resolution and 100% frame coverage.
5-axis vibration reduction equivalent to a shutter speed of approximately 5 stops.
3.2in 2100 dots touch-sensitive LCD monitor with tilting mechanism.
Dust and drip resistant build.
Interval timer for 8K time-lapse creation.
Built-in WiFi for computer and smartphone connectivity.
Silent photography feature.
Nikkor Z Lenses
Alongside the bodies Nikon has announced three lenses: the 24-70mm f/4 S, 35mm f/1.8 S, and 50mm f/1.8 S.
The three new S lenses are designed exclusively for the Z mount full-frame mirrorless cameras, taking advantage of the wide diameter and short flange focal distance.
Each lens features a Nano Crystal Coating whilst being fully sealed to protect from dust and moisture. They also include compensation for focus breathing, quiet AF operation, and a new control ring that improves aperture and focus changing.
Nikon has also announced the development of the Nikkor Z 58mm f/0.95 NOCT lens, to be the fastest Nikon lens yet, along with an FTZ Lens adapter.
Nikkor Z 24-70mm f/4 S Lens
The 24-70mm f/4 S lens allows a standard focal-length range, whilst having an aperture that provides flexibility with a zoom lens.
Featuring a minimum focus distance of 0.3m across the entire zoom range, the lens also has a new optical design that improves edge-to-edge sharpness – even at f/4.
Nikkor Z 35mm f/1.8 S
This 35mm f/1.8 Z mount prime lens is built with two ED glass and three aspherical lens elements, ensuring edge-to-edge sharpness at maximum aperture.
It is powered by a new multi-focusing system with two AF drive units, improving focus speed and accuracy, whilst reducing noise.
Nikkor Z 50mm f/1.8 S
The Nikkor Z 50mm f/1.8 S is the cheapest lens in the lineup, featuring a new stepping motor for improved autofocus capabilities.
Frame-wide sharpness is also provided, whilst a smooth and natural bokeh effect is produced in out-of-focus areas.
Nikkor Z 58mm f/0.95 S NOCT
Following plenty of speculation, Nikon has confirmed the development of their Nikkor Z 58mm f/0.95 S NOCT lens. As the fastest ever lens in Nikon's history, the lens will also be manual-focus only.
This extremely fast maximum aperture is hoping to produced "superior detail and sharpness", along with smooth bokeh.
FTZ Lens Adapter
The new lens adaptor provides full compatibility for more than 90 lenses, in addition to reduced functionality for 360 existing NIKKOR F lenses.
Full vibration reduction (VR) is possible with all F-mount lenses attached to Z Series cameras. If the lens does not have VR, then 3-axis stabilisation will still be provided.
The adapter is also weather resistant and extremely lightweight, allowing for excellent portability.
Pricing and Availability
The Nikon Z 7 and Z 8 are available for pre-order now, at a price of £3,399 and £2,099 respectively. Packages are available with the 24-70mm lens, retailing at £3,999 for the Z 7 and £2,699 for the Z 6.
The Z 7 is expected to be available on September 27th, with the Z 6 in late November.
The 24-70mm f/4 S and 35mm f/1.8 S will both be available on September 27th, at £999 and £849. The 50mm f/1.8 S will cost £599, to be released in October.
For the lens adapter, we will see the same September release at a price of £269.
For more information visit Nikon's official page.