Nikon D5 Officially Released
Nikon has officially announced its new flagship DSLR camera: the Nikon D5. Taking the reigns from the D4 and D4s, this camera promises to bring great things to the field. We're excited, and here is why you should be too.
Don't forget, the new Nikon D500 has also been released!
Key Features
No doubt you want to know the BIG differences right now. Here are some of the highlights the D5 brings that have got our mouths watering.
20.82 megapixels
Two body types available: XQD and CF formats

Will have double XQD or double CF memory slots.

12 FPS shooting speed

Continuous shooting up to 200 frames in lossless 14-bit raw format.

New generation 153-point autofocus system
4K UHD 2160/30p video
ISO speeds up to 102,400

Extended sensitivity Hi5: ISO 3,280,000

Available for $6,500 USD – starts shipping March 2016.
Pre-order Options
You can pre-order the Nikon D5 at the following trusted retailers:
Video footage shot exclusively on the Nikon D5:
The Full Details
The D5 enables the precise capture of subjects under the most demanding conditions with a new-generation 153-point AF system and a stable viewfinder image that makes tracking moving subjects easy, even during high-speed continuous shooting at approximately 12 fps*1, making the camera ideal for photojournalists capturing heart-racing sporting action and majestic animal migrations. Image quality is further enhanced by the pairing of the new Nikon FX-format CMOS sensor and the brand new EXPEED 5 image-processing engine, for the most vibrant, true-to-life colors and sumptuous details. Together with the highest standard ISO sensitivity in Nikon history, up to102400, photographers are liberated from the challenges of shooting in low-light environments whether covering evening events or shooting indoors. In another first for the FX-format range, the D5 takes movie-making to new cinematic heights with the ability to shoot in 4K UHD 2160/30p format, in-line with the increasing appetite from professionals for the production of high quality video content.
Convenient Connectivity, Simplified Workflows
In addition, new and improved features and functions, such as a high-resolution touch screen LCD monitor, faster wired networks (via built-in Ethernet connector) and wireless networks*2, and double memory card slots*3 that use the same type of media, to simplify and speed up the professional photographer's workflow, while placing the D5 in the center of the connected ecosystem for visual communication.
Designed for the Field and the Studio
The camera's Advanced Scene Recognition System, which has adopted a new 180k-pixel RGB sensor, contributes to greater AF, AE, and AWB performance. This, along with a design that consumes less power and adoption of a highly precise and durable shutter, ensures durability, and gives photographers greater control over their gear as well as image quality. The D5 also completely integrates into any professional photographer's comprehensive ecosystem of Nikon accessories. Compatibility with the new Nikon Creative Lighting System functions, radio-controlled Advanced Wireless Lighting (AWL) and unified flash control, all work to ensure the production of superlative image quality and a seamless studio workflow*4
*1 Possible in Continuous high speed (CH) release mode with shutter speeds of 1/250 s or faster
*2 When used with WT-6/A/B/C Wireless Transmitter (available separately)
*3 The camera is available in two versions, one that uses two XQD cards and one that uses two CompactFlash cards
*4 When used with Speedlight SB-5000 (available separately)
Primary Features
1. Next-generation Intelligent AF System – The entire AF system has been completely re-vamped with adoption of the Multi-CAM 20K autofocus sensor module. This sensor module offers 153 focus points (99 of which are cross-type sensors) for broad and dense coverage of the entire image area. The center focus point has a detection range beginning at an incredible -4 EV, and detection with other focus points begins at -3 EV*, enabling autofocusing even under extremely dim lighting, and with subjects exhibiting very low contrast. In addition, equipping the camera with a dedicated AF engine capable of high-speed calculation and collaboration with the 180K-pixel RGB sensor have ensured that extremely reliable AF performance is demonstrated with a variety of scenes.
2. High-speed continuous shooting at approx. 12 fps with swift subject tracking – The D5 is capable of high-speed continuous shooting at approximately 12 fps*1 (w/ AF and AE tracking) in all image quality modes and at all ISO sensitivity settings. What's more, adoption of a new mirror drive mechanism achieves a more stable viewfinder image that makes continuous tracking of rapidly moving subjects easy, even with high-speed continuous shooting. Further, up to 200*2 12-bit lossless compressed RAW images can be captured with a single burst of continuous shooting.
*1 Possible in Continuous high speed (CH) release mode with shutter speeds of 1/250 s or faster
*2 When Lexar Professional 2933x XQD 2.0 memory cards are used
3. Exceptional ISO sensitivity – Collaboration between the new Nikon FX-format CMOS sensor and the new EXPEED 5 image-processing engine, both developed by Nikon, have enabled the highest standard ISO sensitivity in Nikon history, that of ISO 102400. High-sensitivity image quality at these never-before-seen levels achieves superior imaging quality, even within the high ISO 3200 to 12800 range often used with sports photography and the like. In addition, the image sensor's broad dynamic range enables rich and natural expression of tones for accurate reproduction of the finest details, even with extremely vivid subjects with which the expression of textures is especially difficult.
4. Cinematic brilliance with 4K UHD (30p) movie capability – The D5 supports movie creation in 4K, which offers a resolution higher than HD or full-HD movies, an indispensable feature for professionals involved in film-making and video content creation. High-resolution 4K UHD (3840 x 2160)/30p, 25p, 24p movies can be recorded to a memory card inserted in the camera, or, with simultaneous HDMI output, they can be displayed on an external monitor or recorded as uncompressed video to an external recorder. With support for the maximum standard sensitivity of ISO 102400, as well as even higher sensitivity settings up to Hi 5 (equivalent to ISO 3280000), even movies recorded at these high sensitivities will exhibit superior picture quality. 4K UHD time-lapse movies can also be generated in-camera.
5. Improved functionality and streamlined workflows
A high-resolution 3.2-in., approx. 2,359k-dot touch screen LCD monitorAdoption of a touch screen for the display monitor enables nimble confirmation and high-speed navigation of a large number of images using a frame advance bar, and supports an efficient workflow with text input and the like. The large 3.2-inch, approximately 2,359k-dot high-resolution monitor enables extremely clear display with live view photography, even when the display is enlarged, for fast focus confirmation.
Connect through wired and wireless networksThe communications system has been significantly improved to support communications twice as fast as with the D4S, with both wired networks using the Ethernet connector built into the D5, and wireless networks when the new Wireless Transmitter WT-6/A/B/C (available separately) is used with the D5.
Versatile image storage optionsTwo versions of the D5 are available. Both are equipped with double memory card slots supporting a single media type; one XQD cards and one CompactFlash cards.
6. Accessories for high-speed connected convenience: WT-6/A/B/C Wireless Transmitter (available separately)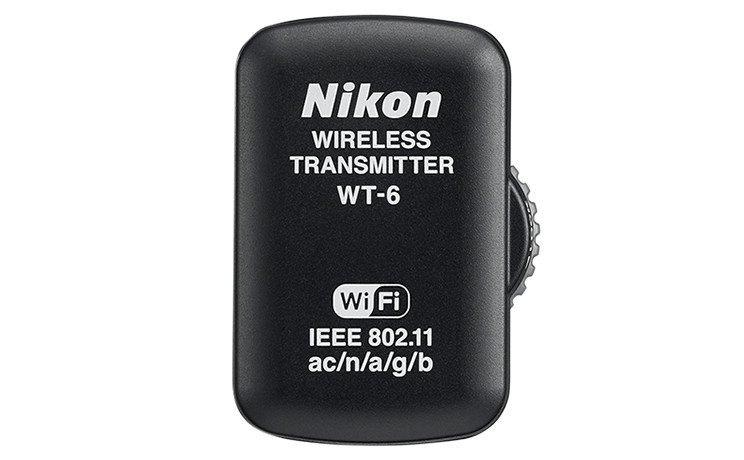 When connected to the D5, the high-speed transfer of image data to a computer*1or an FTP server over a wireless network is possible. The maximum range is approximately 200 m*2. Communications are significantly faster with support for the new IEEE 802.11ac (2×2 VHT80) standard. Wireless control over the camera from a computer is also possible using Camera Control Pro 2 (available separately). A D5 to which a WT-6/A/B/C is connected may be used as a wireless LAN access point, and a direct connection to a computer or smartphone is also achievable.