16 Famous Wildlife Photographers to Know in 2023
For those starting out in the world of wildlife photography, it's good to know who to look up to for inspiration. One of the things that helped me in my career was by following famous wildlife photographers – it encouraged me (and still does) to strive to improve my images.
If you've been in this game for a while, then these names are probably familiar to you. But if you're struggling for inspiration and looking to discover some really talented wildlife photographers, then this is definitely where you're going to find them.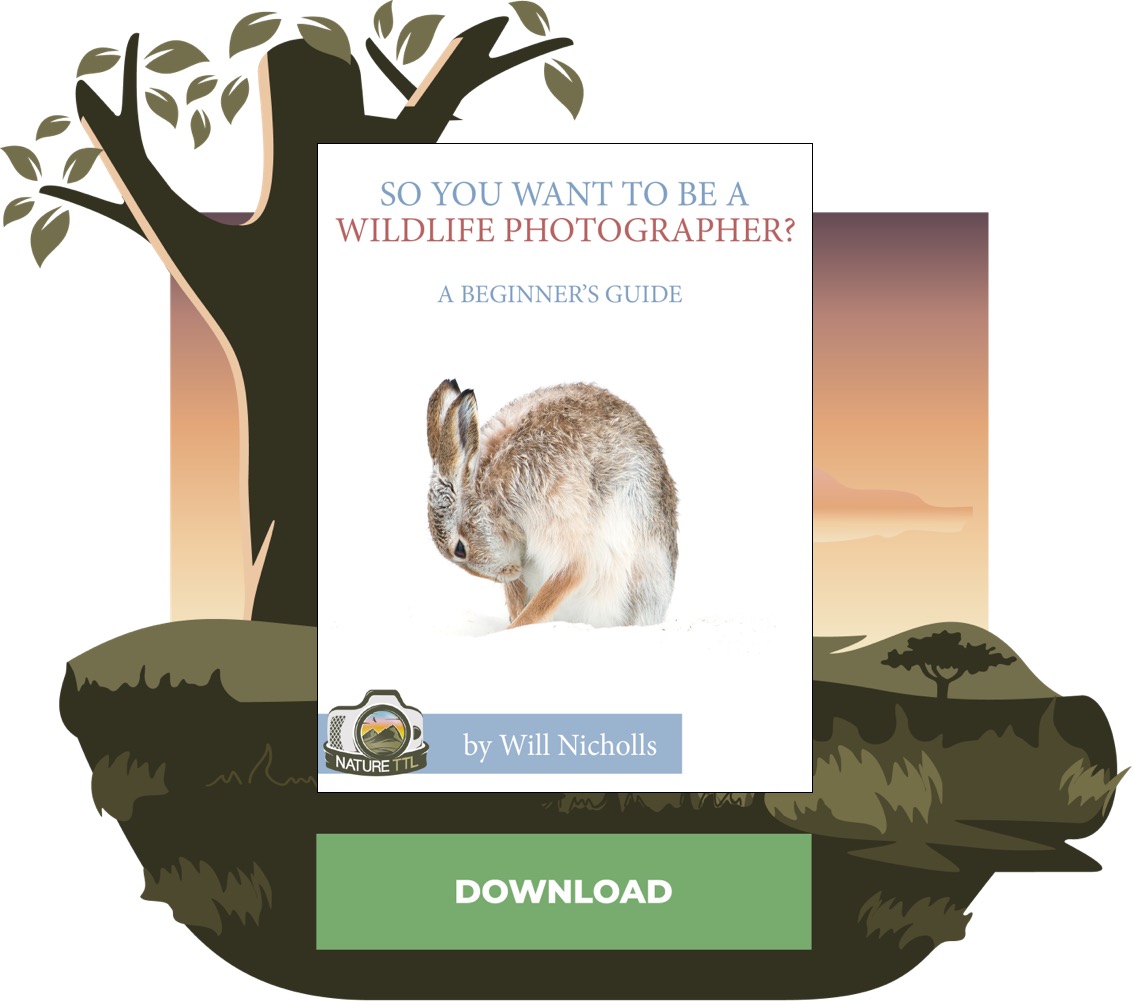 Success at this level usually means being a wildlife photographer full-time, with many working on exciting magazine assignments and exhibitions.
If you're looking to achieve similar fame behind the camera, a good starting point can be obtaining awards in wildlife photography competitions. These platforms are often ideal for launching, or furthering, a career as a wildlife photographer.
Let's take a look at some famous wildlife photographers at work today:
1. Nick Nichols
Nick Nichols is a National Geographic photographer and winner of Wildlife Photographer of the Year. His portfolio features a lot of work in black and white, with many images taken in Africa. He's graced the pages of Time magazine, amongst many other international publications.
2. Nick Brandt
Nick Brandt is known for breaking boundaries and exploring different mediums within photography to push a strong conservation message. The image shown above is a composite of two moments in time, taken at the same spot, to illustrate human-wildlife conflicts.
For aspiring conservation photographers, Brandt is definitely one to follow and draw inspiration from.
Website: www.nickbrandt.com
3. Neil Aldridge
Every year it seems that Neil Aldridge is doing bigger and bigger things for conservation photography. Having won the Environment category of the World Press Photo awards, Aldridge brought a striking image of a rhino to millions of people. Aldridge is another example of a great conservation photographer spreading an effective message through imagery.
Website: www.conservationphotojournalism.com
4. Cristina Mittermeier
Cristina Mittermeier is an avid campaigner for environmental causes and the co-founder of SeaLegacy. As a National Geographic photographer, Mittermeier strives to spread important messages around the world.
Website: www.cristinamittermeier.com
5. Marina Cano
Marina Cano is a Spanish wildlife photographer with an incredible portfolio of images. She travels the world, often leading photography tours, with her camera and her feed is a delight to follow for inspiration.
Website: www.marinacano.com
6. Tin Man Lee
For me, Tin Man Lee is a "go-to" photographer when I need a dose of wildlife cuteness. He has a seemingly endless supply of gorgeous images; the kind that really make you go "aww." It's no surprise, then, that his images are becoming increasingly popular.
Website: www.tinmanlee.com
7. Frans Lanting
A resident photographer for National Geographic, Frans Lanting was born in the Netherlands before moving to California, USA. Lanting was awarded the Wildlife Photographer of the Year Lifetime Achievement Award in 2018, and it is no surprise when looking through his portfolio.
Website: www.lanting.com
8. Joel Sartore
Joel Sartore is another great inspiration for thinking outside of the box. His Photo Ark project is part of National Geographic and hopes to conserve endangered species through images. In reality, it is a way of raising awareness for all of Earth's threatened species through this powerful archive of studio shot images. Photo Ark is a 25-year project with an enormous, but important, goal. At the time of writing, he has captured images of 9,825 different species for the project.
Website: www.joelsartore.com
9. Charlie Hamilton James
Having started out by photographing kingfishers at his home in the UK, Charlie Hamilton James is now a resident National Geographic photographer who has spent his life capturing iconic images for the publication. He has photographed everything from first-contact tribes of the Amazon Rainforest, to the millions of rats running through the streets of sprawling cities around the world.
Website: www.charliehamiltonjames.com
10. Paul Nicklen
View this post on Instagram
Known for his underwater work in the Arctic regions, Paul Nicklen is a contributing photographer to National Geographic. Nicklen is a Canadian photographer, and often can be found giving prominent TED Talks and speaking on the National Geographic speaker circuit.
Website: www.paulnicklen.com
11. Tim Laman
View this post on Instagram
National Geographic photographer Tim Laman is known for his work with birds of paradise. Following the many varieties of these birds has taken him into pristine rainforests, and also into the canopy. Working at height, he installs specialist cameras for remote photography, as well as photographing and filming from a tree hide.
Website: www.timlamanfineart.com
12. Margot Raggett
View this post on Instagram
Margot is known for her charitable, and highly successful, Remembering Wildlife series of books. These books are a collaboration between photographers, documenting one species at a time, and have raised $100,000s for wildlife conservation charities.
Website: www.margotraggettphotography.com
13. Suzi Eszterhas
View this post on Instagram
Suzi is a multi award-winning conservation photographer and the founder of project Girls Who Click, which encourages young women to excel in the photography field.
Website: www.suzieszterhas.com
14. Brian Skerry
View this post on Instagram
Brian is a National Geographic photographer, underwater cameraman, and EMMY-winning film producer.
Website: www.brianskerry.com
15. Majed Al Za'abi
View this post on Instagram
Majed is a Kuwaiti wildlife photographer with almost 300,000 followers on Instagram at the time of writing. He has received multiple international awards, and produces content primarily in the Arabic-speaking world.
Website: www.majedphotos.com
16. Who are your favourite famous wildlife photographers?
Let us know in the comments who your favourite inspirational photographers are!