Winners of Wildlife Photographer of the Year 2020
Today, the winners of the 56th Wildlife Photographer of the Year competition have been announced. Selected from over 49,000 entries, this year's winning image is titled The embrace by Sergey Gorshkov from Russia.
This year's winners were announced during a live stream, the first of its kind made necessary due to the global pandemic preventing public gatherings.
The Duchess of Cambridge announced Gorshkov as the overall winner of the competition for his image of an Amur tigress hugging an ancient Manchurian fir in the Russian Far East. These tigers are only found in this particular region, and it took over 11 months for the photograph to capture this shot using camera traps.
"It's a scene like no other. A unique glimpse of an intimate moment deep in a magical forest," said Rosamund 'Roz' Kidman Cox, chair of the judging panel. "Shafts of low winter sun highlight the ancient fir tree and the coat of the huge tigress as she grips the trunk in obvious ecstasy and inhales the scent of tiger on resin, leaving her own mark as her message. It's also a story told in glorious colour and texture of the comeback of the Amur tiger, a symbol of the Russian wilderness."
The winner of the Young Wildlife Photographer of the Year was Liina Heikkinen from Norway with her image of a fox and its prey.
The young fox is captured defending its catch – a barnacle goose – from its five siblings. Heikkinen is from a family of wildlife photographers, spending much of her childhood "immersed in nature."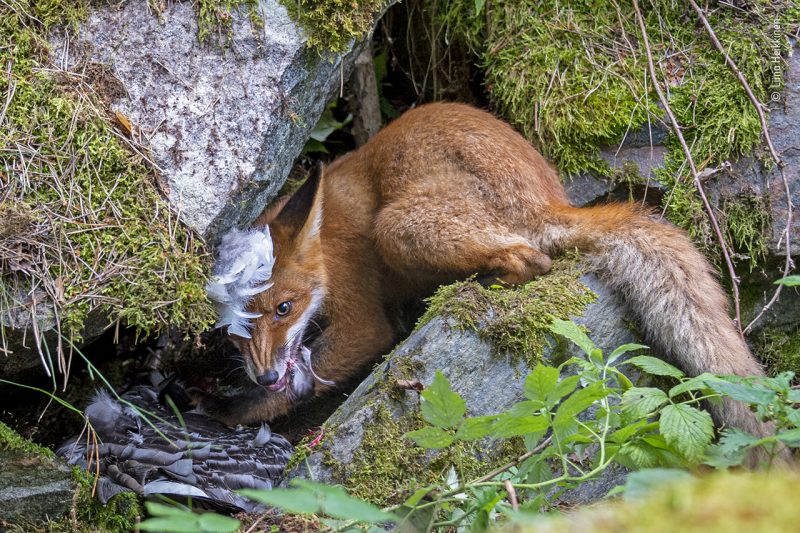 These two overall winners, alongside other category winners and finalists, will go on display at the Natural History Museum in London, opening on 16th October 2020 (closing 6th June 2021). The exhibition will then tour the UK and internationally. Due to Covid-19, visitors are asked to book in advance on the NHM website.
Here are some of the other awarded images.
Animal Portraits
Category Winner. The pose by Mogens Trolle, Denmark.
Canon EOS-1D X + 500mm f4 lens; 1/1000 sec at f7.1; ISO 1250; Manfrotto tripod + Benro gimbal head.
Behaviour: Amphibians and Reptiles
Category Winner. Life in the balance by Jaime Culebras, Spain.
Sony ILCE-7M3 + 90mm f2.8 lens; 1/100 sec at f16; ISO 320; Yongnuo flash + trigger; softbox.
Behaviour: Birds
Category Winner. Great crested sunrise by Jose Luis Ruiz Jiménez, Spain.
Nikon D4S + 600mm f4 lens + 1.4x teleconverter; 1/800 sec at f6.3; ISO 500; floating hide.
Behaviour: Invertebrates
Category Winner. A tale of two wasps by Frank Deschandol, France.
Canon EOS 5D Mark II + 100mm f2.8 lens + close-up 250D lens + reverse-mounted lens; 5 sec at f13; ISO 160; customized high-speed shutter system; six wireless flashes + Fresnel lenses; Yongnuo wireless flash trigger; Keyence infrared sensor + Meder Reed relay + amplifier; Novoflex MagicBalance + home-made tripod.
Behaviour: Mammals
Category Winner. When mothers says run by Shanyuan Li, China.
Canon EOS-1D X Mark II + 800mm f5.6 lens; 1/1250 sec at f11; ISO 640; Sirui tripod.
Plants and Fungi
Category Winner. Out of the blue by Gabriel Elsenband, Colombia.
Nikon D300s + Nikon 10–24mm f3.5 lens at 11mm; 30 sec at f22; ISO 200; Gitzo tripod.
Under Water
Category Winner. The golden moment by Songda Cai, China.
Nikon D850 + 60mm f2.8 lens; 1/200 sec at f20; ISO 500; Seacam housing; Seaflash 150D strobes; Scubalamp lights.
Urban Wildlife
Category Winner. Watching you watching them by Alex Badyaey, Russia/USA.
Canon EOS 5D Mark IV + 17mm f4 lens; 1/40 sec at f22; ISO 1600; Canon 430EX flash; remote release.
Earth's Environments
Category Winner. Etna's river of fire by Luciano Guadenzio, Italy.
Canon EOS 5D Mark III + 24mm f3.5 lens; 1 sec at f16; ISO 320; Leofoto tripod + ball head.
Wildlife Photojournalism: Single Image
Category Winner. Show Business by Kirsten Luce, USA.
Canon EOS 5D Mark IV + 70–200mm f2.8 lens; 1/500 sec at f4; ISO 2000.
Wildlife Photojournalist Story Award
Category Winner. Backroom business by Paul Hilton, UK/Australia
Canon EOS-1Ds Mark II + 16–35mm lens at 16mm; 1/10 sec at f3.2; ISO 1600.
Rising Star Portfolio
Category Winner. Eleonora's gift by Alberto Fantoni, Italy.
Canon EOS 7D Mark II + 500mm f4.5 lens; 1/2000 sec at f7.1 (+1 e/v); ISO 800; hide.
Portfolio Award
Category Winner. The last bite by Ripan Biswas, India.
Nikon D5200 + Tamron 90mm f2.8 lens; 1/160 sec at f8; ISO 160; Viltrox ring flash.
Wildlife Photographer of the Year is developed and produced by the Natural History Museum, London. To see more of the awarded entries, visit the NHM website.