Nature Photography Books for Photographers this Christmas
With lockdowns and limitations on social gatherings, now more than ever books are a great gift option for cosy stay-at-home evenings. The round-up below highlights some of the best nature photography books 2020 has to offer.
These nature photography books are perfect for the wildlife or landscape photographer in your life – or even just as a gift to yourself!
So, in no particular order…
Remembering Cheetahs showcases a beautiful diversity of photographic styles. Reading my review copy, I thought that Paul Mckenzie's comical action shot of a mother cheetah shaking rainwater over her none-too-impressed cubs contrasts beautifully with Marlon du Toit's black and white photo of a mother cheetah stoically sheltering her young during a torrential rainstorm.
This year has been tough for on-the-ground conservation efforts. With decreased ecotourism, many national parks have lost their main income streams.
During these troubling times, Remembering Cheetahs provides a beacon of hope as it raises funds for confronting the multitude of pressures cheetahs face.
This is my favourite 'how to' nature photography book because it actually provides advice on how to use your photos to effect change.
It goes beyond the basics by including clear and concise sections on project outreach, filmmaking, working with organisations, and the history of conservation photography.
There are also detailed interviews with conservation photographers, such as Amy Gulick and Alexandra Garcia.
I have an original copy of this book from 2016 and it is one I refer to often for the inspiring quotes throughout. The new edition (published in 2020) is a brilliant choice for anyone passionate about breaking into the conservation photography industry.
FotoVUE works with top photographers to produce these guidebooks. With international travel having been very limited this year, having the edition for your local area or for your next 'staycation' would assist your location research. After all, we know all too well that nature photography requires being in the right place at the right time.
These books include comprehensive directions, seasonal highlights, popular viewpoints, and more. Professional landscape photos throughout provide an idea of the kind of scenes you may have the opportunity to photograph on your own trips.
Recently published editions include Northumberland, East Anglia, and Wiltshire.
Meet Bob by Jasper Doest – £59
I was really excited to see the announcement for this new book. Jasper Doest is an award-winning photojournalist and master of composition.
His Flamingo Bob photo story is colourful, fun, and hopeful – exactly what many of us need after a difficult year.
This flamingo's story is a reminder that our actions as individuals can have an enormous positive impact on the world around us. When you order a copy of Meet Bob you are donating to a fundraising campaign for wildlife conservation in the Caribbean, with all revenues going to support the charity that Flamingo Bob's carer Odette Doest works for.
The book is currently still in production and, although it is planned for release in December, with Coronavirus there is no guarantee it will arrive in time for Christmas. Nonetheless, it will make an excellent Christmas 'I owe you' for nature photographers.
Hidden by Jo-Anne McArthur and Keith Wilson – £66
Hidden is not a book for the faint of heart. Graphic and brutal photos within its pages shine a light on our conflict with non-human animals across the world, as depicted through the lenses of 30 award-winning photojournalists.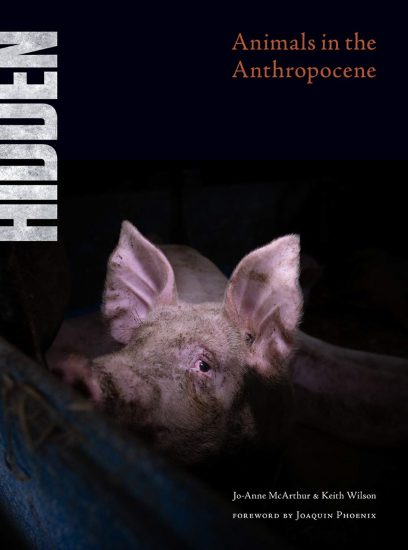 Hidden is a testament to the emotional power of photography. A thought-provoking picture is revealed with every page turn, and bold captions reveal shocking statistics. In my copy of this book, I learnt of animal rights issues I had not come across before.
If you are serious about pursuing photojournalism, or simply want to educate yourself about the often-hidden suffering of animals both wild and domesticated, this book is not to be missed.
This newly published children's book, written for ages 7-10, is an obvious gift choice for aspiring young nature photographers.
Suzi Eszterhas shares some of her favourite adventures from the field, taking readers behind the scenes of her work as a wildlife photographer. She provides a role model for young girls interested in nature and this is a book I would have loved to have had when I was growing up.
A portion of royalties from the sales of this book will go to Girls Who Click, a charity dedicated to supporting girls and young women entering the world of wildlife photography.
Ross Hoddinott is one of the UK's leading outdoor photographers. In this beautifully produced book, he brings together a collection of photos from 16 landscape photography masters.
Each photographer shares insights for those wishing to master the genre themselves, through question and answer sections.
The number of photographers featured means the book examines an array of styles, from Sandra Bartocha's renowned creative and ethereal imagery to Daniel Kordan's carefully composed landscapes that capture the spirit of adventure.
For those interested in the technical side, captions reveal the exact settings used for each image.
This book is a wonderful gift choice for those wanting to maximise their potential in the landscape photography genre.
Scotland: A Rewilding Journey by Susan Wright, Peter Cairns & Nick Underdown (plus contributor essays) – £10-25
From diving gannets and curious seals beneath the waves, to serene mountain landscapes and majestic deer – the photos in this book reveal the beauty and drama of Scotland's landscapes and wild inhabitants.
The team behind this book dedicated 3 years to its photography, and this shows in the high-quality of the photos within its pages. Captions alongside these images reveal the intricate connections between species in Scotland's web of life.
With informative text throughout, this stunning coffee table book is a great choice for photographers interested in rewilding and is available as an e-book or a physical copy.
Written by two award-winning photographers, this small book provides prompts for photo projects that will motivate you, inspire creativity, and enhance your technical expertise.
It is a workshop in book form, filled with enough assignment ideas to have one project per week for a whole year.
This book also serves as a photography journal, with spaces for you to add your own notes and observations.
If you are a nature photographer struggling for ideas, this book is a great way to kickstart your next project. It is rare to find affordable nature photography books, and this is one of the most affordable newly published books, making it an excellent choice this Christmas.
Published earlier this year, this update to the bestselling 50 Years of Wildlife Photographer of the Year presents 20 additional new images from the last 5 years of the competition.
Through images and text, it charts the history of nature photography and showcases ground-breaking nature photos.
Photographs honoured in the Wildlife Photographer of the Year awards are some of the best nature photos out there, and this would make a lovely addition to any nature photographer's book collection.
The only drawback is that some images may be repetitive if you already have many of the WPOTY portfolios in your book collection.
I hope this article has provided you with some helpful inspiration for your gift shopping this year!