Sigma Unveils 100-400mm Lens for Mirrorless Cameras
This week, Sigma announced its first ultra-telephoto zoom for full-frame mirrorless cameras: a 100-400mm f/5-6.3 lens. With a completely new design, it is said to produce images of "exceptional quality within a lightweight and compact model."
This addition to Sigma's contemporary lens line-up will be the company's fifth DG DN lens, designed entirely for L-Mount and E-Mount full frame mirrorless cameras.
Rivalling standard zoom lenses, the Sigma 100-400mm looks to position itself as a telephoto with the added element of mobility.
With a stepping motor system, this lens has been constructed for both phase detection AF and contrast AF. This makes both filming and eye-tracking AF exceptionally smooth, which will be especially effective in shooting fast-paced wildlife.
The lens has one Low Dispersion (FLD) and four Special Low Dispersion (SLD) elements to aid in correcting aberrations and distortions, such as peripheral light leaks.
With "state-of-the-art design technology," this lens boasts "edge-to-edge high-resolution and high-contrast image quality throughout its entire focal range."
One of the most notable features is the lens' built-in image stabilisation, which will automatically adjust for the pitch and yaw axis rotations according to the stabilisation of your camera body.
So, why should this lens be on the radar of wildlife photographers? Firstly, weighing in at 1,135g (L-mount) and 1,140g (E-Mount), this lens looks to be light yet robust. This has been made possible by careful material choices, where heavy resources have only been used where absolutely necessary.
For example, magnesium alloy is used in the tripod socket, where strength is needed, while a lighter polycarbonate is used for the barrel of the lens. Furthermore, its dust and splash-proof sealing will withstand harsh outdoors environments, making this a great choice to take on your next big adventure.
New teleconverters

This lens can be coupled with Sigma's new teleconverters: the TC-1411 and the TC-2011, which have been designed exclusively for L-Mount lenses. Together, the image quality of the 100-400mm lens is said to be unchanged.
The TC-1411 magnifies the focal length of the camera by 1.4x, making the 100-400mm lens the equivalent of a 140-560mm, and the TC-2011 by 2x into 200-800mm.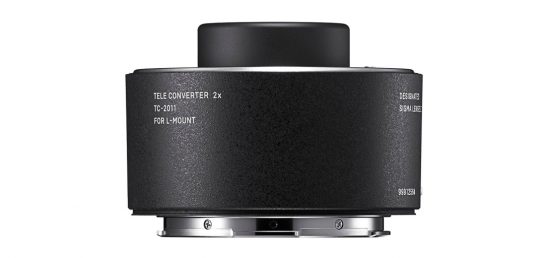 The is suggested to retail at £899.99, the TC-1411 at £369.99, and the TC-2011 at £399.99. To find out more about Sigma's new 100-400mm F/5-6.3 DG DN OS Lens, or the TC-1411 and TC-2011 teleconverters, check out Sigma's website.