NVIDIA's New AI Software Transforms Sketches into 'Masterpieces'
With the brush of a few basic strokes, like magic you can create a stunning landscape photograph. Sounds too good to be true? Well, NVIDIA's new AI can do it in just a few seconds.
Named GauGAN, in honour of the Paul Gauguin the French post-impressionist painter, the AI is able to transform the most basic two-dimensional sketches into "photorealistic masterpieces" – and that's not an understatement.
"A novice painter might set brush to canvas aiming to create a stunning sunset landscape — craggy, snow-covered peaks reflected in a glassy lake — only to end up with something that looks more like a multi-colored inkblot," NVIDIA writes. "But a deep learning model developed by NVIDIA Research can do just the opposite: it turns rough doodles into photorealistic masterpieces with breathtaking ease."
By harnessing powerful neural networks that utilise millions of stock images from the web, the AI can then quickly make a photorealistic mountain of a crudely scrawled molehill. However, the user does need to first choose a category for the shapes, such as "cloud" or "mountain", and even "plant". This suggests that whilst the software is indeed powerful, it needs a little guidance.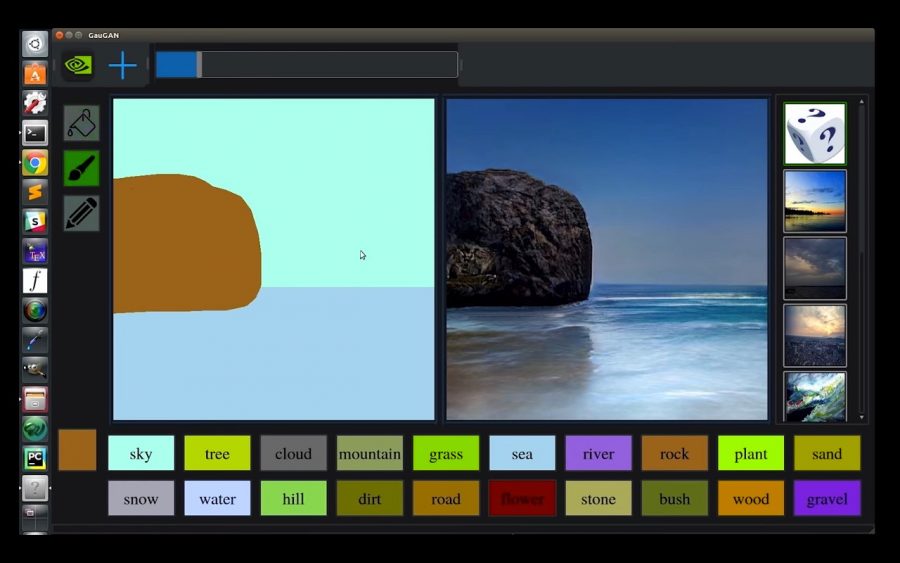 "It's like a coloring book picture that describes where a tree is, where the sun is, where the sky is," says NVIDIA. "And then the neural network is able to fill in all of the detail and texture, and the reflections, shadows and colors, based on what it has learned about real images."
Still in the development stage, NVIDIA's software is not so much aimed at artists, but architects. They believe that the AI could create synthetic renderings for architects from their simple designs, helping streamline the development process of a building or structure.
Although it is seriously doubtful that landscape photographers will have any desire to use this software, it has the potential to overhaul stock photography as users can create a scene as they so desire. Release dates are yet to be confirmed.