Nikon D7500 Review: A Realistic Field Test for Wildlife Photographers
The Nikon D7500 is the latest in the D7000 series of DSLR cameras, and it came onto the scene back in April 2017 with quite a buzz. The D7000 series has always been popular amongst photographers, mainly because of its cameras' relative affordability and hefty specifications list. The D7500 is no exception to this rule, and will no doubt be another of Nikon's most popular DSLR cameras.
As a nature photographer, having a camera that is capable of capturing a fleeting moment (whether that be a bird in flight or spectacular sunset) is of the utmost importance. That's why I reviewed the D7500 for both wildlife and landscape photos specifically.
First Impressions of the Nikon D7500
It has a really nice build. The camera feels solid, as do most Nikons, which is always reassuring when you've spent over £1,000 on a piece of kit. Retailing at £1,200 (at the time of writing), this is by no means a beginner's camera. Camera technology is advancing so quickly now that some of the entry-level cameras have specs better than the professional cameras of days gone by. However, I would say that the D7500 is aimed at intermediate amateurs looking to shoot with gear that has a bit more photographic punch.
It weighs in at 640 grams (1lb 6.6oz) which makes it about 5% lighter than its D7200 predecessor – and it's also a whole 16% lighter than the D500. It also features a deeper handgrip than the D7200, a nice adjustment that makes everything feel that bit more secure to hold.
A requirement for any camera to be used for nature photography outdoors is that it is weather sealed, and luckily the D7500 is. Weather-proofing doesn't mean waterproof, but it won't fizzle out and start emitting smoke from some drops of rain.
The layout is pretty similar to that of the D7200, but there have been some tweaks. The first of which is the addition of a dedicated ISO button that has replaced the metering mode control. This is the same change that we saw with the Nikon D500, and it's actually really neat.
The buttons on the rear of the camera remain the same, pretty much. The only noticeable change is that the 'i' and 'info' button have swapped onto opposite sides.
The 3.2″ LCD Screen
This gets its own section to the review – the screen is quite something. It rotates and pulls out from the camera body, allowing you to work at all sorts of angles. This is great for macro photographers who find themselves crawling in the grass to get a low point of view. Now there's no need to get down and dirty, as the rotating LCD lets you view it from above at a right-angle.
It's touchscreen, too, and coming from a Nikon D4 and Nikon D810 it just seems so innovative and useful. I know that other generations of Nikon cameras have already had this handy LCD, but it still doesn't stop me from loving it. The touchscreen makes everything just so much easier. You can pinch and zoom into your photos, tap around the menu system, and swipe between photos. No more will you need to deal with the sometimes-awkward clicking joystick.
However, the resolution of the LCD screen will disappoint some users – although from trying it out myself, it still looks great with ample contrast and clarity. There's 922,000 dots compared to the D7200's 1,299,000 dots. Even the D5600 has a 1,037,000 dot screen. Cost saving perhaps?
It's strong and doesn't feel flimsy at all. It doesn't flip out to the side, only moving up and down like you can see in the image above. There's a really satisfying click-lock when it goes back into place.
Autofocus & Shooting
One of the main things separating the D500 and the D7500 is the autofocusing system. The D7500 has 51-point AF, with 15 cross-type AF points, compared to the D500's 153-point AF system.
Further Reading: Understanding Autofocus Points and Modes
There's also now a Group-Area AF mode, something that first came to light on the D810. Despite that, it's something I've never used myself in everyday use – even though it claims to bolster subject detection and tracking.
Personally, I had no problems using the autofocus. It was pretty snappy on my Nikon 200-500mm lens, working well in reasonably low early-morning light too.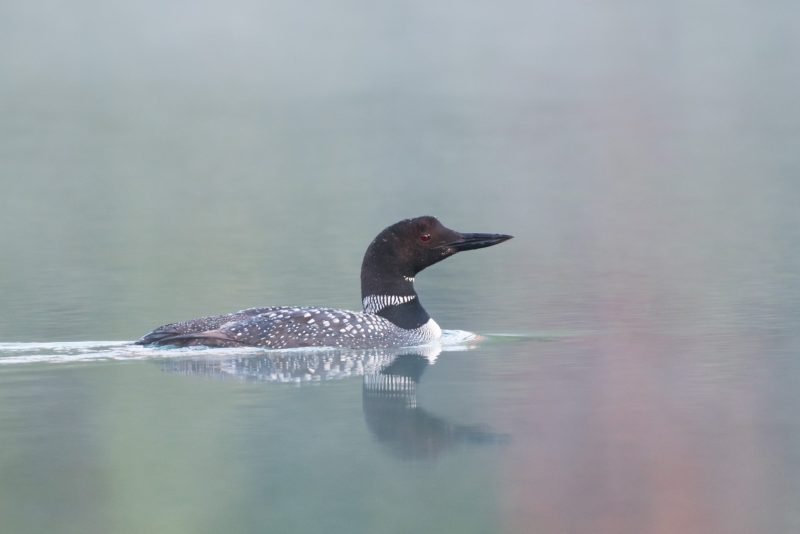 The 8 frames per second shooting speed is awesome, too. I remember when I had a Nikon D700 and loved my 7 frames per second shooting, which was pretty high end at the time. 8 fps being stuffed inside the Nikon D7500 is an extremely attractive feature for wildlife photographers, allowing you to never miss a shot (apparently). This works continuously for up to 100 JPEG files, or 50 14-bit lossless compressed raw files.
Resolution
The 20-megapixel sensor is a step down from the 24-megapixels that the D7200 has, but this decrease in resolution comes with some benefits. It's the same sensor as in the D500, and also has the same EXPEED 5 processor. Theoretically, image quality should be the same between the two cameras.
Video
I didn't have a chance to test this out myself, but the 4K video recording at 30 fps is definitely not to be sniffed at – especially in a camera of this level. That's really quite a neat feature to have, opening up a host of opportunities for creating video alongside your still images.
4K gives you lots of room to play, too. You can apply stabilisation in post-production from 4K resolution, allowing you to crop in and further downsample the final output to 1080p, retaining that full HD experience despite the crop.
It also has internal time-lapse capabilties built-in, meaning you can output a time-lapse video straight from the camera. This is always a handy feature to have, especially if you're "testing" a time-lapse out, but ultimately it is always best to shoot the frames individually and then stitch them together later. Otherwise, you're letting the camera chuck away the majority of the detail in each shot and limit your editing options later.
ISO Capabilities & Low Light Performance
I am used to the incredible performance of the Nikon D4, and the still-pretty-good performance of the D810 in low light. Consequently, I did not have very good expectations of the D7500, expecting to require constant good light to achieve anything useable. However, pushing up the ISO speed wasn't the most disastrous thing in the world. Instead of giving you a load of studio shots showing ISO increasing incrementally, here are some real-world examples of the noise – the first of which is an absolute worst-case scenario.
With the early morning light on a lake in Canada, I quickly swung my camera round to capture this duck stretching its wings in the morning. The autofocus snapped to, and I had increased my ISO speed to 2000 to render the image sharp (in the right places). At a 100% crop, you can get an idea of the ISO capabilities in actual low light:
Yeah, that's not great. There's no noise reduction or sharpening in the crop above – so this is what comes straight out of the camera. Plenty of colour noise there at what is really "only" ISO 2,000. Perhaps my expectations are too high, but I wouldn't have thought so much colour noise would be apparent at this level.
Now, I really feel like I have to make it very clear that the above shot is really pushing things. The light was low – the sun hadn't even fully risen yet. And, as well as that, there were misty conditions meaning that the apparent light is even lower. So when you're judging the camera off the above frame, remember that it's performing closer to the extremes of low light for this test.
All is not lost, though. Processing the image in Adobe Lightroom, I applied some noise reduction and sharpening to achieve this kind of quality – so things can be rectified:
ISO performance will degrade in poor light for any camera. It seems a bit counterintuitive, but that's how things go. It will perform a lot better in brighter, daylight conditions of course. Here's an example of ISO 2,500 in daylight:
And the 100% crop:
So as you can see, the colour noise is not evident in this example and the ISO is even higher than the photo with the duck. But the conditions are brighter. This is where you need to think about what conditions you're going to be shooting in. If you enjoy stalking through dark areas looking for animals at dawn and dusk, then the D7500 is probably not going to quite hack it for you.
Further Reading: Nikon D500 – Wildlife Photography Review
The ISO capabilities did seem pretty good, even when pushed to the extreme, in daylight for this camera. Despite the subject being in shade, I was able to amp up the ISO value quite a lot before I felt like I needed to stop.
At ISO 6,400 things were still looking relatively good for a camera of this level.
And the 100% crop:
Often you'll be more around the ISO 800 – 2,000 range with this camera, I would expect. Here's an example slap-bang in the middle at ISO 1250. This wasn't in direct light, but it was taken at midday in the shade of a forest.
And the final 100% crop of the series:
So overall, this camera is not the ultimate low light camera. I feel almost guilty for testing it in such tough conditions with the duck image, but these are the kinds of conditions that we are likely to throw our cameras at anyway, so it seems more realistic to show an extreme example like that alongside that other shots.
The ISO has a native sensitivity from 100 – 51,200, and can be expanded up to crazy heights of 1,640,000.
Summary
So this is a relatively quick field test of the Nikon D7500. Rather than a more typical review, I wanted to just share my experiences using it over a few weeks. I treated it like I would my other DSLR cameras, and therefore was able to properly see how it compared to the higher end models.
Whilst you're probably reading this and looking at my ISO duck example feeling a little disappointed, that is an absolute worst case option. This is still a very strong camera, and actually the ISO capabilities are pretty decent for a camera that costs £1,200. As I mentioned at the beginning of the review, this is not a high-end professional DSLR. It's not made for low light, and it's actually better than I thought it would be.
If you think the D7500 is in your price bracket, then it will be a great buy. You're not going to regret it, but you'll need to be aware of its limitations. For example, try a slower shutter speed rather than really amping up the ISO when the light is particularly low. Balance the two off against each other, and you'll come out with a better final image.
Buying the D7500
You can buy the D7500 from a number of online retailers. Please consider using one of the following links, at no extra expense to yourself, to support our website:
Summary
Reviewer
Review Date
Reviewed Item
Author Rating