New GoPro Max: Dual-Lens and Front Facing Screen
GoPro has expanded their action camera line-up with the latest announcement of the GoPro Max. This is a dual-lens camera equipped with a front-facing screen, capable of shooting in a variety of formats for maximum versatility.
Following up from the GoPro Fusion, the company state that GoPro Max is like "having three cameras in one" because of its ability to shoot in either HERO mode with single-lens video, 360° video, or vlogging style.
Resolution goes up to 5.6K/30p when recording in 360°, or 1440/60p when shooting in HERO mode. GoPro's MAX HyperSmooth stabilization works best in HERO mode, but it can also be used when recording 360° or vlogging.
Saving all recorded footage onto one memory card (as opposed to two with the Fusion), the Max also stitches the recordings together in camera.
Equipped with six built-in mics, the camera can also capture "true-to-life 360° audio and deliver the best stereo sound ever from a GoPro," creating immersive environments from recorded footage.
The GoPro Max is also waterproof up to 5m (16ft), has foldable mounting arms, and features Digital Lenses for users wishing to change their framing. The front-facing screen is also touch-powered for ease when vlogging.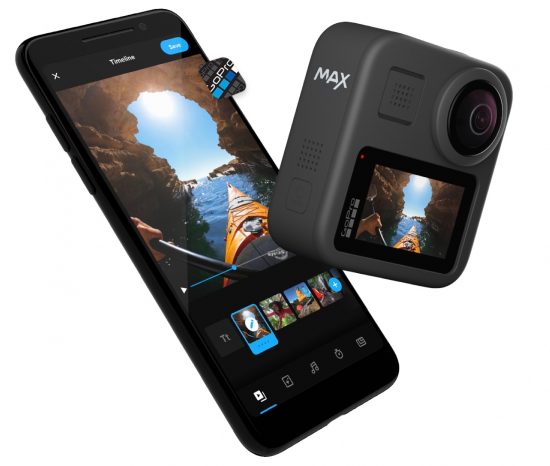 From a software perspective, the GoPro Max's HyperSmooth is a first for GoPro, utilising 180° to create "unbreakable stabilization and in-camera horizon levelling".
Max TimeWarp changes the speed of your video depending on motion, scene and lighting in 360 and HERO modes, and Max SuperView offers a super-wide perspective for those seeking to capture as much action as possible.
The GoPro Max also has PowerPano function, capturing distortion-free panoramas at 270° without the need to scan the horizon. Reframe editing has also been added to the GoPro app, using keyframe-focused editing for 360° Max footage.
Priced at $499, the GoPro Max is available for pre-order now, shipping October 24th or in stores from the 25th.
For more, visit the GoPro website.