EOS R3 Mirrorless Camera is unveiled, with 24MP stills at 30FPS and 6K RAW Video
After months of teasing snippets of information in the form of "development announcements," Canon has finally announced the full specifications of its latest professional mirrorless camera: the eagerly awaited R3.
Loaded with a 24.1-megapixel sensor, 6K RAW video, eye tracking AF, and a blackout-free EVF, the R3 is packed to the gills with features that could make it one of Canon's flagship cameras.
"Welcome to the future of action photography", says Canon.
Back-illuminated sensor
Canon has developed a brand new stacked CMOS 24.1 megapixel sensor, which combines with the Canon DIGIC X processor to deliver an extremely high-speed readout.
This means that the camera is capable of continuous blackout-free shooting at speeds as high as 30 fps.
This enables photographers to "freeze fast movement without worrying about 'rolling shutter' distortion", claims Canon.
The combination of the newly designed back-illuminated sensor and the DIGIC X processor also increases sensitivity in low light, with a native ISO range of up to 102,400 for still photographs.
Autofocus
Canon already has a reputation, alongside Sony, for leading the industry in AF performance. But, they have apparently 'improved' their already incredible Dual Pixel CMOS AF II.
The new AF system features 1,053 AF points with 'evolved' EOS iTR subject tracking, capable of locking AF on various subjects such as people and animals, along with popularly photographed subjects like cars and motorbikes, even in extremely low light scenarios.
One of the most talked-about features of the R3 is the Eye Control AF. Described in one of our development announcement posts as "being like something from a sci-fi movie," the camera locks focus based on where the photographers eye is looking.
"Identify subjects just by looking at them", says Canon. "A truly intuitive experience."
We are yet to test this in the real world, but reports coming out of the Olympics, and from the photographers who have had the opportunity to test the R3, suggest it works incredibly well.
"It was like the camera was reading my mind", says one such commentator.
The subject tracking is reportedly almost flawless which, at this point, is almost to be expected in any Sony or Canon flagship camera.
Review videos from both photographers and filmmakers show the LiveView from the R3 locking an AF box around fast-moving subjects like race cars, and not dropping a frame.
Ultra-fast and high-resolution EVF
The R3 packs a high precision EVF with 5.76 million dots, with a reduced lag time due to its 120fps refresh rate for continuous shooting.
Besides the EVF, the R3 also features a 3.2″ vari-angle touchscreen LCD, which is useful for video creators, for touch AF, and for reviewing images or making menu changes.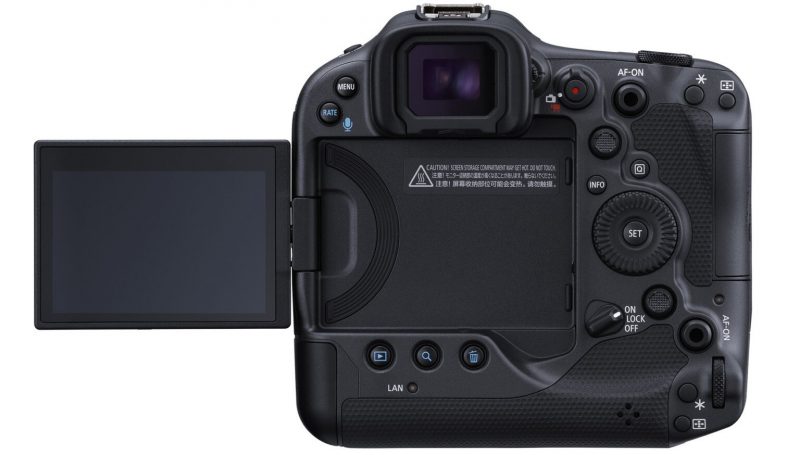 Video capabilities
Canon has developed the R3 to be pairable with Cinema EOS cameras in video production, packed with HDR PQ and C-LOG 3 across shooting modes from 8 to 12-Bit, with max capabilities of 6K RAW at 60FPS or 4K 120FPS uncropped.
"The EOS R3 is a professional hybrid, able to capture cinematic, broadcast-quality video and sensational still photography", says Canon.
The camera is also able to leverage the 6K and 5.6K oversampling in 4K DCI and 4K UHD, resulting in higher image quality and less colour distortion and noise than native 4K sensors.
Dual high-speed card slots
When shooting 6K RAW video, or when burst firing 30fps images, the R3 will generate an incredible amount of data in a very short window of time.
So, the R3 is packed with dual super high-speed CFexpress card slots, along with a UHS-II SD card slot which can be used as an alternative main memory card, or as a backup card for simultaneous data recording.
Tough and rugged design
As a high-speed camera with a battery grip body design, it is fair to suggest that the R3 is designed to be used in rugged, outdoor conditions.
"From dust storm to downpour, the EOS R3 is built to withstand the tough demands of professional use", says Canon.
Canon has ensured that the R3 is protected from dust and moisture by using sealing materials in critical areas such as buttons, dials, terminal covers, the battery compartment, and the card slot cover. The main body is also specifically designed and manufactured to minimise penetration of dust and moisture.
This is again almost expected in any Canon flagship camera. However, the R3's toughness was put to the test by one Canon user who was able to access a pre-production model, which he attached to an FPV drone.
It was then put through an accidental crash and, although the lens was broken to pieces, the R3 made it through the ordeal unscathed.
The Canon R3 is due to start shipping in November. Most key retailers are currently taking pre-orders of the camera, which is priced at £5879.99 in the UK and $5,999 in the USA.