Luminar AI Review: Hands-on Look at Intelligent Editing
This Luminar AI review looks at a new type of photo-editing software. The next generation of Skylum's powerful photo-editing software is now available, and sees artificial intelligence become the core of the program. Perhaps you've already read our other Luminar review, or you are looking to find an alternative to Lightroom. We now have a copy of Luminar AI, and have been having a hands-on look at the software.
Previous versions of Luminar have harnessed artificial intelligence to create stunning, and fast, edits. But Skylum have now stepped things up with the release of Luminar AI (or LuminarAI, as they write it).
"With LuminarAI​, we wanted to ensure that AI not only was easy to use, but that it also provided creatives a way to express themselves. Through our unique 3D depth-mapping and segmentation technologies, we're able to recognize the contents of a photo, recommend edits and then allow creatives to refine every aspect of that recommendation," said ​Alex Tsepko, CEO of Skylum​. "Doing this lets creatives retain their unique style in their edits without tedious, manual work. Professional results, but in a fraction of the time."
Luminar AI is available both as a standalone piece of software and as a plug-in that is able to work alongside Photoshop or Lightroom.
Use code NATURETTL at checkout for a £10 discount on Luminar AI.
What AI tools does Luminar AI have?
This is the big question. It's pretty bold to name your product this way without a whole host of artificial intelligence packed into the software. We will soon have our hands on a real copy of it, but for now this Luminar AI review will have to focus on what we know so far.
It's worth noting that whilst the software will be benefiting from AI tools and technology, there are still manual controls and sliders – as you would expect – to retain control over your images. The aim of the artificial intelligence is not to remove you completely from the edit, but to make things much faster and more efficient.
Things do look interesting. The predecessor to Luminar AI (that's Luminar 4) had a few AI tools already. They're back again, with Luminar AI retaining the SkyAI, SkinAI, and StructureAI tools. But there are plenty more to be had. Let's take a look at the tools you can expect this time around:
Luminar AI tools for landscape photography
AtmosphereAI and Sky Enhancer will "add depth and detail" to the sky in your shot.
SkyAI will quickly mask your sky area – accounting for any tricky foreground elements – and replace the sky in an instant. You can use your own sky photos for this, too.
Golden Hour will bring warmth into your shots.
Sunrays will allow you to… add sun rays to the image.
1. SkyAI
The SkyAI tool has some impressive features this time around. In Luminar 4, sky replacement was possible and the masking abilities of the software were one of a kind. However, it was not able to deal with things like water very well, as the skies being implemented could not be reflected in surfaces.
However, with the new SkyAI things have changed. It will be possible to swap skies above water, safe in the knowledge that that very sky will be correctly reflected in the scene – although keep in mind that this is in an update that will come after the initial release of Luminar AI.
Firstly, let's look at this rather rubbish image of a ruined car by a dirt track.
Luminar AI comes with prepackaged skies, but you are able to add your own sky images so that you can work with something completely unique. For this Luminar AI review, I'm going to work with the skies that come bundled with the software.
To add some drama to this shot, I chose a "dramatic sunset". Being careful about the sun's placement and the shadows already present in the image (obviously, these can't be changed by the software), I'm able to come up with something pretty convincing. There are plenty of sliders available to fine-tune the adjustment, but I didn't really do anything here apart from defocus the sky.
You can see Luminar convincingly "relights" the scene, warming it up to match the sky inputted. It's clear this will be handy for those working to tight deadlines, on commercial projects in particular, where the weather conditions haven't matched perfectly to the brief.
In this image with a bleak sky, a new one is easily slotted behind the mountain. This masking capability is less surprising nowadays, having seen it working in Luminar 4, but Luminar AI takes things to a new level. Now available in a new update to the software, Luminar AI is capable of working with reflections in water.
Previously, sky replacement has been fairly useless in scenes with water because the sky is unchanged in the reflection and renders the adjustment useless. But now, that technology is here and it's possible for Luminar to mask the water too and apply a reflected sky.
Masking the lake is no doubt more difficult, as its less of a uniform area to mask – albeit quite similar. The shimmer and ripples in the water add another level of complexity. However, Luminar has perfectly masked the trees and mountains in this shot and applied the sky behind those objects in the scene.
The reflection is an adjustment you can dial back too, or even turn off completely where necessary.
The limitations are reached when there is already cloud detail reflected in the water. This is not overly surprising, so sky replacement over water is best done on a clear day with no detailing – a blank canvas, if you will.
In the new update, there is also a new sky selector with a much better UI as well as more controls such as rotation of the sky, and better relighting for images with people.
In my opinion, the sky replacement within the Luminar AI software is the best feature that this software packs. It works just like you'd expect, and more.
2. AtmosphereAI
With the ability to introduce fog, mist, haze, or layered fog, Atmosphere AI is supposedly a way to give your photos some extra punch. The examples from Skylum certainly look impressive:
Whilst the effect doesn't look absolutely perfect in the example, it does look like an extremely good attempt – and can you expect more than this, really? It will definitely have a place in the toolbox of certain photographers, and be particularly useful on commercial jobs requiring particular conditions in a certain shot.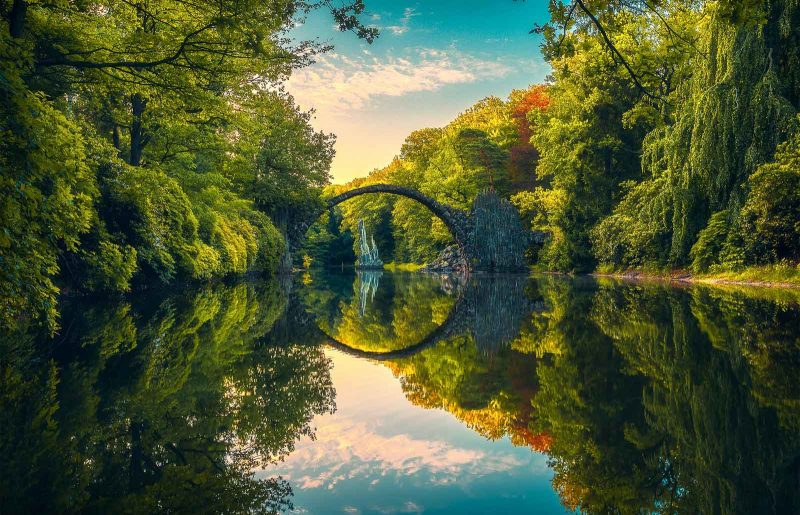 The above example appears to work more naturally, with a less intense effect.
However, with a real world test I was not able to get effects like this. What is not clear is whether the above examples have any extra manual manipulation on top of the sliders. In the first example, the adjustment looks like there is depth to it with creative swirling of the layered fog.
In reality, though, the adjustment will add one single band of fog. It pays attention to foreground and background elements, which is great, but there is no attractive swirling. This tool is fairly disappointing when compared to the examples provided by Skylum.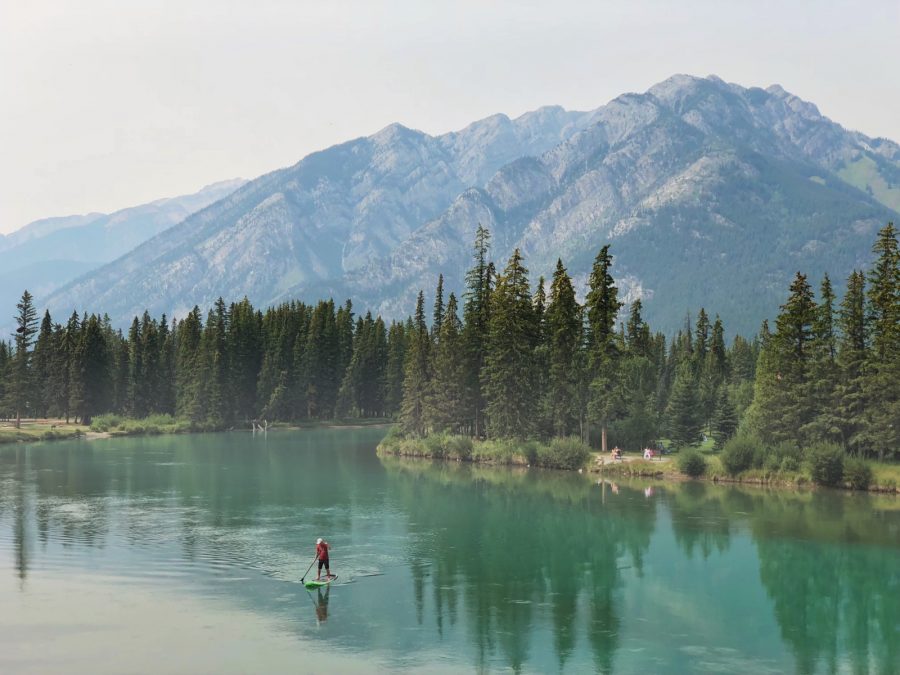 The adjustment is not great. In fact, I'd go as far as saying that the layered fog tool is useless.
However, Atmosphere AI does at least have some use with the fog and mist adjustments. This does successfully mask the sky and create a foggy scene. Take a look at this example.
The fog adjustment is fairly convincing. You can control the penetration and depth of the fog into the tree-line too, which is a nice adjustment to be able to make. This might work better when combined with some good lighting and layered fog in the foreground.
Luminar AI tools for portrait photography
BodyAI and FaceAI will allow you to "gently sculpt and refine" your portrait photos.
IrisAI will "create eyes" that are "expressive" and "rich". In non-promotional jargon, that'll be enhancement of the iris of your subject.
SkinAI will remove blemishes and imperfections in the skin. We've seen this in Luminar 4, where it was very impressive.
Other Luminar AI tools for general editing
StructureAI boosts detail and texture without affecting the background negatively.
CompositionAI will achieve the "perfect crop" and help you to fix crooked images quickly.
AccentAI ensures your images have the "perfect exposure and colour."
We are assured that there will be more tools to come in further updates to the software, but these are the ones we have so far.
Templates make editing faster
At the very core of Luminar AI is a powerful new feature called Templates. The first time you open a photo in the software, your image will be identified, analysed, and the depth of the image will be calculated. Using this information, the artificial intelligence makes editing suggestions in the form of complete workflows; these workflows are known as Templates.
This is very different from using presets. The adjustments are tuned specifically to your photo, rather than traditional presets that make blanket changes that have no significance to your actual photo in question.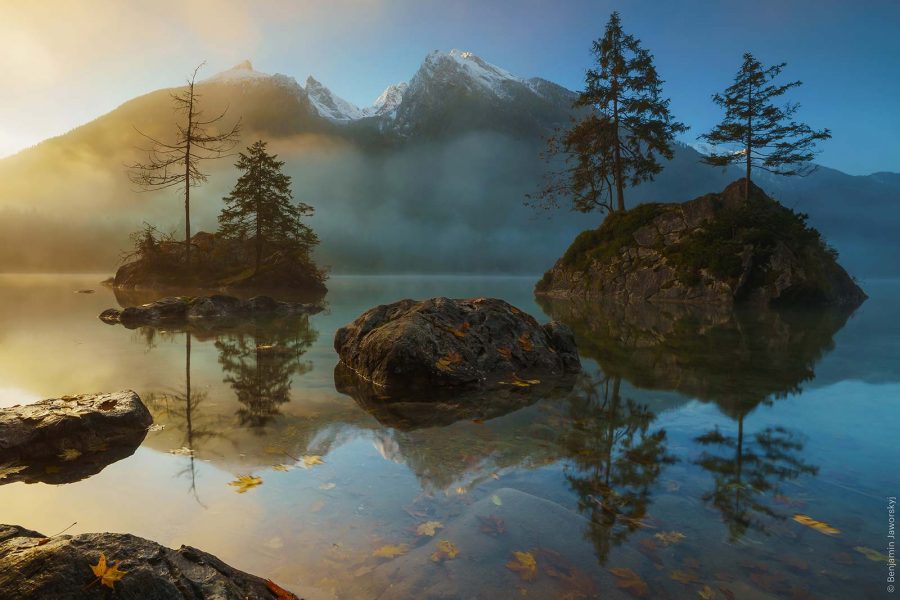 All of the changes are optional, and you can go through adjusting those you which to apply and refining them if needed. But, should you wish to fully harness the power of the AI, you can let the software do most – if not all – of the editing for you.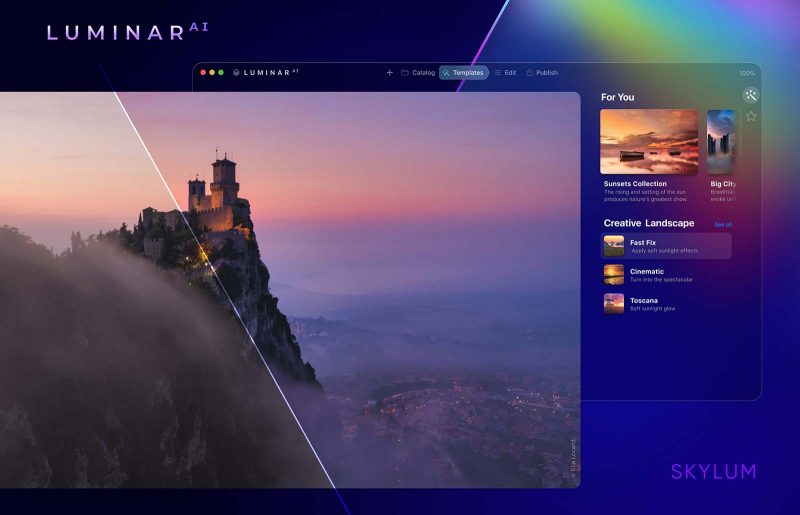 Templates will be collated into Template Collections, with unique workflows for different styles of photography. Whether that's astrophotography, wildlife, landscape, macro, or portraiture, Luminar AI will be able to adapt to your needs. This is the strength of this new iteration, and something we are very excited to test for this Luminar AI review.
Specifically interesting to our readers, Skylum has said that the software is "as good at working with animal faces as it is with people."
You can also build your own Templates, saving these with the exact AI tools you want to use. These can then be applied to your images, with the tools adjusting based on the image analysis.
Syncing your adjustments
One of the very exciting things to see from Luminar AI is the use of artificial intelligence when it comes to syncing your adjustments across multiple images. We've seen a live preview of this so far, and it does seem to work very well.
With adjustments made to an image of a monkey, the user then synced the adjustments across multiple very different frames of the same monkey. The software was able to attain the visual "look" that was being aimed for from the initial adjustments, and could then refine the tools across the other images so that the images matched in style.
This is a very tricky thing to do, and something you do not see from the likes of Lightroom. Lightroom, when syncing your edits, will just apply the exact same adjustments. However, Luminar AI will adapt those sliders and ensure that the changes are specific to the images in question.
How to get Luminar AI
Luminar AI is now available to download immediately. Luminar AI is a standalone piece of software and not an upgrade to previous versions.
Remember, if you use the code NATURETTL during checkout you will get £10 off your order (can be used worldwide for any currencies).
Frequently Asked Questions
Well, I guess these aren't actually frequently asked questions since it has just been announced. However, now that you've finished reading our Luminar AI review – well, the first look – these are the questions that we imagine you'll be asking.
Is Luminar AI worth the upgrade from Luminar 4?
It's hard to say right now, since the software is so new and we haven't had our hands on an actual copy of it yet.

However, we've been consistently impressed by each new version of Luminar that we have seen over the years. All our previous Luminar reviews are on the website, and you'll see they've been getting increasingly better with each version.

So, I'd say it is worth it on paper. The software looks powerful, intuitive, and increasingly user-friendly. Plus, it's very affordable and right at the cutting-edge of photo-editing technology.
Is Luminar AI a free upgrade to previous Luminar versions?
No. As mentioned previously in this Luminar AI review, the software is a standalone version and will not be a free upgrade for current Luminar users. There is a loyalty price for upgrading, however.

Regardless, we expect that multiple free updates to Luminar AI will be available to those who purchase it. That, after all, has been the case for the previous generations of Luminar.
Is Luminar AI really harnessing artificial intelligence?
It depends whether you get your definitions from the movies or not. Downloading Luminar AI won't mean a photo-editing robot is delivered to your door, no.

But the software does intelligently analyse individual photos. Instead of adjustments being uniformly applied across all photos, the AI tools will be applied in a unique fashion specific to whatever photo you are editing.
Is Luminar AI non-destructive when editing?
Yes, it seems to be. Previous versions of Luminar have been, and from what we've seen that doesn't seem to have changed with Luminar AI.
Should I use Luminar instead of Lightroom?
Luminar is not trying to takeover from Lightroom when it comes to photo organisation. However, the editing tools are completely different to what Lightroom has to offer. If you want intelligent editing, then go for Luminar.
Is Luminar AI available worldwide?
Yes, you can download Luminar AI in all countries internationally. It is also available in multiple languages.
Has the speed of Luminar AI been improved?
We can't answer this one just yet, but we'll be updating this Luminar AI review as soon as we get our hands on a copy.

However, recent updates to Luminar 4 have seen speed improvements and it would be very strange for Luminar AI to slow things down again. So we would hope that, yes, things will be faster.
Summary
Reviewer
Review Date
Reviewed Item
Author Rating





Software Name
Software Category