Luminar 2018 is a Your New Alternative to Adobe Lightroom
Macphun have just announced the release of Luminar 2018 – award-winning photo-editing software that looks to tackle Adobe Lightroom head-on.
Adobe are losing popularity in the photography industry due to the Creative Cloud subscription and announcement of Lightroom no longer being supported as a standalone, non-subscription purchase. Macphun is here to save the day, though, with a new generation of its popular Luminar software.
Most importantly, Luminar will work on both Mac and Windows computers. This has been a frustrated for Macphun users in the past, with software only being available to Mac users. However, this has now changed and Macphun is here to stay on Windows devices too.
Luminar 2018 has been re-built from the ground up for dramatic performance boosts. Existing filters deliver richer colors and depth in less time. A brand new streamlined user interface speeds up working with presets, filters, and masks. With full support of pro options like layers, masks, and blending modes, complex repairs and photo composites can be easily accomplished.
"We've taken the time to listen to photographers, and what they want is performance and quality.  The less time photographers have to spend in front of computers, the more time they have for taking pictures," said Alex Tsepko, CEO of Macphun.  "Our mission is to get Luminar streamlined with just the tools and controls photographers need. The goal is simple: enable the best-looking images with the least amount of effort."
Luminar 2018's new RAW Engine will handle high-quality images much faster than before, streamlining the workflow of photographers with lots of photos to crunch through.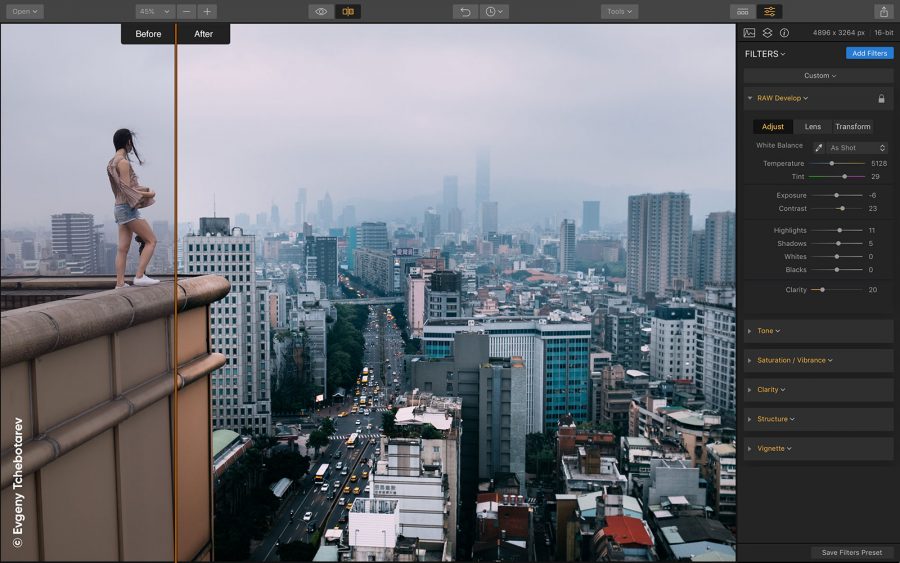 Pretty much every feature of Adobe Lightroom you may be familiar with is crammed into this incredibly affordable software, with every functionality from presets to cloning and layers included.
Even the filters, of which there are over 40 of to apply, are extremely useful. Backed by artificial intelligence technology, the editing process becomes quicker and easier. There's even real-time noise reduction built-in. That means more time spent in the field with your camera, instead of in front of the computer.
Luminar is available as both a stand-alone software, as well as a plugin for Photoshop and Lightroom.
Coming in 2018 as a free update, Luminar 2018 will boast a digital asset manager that is compatible with Adobe Lightroom catalogs – this means that you can use Luminar to organise your archives, too.
Luminar 2018 is available for pre-order until the 16th November 2017, and will become available shortly after. New users can buy the software for only $59, and with that will receive free signature presets & textures, an exclusive LUT pack, and a 1-year Power plan from SmugMug (worth $72).
Current Luminar users users can grab Luminar 2018 for $39. Pre-order now on the Macphun website.