Lara Jackson: Conservation Through Photography
Conservation biologist and award-winning photographer Lara Jackson has travelled around the globe photographing and researching a variety of endangered species.
Using photography and a background in conservation, Lara combines passion and science to help raise awareness for conservation. She also sits on our panel of judges for this year's Nature Photographer of the Year 2022 award.

Since a young age, you've had a fascination for the natural world. You completed a BSc in Zoology and went on to complete an MRes in Wildlife Conservation; you even published an illustrated book! How did your journey into photography tie into this?
I always say I fell into wildlife photography by accident but equally, I wouldn't be where I am today without my background in conservation. It was after a trip to Madagascar for my undergraduate dissertation that I bought my first ever (bridge) camera when I was 21. On my subsequent university field trips, to Belize and the Maasai Mara, I was hooked and fell completely and utterly in love with wildlife photography.
Through my university studies and career beyond, I had the opportunity to visit some incredible countries and observe diverse, wonderful wildlife that I'd always dreamed of seeing as a young girl. My background also gave me a unique view of the subjects I was photographing.
I understood their ecology, I knew what interesting behaviours to look out for and, most importantly, I understood the challenges they're facing to persist in the wild. I believe that this unique view is a strength that enables me to create more imaginative and impactful photography.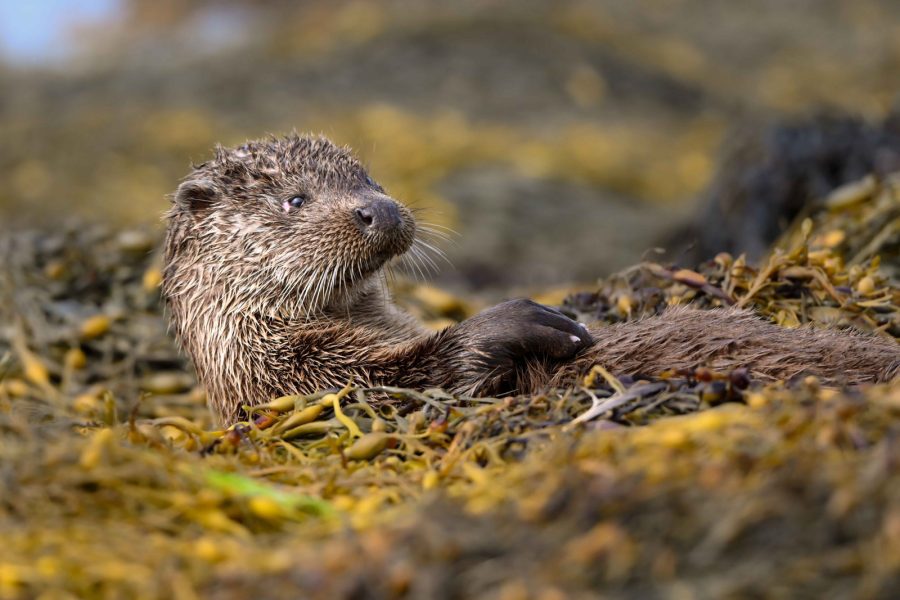 I've been taking photos for five years now; what began as a way for me to remember the amazing wildlife I saw on my research trips, quickly developed into a way to raise awareness for conservation. I soon realised that I could reach far more people through photography, and my social media channels, than I ever could through publishing journals in scientific papers.
Do you have any photographs of the same animal or place that you can share with us to show how your style developed over time? What would you say had the biggest influence on you when developing your unique style?
After getting my first bridge camera, one of my first trips was to Kenya. I have been lucky enough to work in, and visit, Kenya numerous times since that trip. It's always lovely to look back at those initial images to see how much I've improved.
Spending extended periods of time in countries like Kenya for my research means that I've had more opportunities to see unique events and behaviours, and therefore capture unique images.
I'm a completely self-taught photographer, and for the first couple of years, I shot exclusively on automatic mode. I strongly believe it was because of this 'point and shoot' attitude that I was able to develop my eye so quickly.
I was able to learn where I should place an animal in the frame, what behaviours to look for and capture, and how to time it so I caught the most dramatic moment. I did all of that without worrying about camera settings; it was that freedom for creativity that improved my photography in leaps and bounds.
I now know how to use my settings to get the most out of my photography, but I'm still learning. I'm also not afraid to get things wrong and I think it's important to accept imperfections in photography. I also believe it's wonderful that we are constantly learning – think of all the potential we have to grow!
You were awarded Highly Commended in the Animal Portraits category of the Wildlife Photographer of the Year 2021 competition. How did that feel?
I'm not even sure I can describe how it feels to have been recognised in Wildlife Photographer of the Year. It's surreal, overwhelming, eye-opening, and mind-blowing – it's an experience I'll treasure forever.
Having never entered the competition before because I lacked belief in my work, it gave me an incredible confidence boost and the drive to pursue photography as my full-time career. Also, having the opportunity to meet, and see the work of, numerous professional photographers from around the world was humbling but SO inspiring!
I don't think there's a word that encapsulates the feeling you get when you walk into the Natural History Museum and see your image displayed proudly for thousands to see. It was a once-in-a-lifetime opportunity and I'll be forever grateful to the competition.
Your photography work supports scientific research, communications and conservation projects. Why, in your opinion, is photography so powerful in story-telling and conservation as a whole?
Photography is an incredibly important tool for raising awareness about conservation. It transcends languages and creates an emotive response in the viewer. When documenting important issues like the rhino poaching crisis, a photograph of an injured rhino will convey the seriousness, destructiveness, and deep sadness for the victims of wildlife crime.
This is often more impactful than simply telling someone about it. Moreover, the majority of people consume information through social media channels; using powerful imagery to capture attention is a vital way of disseminating information. Most importantly, photography can be viewed and interpreted by all language speakers around the world.
Are there any species of animals that you dream to photograph, and why?
Absolutely! There are so many species I'd love to photograph, or even just catch a glimpse of!
Polar bears, orangutans, orcas, pumas, jaguars, ocelots, the Ethiopian wolf, aardvarks, tigers, wolves, brown bears, lynx, pangolins, penguins… honestly, the list is endless.
If I had to pick one, I would probably say polar bears. When I was little, one of my favourite books was about a polar bear who got lost and slipped into a girl's bedroom to stay warm. Since then, I've had an all-consuming fascination with this apex predator.
To see them would be a dream come true, but more than that, it would give me an opportunity to try and document the challenges that polar bears are facing. Reducing sea ice, and therefore hunting grounds, decreasing prey populations, and climate-related pressures to name a few.
As a young, up-and-coming photographer, do you ever feel any pressures or barriers as a woman in wildlife photography?
Being a woman in a heavily male-dominated industry definitely comes with some challenges.
I do believe there's a subconscious bias that because I'm a woman I can't travel to dangerous places, or I'm more vulnerable if I travel by myself, or the classic: I can't use big lenses because I won't be able to carry them. I think this bias can sometimes close doors to me, but I'm passionate about addressing gender inequality.
I hope that I can inspire young girls and women to follow their dreams, pick up a camera, immerse themselves in nature, and get more involved in wildlife photography.
You are also on the judging panel of Nature TTL's Photographer of the Year 2022 competition. If there was one piece of advice you could give to any aspiring photographer considering entering competitions, what would it be?
I think it would simply be to have confidence in your work.
Our images reflect the way we see the world or an event happening in front of us; the reality is, that we all see the world differently. Even if there are two photographers on the same trip, the images they create will never be the same.
Have confidence in the uniqueness of your view and go for it! You may be sitting on an award-winning image!
What can we expect to see from you next?
Now that international travel has opened back up again, there are several projects that I'm keen to document. As well as wildlife photography, I want to transition into the world of conservation journalism.
I want to capture some of those interactions between wild animals and humans, whether it's covering a distressing topic like rhino poaching, or an uplifting event like a reintroduction project. I want to create images that directly show the impacts – both good and bad – that we're having on the planet. You may see me at a rhino and elephant sanctuary in the near future… that's all I can say for now!
Ultimately, I want to continue to use my camera as a voice for the voiceless, to raise awareness for conservation issues, and tell the stories of those working tirelessly to protect some of the most endangered species on the planet.