James Lewin: Expert Tips on Connecting People to Photos
Award-winning wildlife photographer James Lewin's style is unmistakable, immediately immersing viewers in the lives of East Africa's animals.
Through his photography, James masterfully connects people with his beautiful but endangered subjects.

Passionate about conservation, James views his work as an influential tool to raise awareness and funds for the creatures he admires and spends time with.
We caught up with James to talk about his time behind the lens, his passion for conservation, photography technique, and more.
What first inspired you to pick up a camera and start photographing wildlife?
When I was 18, I discovered my passion for wildlife conservation following three months of volunteering in Kenya, and I feel it was a natural transition.
I studied Real Estate at university but couldn't keep away from Kenya – the pull was too strong. I spent all my holidays there and soon began hosting fundraising events and talks in the UK.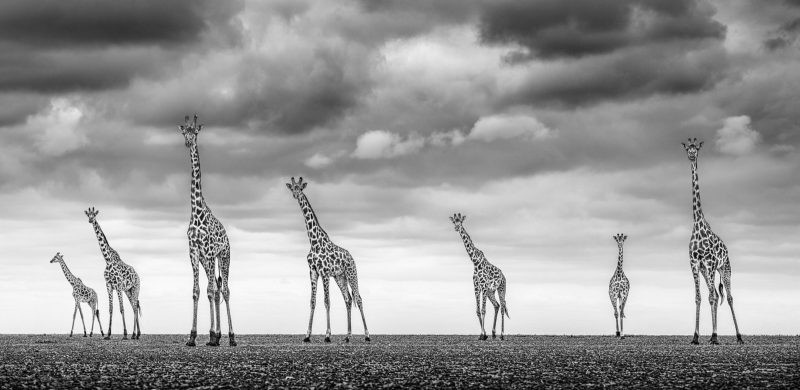 I wanted to use my own imagery to help communicate my stories.
On my first visit to Kenya, I stumbled upon Nick Brandt's books, which undoubtedly played a part in inspiring me to pick up a camera for myself. I was blown away by how he transformed wildlife photography into art.
As a self-taught photographer, what was the biggest learning curve you faced when starting out?
I remember purchasing my first camera, and I had no idea how to use it! Thankfully, my girlfriend studied photography and was a great help.
I spent a lot of time watching YouTube tutorials, but nothing could compare to practising in the field. I was fortunate to spend my summers volunteering in Kenya with my camera constantly in hand.
They say you must spend 10,000 hours practising something to get good at it. I indeed spent more than that using my camera at every opportunity.
I don't know if I had the biggest learning curve, as photography was simply a hobby for a few years. The transition from enthusiast to professional was gradual and unexpected, so I never considered it.
Have there been any notable changes in how you compose your images over the years?
The composition of my images has been commented on since my early days in photography. I studied History of Art at school, which taught me much about composition, and this still helps me today in the way I compose my images.
More recently, I have included more of the landscapes than ever before. Combining an extraordinary landscape with my subjects has become a real focus.
Pictures like "Sundowners on the Serengeti Plains" and "The Leopard's Realm" allow the viewer to tell a story of their own rather than me providing all the answers.
If these images were composed differently, the entire feeling of the photograph would change.
You predominantly work in East Africa. What makes this part of the continent so special to you, and do you have a favourite shoot/animal encounter from your time spent there?
East Africa was my first introduction to Africa, and I have lived in Kenya for nearly four years. The longer I live here, the more I realize how much there is to explore.
While I hope to explore many incredible locations across Africa someday, I am currently passionate about what is on my doorstep.
There are so many places in Kenya alone that I have not yet visited, so I think I will explore more of East Africa before focusing on locations further afield. The variety of landscapes in East Africa lends itself to a monochrome aesthetic, which I find compelling.
The first encounter that comes to mind is spending 12 hours with a leopard in the Serengeti. I still can't quite believe it happened, and it was a record for my guide too.
We found a huge male leopard fast asleep on top of a rock shortly after sunrise, and we predicted that he would quickly descend for shade. But soon, the clouds rolled in, and he had no reason to move as he was well-fed.
We spent the entire day waiting in position for something to happen without food, and we consumed almost no water, so we didn't have to move and potentially miss our opportunity.
We finally got a shot in the late afternoon but felt it was impossible to leave, seeing that the leopard was still up on the rock. We stayed with him until he descended into the darkness and walked past our car.
I always think of this day as a reminder of how important it is to be patient in wildlife photography; patience really does pay off.
Your images offer viewers an intimate and immersive moment with some of Africa's most vulnerable inhabitants. What drove you to portray wildlife in this way?
Right from the start, my photography has aimed to inspire and connect people with the endangered wildlife of Africa.
A primary goal for my work is to create an emotional connection between the subject and the viewer and I have found an immersive approach to be the most effective way of achieving that.
The intimacy, drama, and perspective of using wide-angle and standard lenses cannot compare to a telephoto. You create an almost lifelike, three-dimensional quality that makes you feel like you could have been there.
I often combine a wide-angle lens with a low perspective to magnify my subjects' grandeur and impressiveness.
In many cities worldwide, statues of significant people in history are often displayed in an elevated position. This high position accentuates their status, and I aim to achieve the same impact when photographing wild animals.
If these incredible species are to live on long into the future, then we all need to find a great sense of admiration and respect for them.
I hope my photography can play a small part in elevating the status of these iconic creatures so that we do not allow them to fade into the past, only to be remembered through photography and documentaries.
Your photography helps raise awareness and funds for conservation projects in Africa. What role do you see photography having in the future of wildlife conservation?
Photography is linked with conservation in many ways, but I see fine art as a highly effective way of helping to raise the funds needed to carry out vital work.
Together with my art galleries, we donate 20% of the proceeds to African conservation efforts. I hope my work can significantly contribute to conservation efforts across Africa.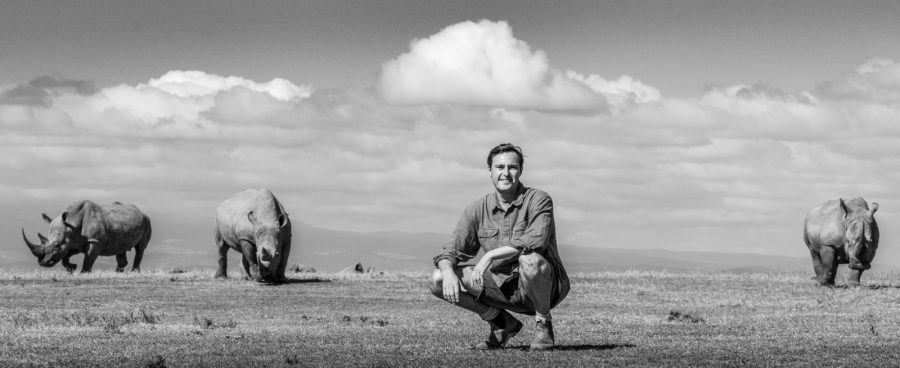 It would be irresponsible to gain so much from the wilderness and not give something back.
If many other wildlife artists did the same, there is potential to donate vast sums of money to ensure our planet's wild spaces live on and thrive for future generations.
With a mastery of black and white photography, what inspired you to focus on monochrome as your defining style, and are there any photographers whose style you aspire to?
In Africa, there are a lot of contrasting colours, which can distract your attention from the subject. Once viewed in black and white, the entire mood changes, and you can focus on the subject without other prominent features becoming a distraction.
We also see our daily lives in colour, so creating a detachment from reality can result in powerful and dramatic imagery.
I also find black and white a compelling reminder that the subjects within the frames are endangered and could only be remembered through photography because we often associate a black-and-white aesthetic with history.
In your opinion, what are the most important elements to think about when composing an intimate wildlife portrait?
I think there are no rules when it comes to composing a portrait.
I feel lucky not to have been taught photography because I would probably photograph as it says in a textbook. I believe the best thing to do is experiment, be creative, and spend as much time with your subject as possible.
Nature has a funny way of presenting you with unique compositions if you put the time in. The Leopard's Realm is a perfect example of this.
I had spent a long time with the leopard while he was asleep, but later on, the leopard moved to sit perfectly between the branches of the tree, forming a unique composition. Anybody could have taken that photograph; the credit goes to the leopard.
I was just there, ready to capture the moment nature presented me.
Most of the time, you must make a composition for yourself, and I often find a low-angle perspective an effective way of achieving that.
You can remove distracting objects and frame the subject against a clean backdrop, which completely changes the mood of a photograph.
Regarding subject positioning, each composition is unique and requires different adjustments. I focus on creating harmony between the subject/subjects and the surrounding environment.
What has been your favourite wildlife encounter so far?
My favourite encounters are tough to choose from, as there have been so many. But if I had to choose one, it would be time spent in the company of big-tusker elephants in Southern Kenya.
Each time I see a giant tusker, I immediately feel I have been transported several hundred years back in time.
In fact, when I am in the middle of Tsavo, or the Amboseli Ecosystem, in the company of a tusker, I genuinely feel I have seen a glimpse of an era long ago.
To me, they resemble mammoths more than they do elephants, and it is nothing short of an honour to stand in their presence.
My first sighting of a tusker was of One Ton in the Chyulu Hills when I was 18, volunteering for the brilliant organization Big Life Foundation.
I was submerged inside a waterhole when a group of elephants arrived to drink. My head was the only part of my body above the water level as they drank water with their trunks within arm's reach.
I remember the feeling of being splashed by their trunks and the sheer size of One Ton's tusks. I could barely comprehend the proportions as he towered over me.
It was the first time in my life that I felt compelled to take a photograph, and the perspective from inside the waterhole has been one of the greatest inspirations for my photography style.
When it comes to printing your work, you produce traditional Silver Gelatin and Platinum Palladium prints. What brought you to choose this medium?
To me, print production is just as crucial as making photographs. It is where my pictures come to life, and I never settle for anything other than the best.
It's incredible that these analogue printing processes have been around for well over 100 years and are still the best way to print black-and-white photography.
They are two of the most permanent printing methods ever invented, which initially inspired me to try them. I want to assure all of my collectors that their pieces of art will last for generations.
Aside from archival longevity, they also have a superior tonal range with more details in the shadows and highlights. The image exists within the paper instead of being sprayed onto the surface, giving a unique three-dimensional feel that complements intimate portraiture, truly bringing the work to life.
Until recently, it was impossible to make these prints from a digital file, and today there are only a handful of labs in the world that can make them. I also love that my photographs are developed in traditional photochemistry!
We're excited to see what comes next. Can you share any upcoming projects with us?
I have just returned from a month of safaris, including tracking down a black leopard and two weeks in The Serengeti. My focus is now on my upcoming solo exhibition in the UK.
Also, my work will be on show in May at Photo London, which is a first for me.
On my return home to Kenya, I have trips planned for Amboseli, Laikipia, and The Serengeti, which I am already looking forward to. When a trip hasn't been the most successful for me photographically, the first thing I do is plan my return.
No moment is ever the same in the wild, and sometimes you need to spend months in one location photographing the same subjects to create something that perhaps could never be captured again.