New GoPro Hero10 Black Officially Announced
Following a leak at the end of August, the Hero10 Black has now been officially announced by GoPro.
It offers a 23-megapixel photo resolution and an improved processor that enables 5.3k video at 60 frames per second, and 4K video at up to 120 frames per second.
"All-out speed and ultimate ease, now in the most powerful GoPro ever," says GoPro of its newest release.
The GP2 processor: a new engine with twice the performance
The new GoPro hosts a range of improvements from its predecessor, including an upgrade to the GP2 processor.
This promises a "smoother and snappier" user interface, claims GoPro.
It allows for a selection of better image quality and higher frame rates, including 2.7K video at 240 frames per second, 4K at up to 120 frames per second, and 5.3K at up to 60 frames per second.
The "glorious" 23-megapixel sensor
There's no need to sweat about low light with the Hero10 Black, as it boasts a new 23-megapixel sensor.
This will offer "enhanced low-light performance", says GoPro.
If still images from footage are desired, the Hero10 Black has got your back with the ability to grab 19.6-megapixel video stills from 5K 4:3 video at 30 frames per second, and 15.8-megapixel video stills from 5.3K video at 60 frames per second.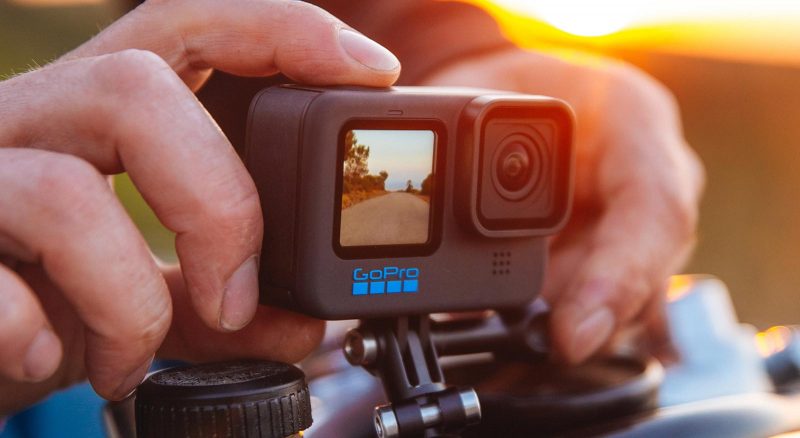 GoPro's most advanced stabilisation
But what about those shaky shots? Never fear: the Hero10 Black features super sensor stabilisation in the form of HyperSmooth 4.0.
"Our most advanced stabilization + increased horizon leveling", says GoPro.
There is an increased tilt limit of 45 degrees in high-performance settings, up from 27 degrees. This could potentially make even the shakiest of footage appear smooth and stable.
The newest GoPro is also waterproof up to 33ft.
"Tougher than ever", says GoPro.
The Hero10 Black is compatible with over 30 accessories, and a range of mods can be added to transform it into a creative powerhouse.
This includes the Max Lens Mod, Media Mod, Display Mod and Light Mod.
Accessing footage
The Hero10 Black has three featured ways to access its captured footage:
It can auto-upload the most recent footage at 100% quality to a GoPro cloud account while it is charging. (A GoPro subscription is necessary for this feature and can be purchased for $50 or £49.99 per year.)
It can wirelessly unload from the camera to the GoPro Quik app 30% faster than the Hero9.
Content can be transferred from the Hero10 to the Quik app on a smartphone, using the new USB wired offload option. This is supposedly 50% faster than wireless options.
It is highly likely that the microSD card can be removed from the Hero10 Black and the footage imported using a computer, although GoPro does not specifically mention this.
As part of GoPro's mission to remain environmentally conscious, the GoPro Hero10 Black ships in plastic-free packaging and includes a reusable case.
The GoPro Hero10 Black is available for $400 (US) or £379.98 (UK) with an included one-year GoPro subscription, or $500 or £479.99 without a subscription.