This Fish-Detecting Underwater Drone Shoots 4K Video
When you think of drones, you probably see spinning propellers coursing through the midday sky, giving us a breathtaking bird's-eye view of the world. But for the innovative folks over at PowerVision, the sky is no longer the limit when it comes to drone technology.
Going one step further in the niche world of underwater drone technology, PowerVision has announced the PowerRay, made for capturing high-quality footage beneath the waves. The PowerRay holds impressive power, packed in a sleek white package, including 4K UHD video capture at 25 fps, 1080p Real Time Streaming, a 12MP Camera with a Burst Mode at 5fps, and up to 64GB storage.
Not only that, but the PowerRay lasts a maximum of 4hrs and can operate at depths of up to 30 metres. As long as you are within 98ft of the drone, then the beauty of the oceans are yours to explore at the push of a button, or by using gestures with the PowerVision ZEISS VR goggles.
If you're aren't already blown out of the water by all this, then prepare for the PowerSeeker FishFinder. Using revolutionary technology, this feature can detect nearby fish distribution, underwater temperature, depth, landscape details, and provide continual 'fish alerts' – all straight to your smartphone through its app.
The FishFinder is detachable, so can either be used with the drone or separately.
For the keen fisherman-photographer, a 'Precision Remote Bait Drop' is available, allowing for the ability to place a fish hook in the perfect catching location.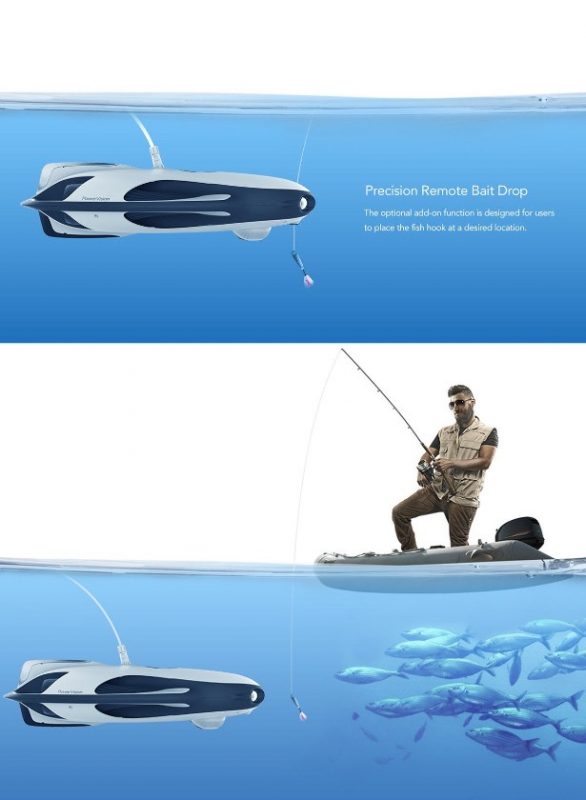 The PowerRay is available in three packages: the PowerRay Explorer, Angler, and Wizard – prices start at $1,500. For more information or to purchase the PowerRay visit their website, and check out this information video below: