Fat Llama Review: Renting Out Your Cameras for Extra Cash
When you can spend thousands on camera equipment, leaving them sat in a cupboard seems like a waste of money. You're unlikely to be using them every day, and those days where they are sitting and awaiting instruction can be put to better use. But how? Well, Fat Llama was setup a couple of years ago and allows you to rent out unused gadgets to others in the local area. It's a great way of earning some extra cash, and has been jumped on by photographers and film-makers who own expensive gear that can earn a tidy sum from rentals. You can also, of course, borrow equipment you might need for a shoot on a temporary basis. For example, if you're looking to shoot a time-lapse you might look to borrow a motorised slider for a week, rather than spending hundreds of pounds straight away to get the kit.
My original reaction was "oh definitely not" when I was told about Fat Llama. I did not like the idea of renting out cameras that cost me thousands to a stranger, knowing that they could damage it or even steal it. However, after my initial gut reaction I revisited the idea and did some research. Here's my Fat Llama review, and hopefully you'll see what a great platform this can be.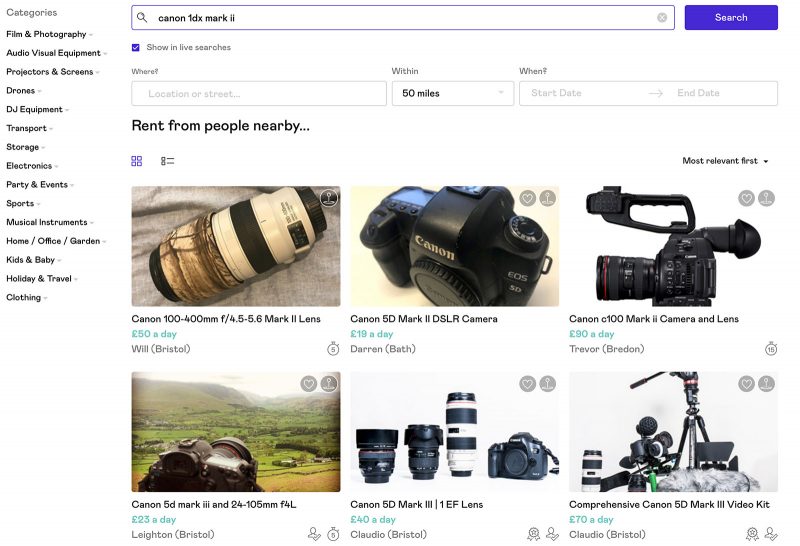 Is it safe to use Fat Llama?
Well, this is the first question you're probably going to ask. What is to stop someone stealing, or damaging, your kit and making the whole process incredibly expensive? Fat Llama take 15% commission from your rental fees (which you can set yourself), and that covers insurance on your equipment. When you send out your kit, it's important to take clear photos of the serial numbers and all faces of the equipment. You should also video the equipment to show it is fully operational.
Fat Llama also verifies every user, through 2 or 3 forms of identification, to make it difficult for someone to get away with anything malicious. Having said that, it isn't impossible for someone to get away with stealing equipment. I started off by borrowing some equipment from someone in London. He had plenty of reviews from happy customers, and has rented out thousands of pounds worth of equipment. I asked him if he had ever had difficulties; his answer was "for the majority of the time, no."
He told me he had had some equipment stolen, but Fat Llama were quick to payout the cost of the equipment so he could replace it, and the police were involved in catching the thief. Now, the only issue here he said was the hassle of replacing kit. It is good to know that Fat Llama do actually payout on their insurance, and actually it is definitely in their interest to do so without a hitch. If they were to make the reclaiming process difficult, their company would collapse around them.
My experiences renting out expensive equipment on Fat Llama
Having spoken to an experienced lender on Fat Llama, my confidence was enough to try renting my own kit out. I started by listing a Canon C200 on the website, a video camera worth about £8,000. By using a clear description and photos, I ensured that everyone was aware what they were getting.
I've recently had my first customer, a Bristol-based film-maker who wanted to use the C200 to replace his C100 camera for a shoot. I'd set the price for £120 a day, and received a welcome payout after the rental.
The customer came to my apartment, picked up the equipment after a quick chat, and I waved my camera goodbye (whilst keeping my fingers well and truly crossed). 3 days later he returned with the camera, and all was well. He's since returned and borrowed it again, with another good experience ticked off.
The whole process is incredibly smooth. Someone makes an enquiry, you chat about their needs, and secure a collection date. They pay the website upfront, which releases payment once the rental has begun.
The downsides to Fat Llama
There is one clear downside to Fat Llama, and that is that the user base is relatively small and still growing. This is not something they can be blamed for, though, and it takes time for anything to pick up steam. Currently they run in the UK and New York, USA. For the UK, London is definitely the busiest place for Fat Llama, but I'm having success in Bristol, too. It did take 3 months before I got my first rental (although I had a couple of enquiries that fell through because they changed their minds).
Other than that, however, I have yet to experience anything negative with Fat Llama. The review process keeps things comfortable, although since most users are new to the website a lot of people don't have any reviews. I just remember that they are all verified, and the insurance is there to back me up.
Trying out Fat Llama
Whether you're looking to rent out your kit, or borrow something for a short while, this is a fantastic website to try. Hire companies already exist, but this is a way to get short notice equipment at a reduced rate compared to a commercial hire.
You can sign-up for Fat Llama using this link to get £25 off your first rental. Or, try listing your own kit and see what happens!
Summary
Reviewer
Review Date
Reviewed Item
Author Rating