DJI's New Mavic 2 Drones Offer Hasselblad Lens and Optical Zoom
After the triumph of DJI's Mavic Pro in the consumer drone market, not one but two future successors are set to take to the skies – the Mavic 2 Pro and the Mavic 2 Zoom.
Lack of creative naming aside, DJI promises they will introduce a "new era" for civilian drones and aerial imaging technology.
The Mavic 2 Pro and Mavic 2 Zoom are decidedly distinct, with each offering a unique set of features that could transform the drone market forever. The former puts powerful image quality at its heart, whilst the latter features an optical zoom capability so far unseen in foldable consumer drones.
"The Mavic 2 Pro and Mavic 2 Zoom will enable photographers and videographers to take their inspirations to the air quickly and elevate their creative ideas to new height," states DJI.
Mavic 2 Pro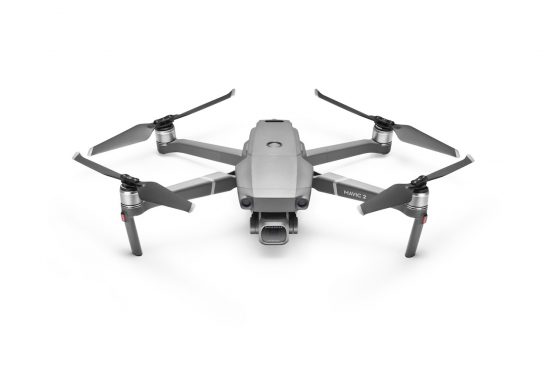 The Mavic 2 Pro is for image makers who want serious quality and performance from their drone. As an industry first, the drone is equipped with an all-new L1D-20c camera, designed exclusively by Hasselblad – the world famous medium format camera and lens crafters.
The camera can capture 20-megapixel aerial shots whilst utilising Hasselblad's Natural Colour Solution technology, providing sharp images with outstanding colour reproduction.
In addition, the drone has an adjustable aperture from f/2.8 to f/11, alongside a 1-inch CMOS sensor with a 10-bit Dlog-M colour profile. This means the Mavic 2 Pro captures four times as many levels of colour per channel compared to the previous model.
Mavic 2 Zoom
The Mavic 2 Zoom is being touted by DJI as the "world's first foldable consumer drone with optical zoom capability." What this means is that the drone features 2x optical zoom, that is then backed up by a 2x digital zoom – meaning you can simulate a 96mm telephoto. Full HD can also be recorded when utilising the telephoto.
Inside is a 1/2.3-inch CMOS sensor, providing 12-megapixel photos from above. But if you're looking for more resolution, then the new 'Super Resolution' mode utilises the zoom to stitch nine photos together for a "highly detailed" 48-megapixel image.
Exclusive to the Zoom model is a new Dolly Zoom QuickShot mode, that replicates the famous cinematography trick so far confined to traditional land-based filmmaking.
Other Shared Features
31-minute flight time.
Maximum speed of 44mph.
4K ultra-high def video recording at 100mbs per second.
Intelligent flight modes.
New Hyperlapse feature.
Compatible with DJI flight goggles.
8GB of internal storage and microSD slot.
Active Track 2.0
The Mavic 2 Pro and Mavic 2 Zoom will be available soon for the price of £1,299 and £1,099 respectively.
For more visit DJI's site.