Disney Closing Down NatGeo Your Shot Website
If you're a fan of National Geographic's Your Shot website, then you may get an extra scare this Halloween. Reported by a rather innocuous pop-up message that appears when visiting the homepage, the Your Shot platform will be "discontinued" as of October 31st 2019.
NatGeo Your Shot content will now be solely exhibited on the Instagram feed, featuring all "engagement, assignments, and promotion of photos."
The unexpected announcement has led to some confusion in the Your Shot community, with many suspecting that the closure is a result of Disney's recent corporate takeover of 21st Century Fox (with NatGeo in the deal).
Reported in Variety, Disney has laid off a number of NatGeo employees in an attempt to streamline its operations, with around 70 to 80 employees potentially affected. NatGeo operations including "live-event, travel and publishing" are being moved to the parts of Disney that "already handle those businesses."
"As of October 31, 2019, the current Your Shot platform will be discontinued and all engagement, assignments, and promotion of photos from our community will occur on National Geographic's Instagram Your Shot feed," states the Your Shot website. "We are excited about the move to Your Shot's Instagram, as the community on that platform is over 2 million strong. This change will enable a robust continued conversation about photos and visual storytelling before and among a large and engaged audience."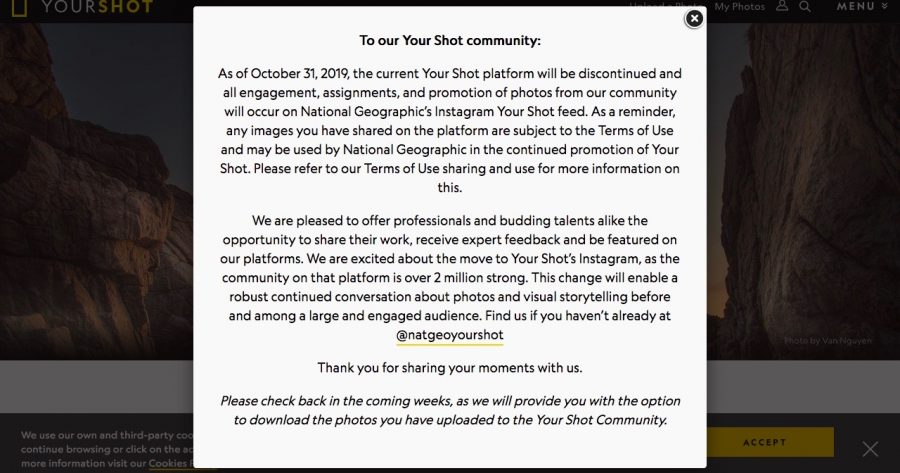 Many questions have been left unanswered, with the reduced functionality of Instagram paling in comparison to Your Shot's current features. For example, the continuation of popular elements like the Your Shot assignments are left up in the air, frustrating the dedicated community.
As a result, users have formed a petition asking Disney to "reconsider this decision and maintain National Geographic's Your Shot community, thus retaining the loyalty of its members to the National Geographic brand". If the petition fails, users will at least have the ability to download photos that have been uploaded to Your Shot in the next few weeks.