Canon Reveals New Budget Mirrorless with 24.2 MP Sensor
For those frustrated by the photographic limits of their smartphones, the entry-level mirrorless has often been the solution to their creative woes. After two long years, the team at Canon has announced the M100 mirrorless camera, with its sights firmly set on the smartphone crowd.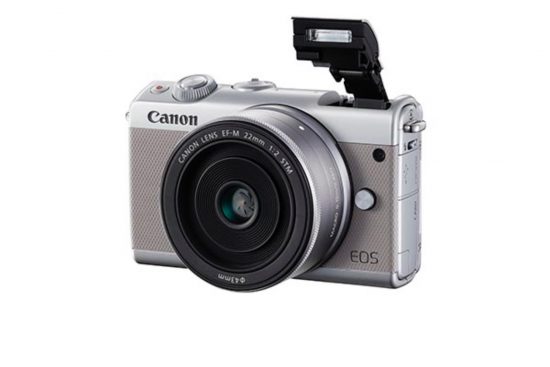 Although Canon's mirrorless lineup hasn't gained the acclaim of similar Fujifilm and Sony models, their sales have increased by an impressive 70 percent this year and with the affordable M100, they hope for this trend to continue. Stepping up from the specs of the two-year-old M10, the M100 offers a wealth of improvements and features that Canon claim will "help you release your creative vision and take your photography to the next level".

Specifications
24.2 Megapixel APS-C (cropped) sensor.
Full HD 1080/60p video capture.
Wide ISO range of 100-25,600.
Shoots up to 6.1fps.
Dual Pixel CMOS Autofocus for fast capture.
Canon's latest high-speed DIGIC 7 Processor.
Interchangeable lenses.
WiFi and Bluetooth Connectivity to computer or smartphone (with app).
'Selfie' mode with image and video option.
Built-in creative filters.
3.0 inch LCD touchscreen with flip capabilities.
HDR backlight control for lowlight situations.
Multiple shooting modes including continuous and bulb exposure.
'Creative Assistant' for aiding inexperienced photographers.
Whilst the lack of 4K and disappointing battery life of only 295 shots are definite downsides for the mirrorless market, the powerful new processor and sensor are key improvements making the M100 a worthy contender. With an emphasis on creative filters, selfie modes and connectivity to smartphones, the M100 is a clear attempt at luring everyday users on over.
Offering interchangeable lenses in addition to nine colour jackets, Canon seem to be treading the fine-line of style and substance with this latest release. Alongside this, the M100 comes in three colours – black, white and grey – allowing you to "design your camera to your personal taste".
The M100 will be available from October 2017 in the following versions:
EOS M100 Body Only – £449.99
EOS M100 + EF-M 15-45mm f/3.5-6.3 IS STM – £569.99
EOS M100 + EF-M 15-45mm f/3.5-6.3 IS STM and EF-M 22mm f/2 STM –£699.99
EOS M100 + EF-M 15-45mm f/3.5-6.3 IS STM and EF-M 55-200mm f/4.5-6.3 IS STM – RSP £769.99
Pre-order Options
You can pre-order the camera from the following trusted retailers: