Book Review: Photographing South Wales by Drew Buckley
When it comes to photography, knowledge is key. You can have the best cameras and lenses money can buy but knowing the who, what, where, when, why, and how is what really makes the difference. That's where the fotoVUE guidebooks come in. In this case, the book Photographing South Wales by photographer Drew Buckley. 
Drew is an award winning wildlife and landscape photographer based in South Wales. His passion for his home makes him the perfect person to write such a guide; his knowledge is second to none.
The book itself is a great size, being a 6×9 inch paperback means it's small and light enough to take with you on your adventures, but big enough to be easy to read. The 444 pages are crammed with invaluable information for amateurs and professionals alike with a focus on everything from birds and landscapes to key events in the local calendar. There is a full double page map that accompanies the contents page with the locations clearly labelled. The book is also graced with location specific images that can really inspire the reader, revealing the true potential of South Wales as a photography hotspot.
Once you open the pages you are greeted by an easy-to-read contents page. followed by acknowledgements and a fitting foreword by the Countryfile presenter Kate Humble. The book then jumps into the nitty gritty bits, starting with getting to and around South Wales. This is a great example of the level of detail the book goes into; all the major routes in and out are covered with estimated journey times, useful traffic information, and alternative methods of travel covered in the first couple of pages. The following pages then go into great detail of the climate, busy periods, how to use the guide, camera gear, access, seasonal highlights and more. He even has you covered for food and accommodation! There is nothing missed out, I'm pretty sure you could plan your whole trip just from this book.
When you reach the location guide pages the South Wales region is broken down into eight smaller chunks, Pembrokeshire Coast National Park – North, Pembrokeshire Coast National Park – South, Brecon Beacons National Park, Carmarthenshire, Gower, Ceredigion, South East Wales, and Powys, these have detailed and labelled maps to match. All these sections are then broken down once again into photographic opportunities with up to 14 locations in each.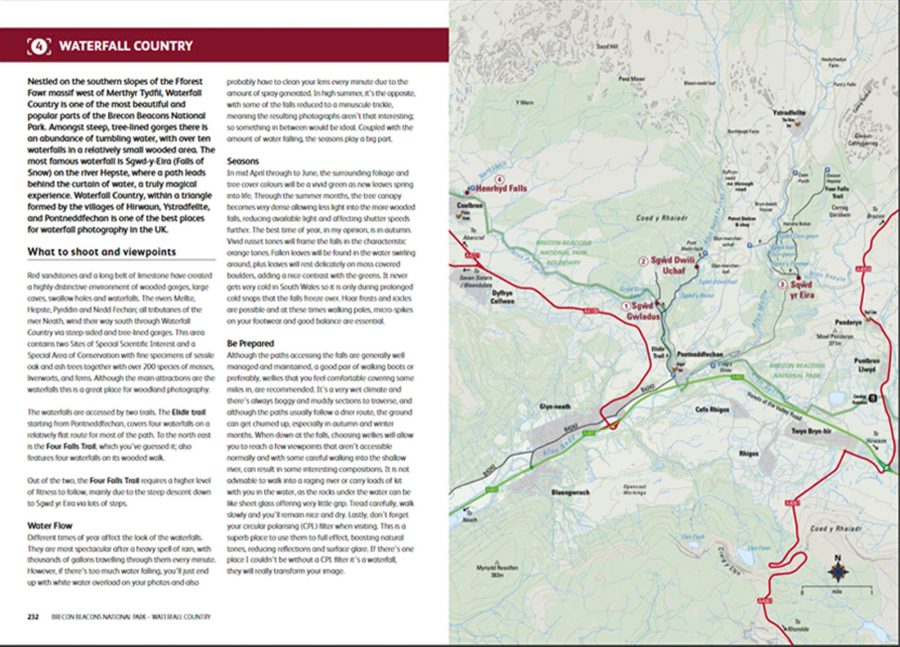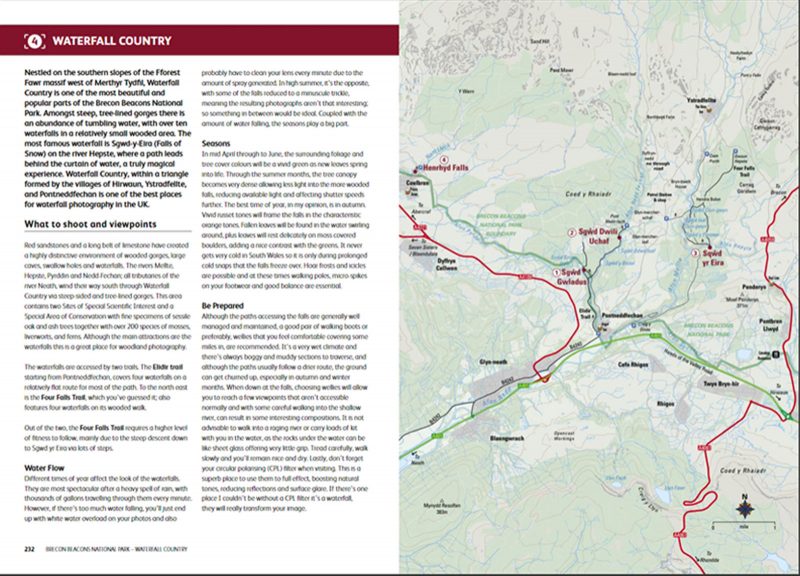 The locations in these areas are then delved into with great detail, drawing area specific information from the earlier pages. Postcodes, grid references, accessibility, and when to visit are present for every location and when it comes to more specific subjects, such as waterfalls, it goes into great detail surround the settings and equipment needed to get the most out of them. All this information doesn't come at the expense of imagery, all the locations have multiple breath-taking images accompanying them which are labelled with the setting and equipment used.
Taking a step back from the wealth of detail, this book makes a great portfolio of what South Wales has to offer. Beautiful imagery combined with maps in an easy to read format make it a perfect book for the everyday holiday maker, a tourist guide if you will. Everywhere, from streets of Cardiff to the remote LLyn Y Fan Fach, there are images of it all to draw you in and make you want you go out and find it for yourself.
Are you a photographer? Are you heading to South Wales? If yes then this book is a must. I've not seen a better location specific, all-round guide for any location. My only gripe is that there isn't one for every part of the UK (I think the whole planet would be too much to ask).
Photographing South Wales by Drew Buckley can be ordered online for £20.
Summary
Reviewer
Review Date
Reviewed Item
Photographing South Wales by Drew Buckley
Author Rating