Big Updates for Adobe's Photoshop, Lightroom & Camera Raw
This week, Adobe has released major new updates and features to Photoshop, Lightroom, and Camera Raw.
The release of these new features and updates aims to help support the "creative renaissance," with the aim that these tools will help photographers and artists create artwork more effectively.
For photographers, this means updated editing tools, allowing for more detailed and subtle adjustments, as well as new layouts enabling an easier and more time effective editing process.
"We're launching new features and services that help creative people connect with one another and expand their skills," says Scott Belsky, Chief Product Officer at Adobe.
Adobe has also released new search improvements to Behance. It is now possible to search for an image of a particular style, or by the creative elements in contains. You can also search for photos by the exposure, focal length, and camera model used.
Updates to Adobe Photoshop
With every update comes performance improvements, and this is definitely the case for the most recent advancement of Photoshop.
Select Subject Tool
Arguably the biggest feature in the update is the new and improved "Sensei AI powered" select subject tool. Featured in previous versions of Photoshop, this tool was mainly used to select simple objects with bold outlines.
However, the new 2020 version has been completely transformed. Researchers have invented new Sensei AI and machine-learning tech to enable the selection of highly detailed subjects in very few clicks.
The level of detail detection can be seen in the comparison below, with emphasis put on the incredibly detailed selection of the model's hair. This is definitely an upgrade to get excited about and looks to be just the beginning of what is possible with Photoshop's new AI advances, allowing the creation of seamless edits with just one or two clicks.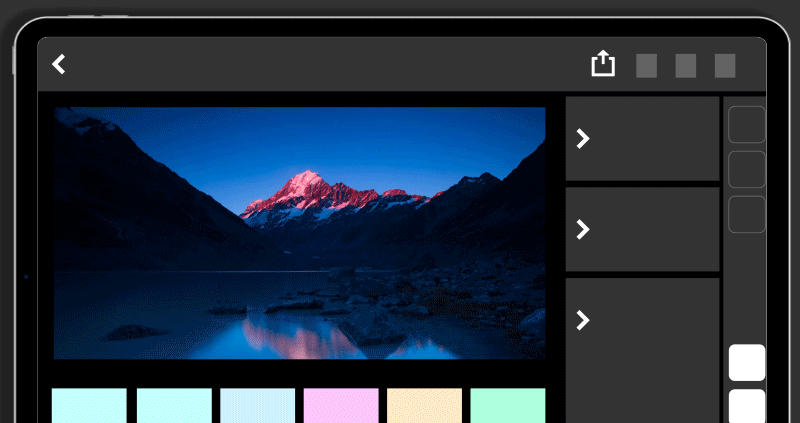 Workflow on iPad
For many photographers, editing on an iPad is useful when needing to quickly touch-up shots. Adobe has finally made it possible to edit photos in Photoshop straight out of Lightroom, without having to press save or export.
This useful update looks to make workflows on the iPad much easier and much simpler.
Updates to Adobe Camera Raw
Improved navigation is a big update for Camera Raw, and now looks very similar to that of Lightroom. It ensures each editing step is familiar and coherent in terms of the layout. This is also true with the addition of sliders in Camera Raw, which mirror those in Lightroom.
Also, the layout for batch processing can now be adjusted to your liking. You can choose to either have the film strip to the left of your screen (for portrait orientation shots) or running along the bottom of your screen (for landscape orientation).
It should also be noted that the 'Transform' panel has been renamed to 'Geometry.'
Crop Tool Improvements
The new crop tool provides the option of a 2×2 crop overlay as well as a 3×3 overlay. The benefit of this allows for the precise alignment of a photo in the centre of the frame. All in all, it gives you more control over the compositional adjustments you make.
Curve tool
The new Curve panel allows you to go back and forth between parametric and point curve channels. This means adjustments can be made by inputting specific values for the point curve, as well as the red, blue and green channels.
These controls can now be stacked vertically, reducing the number of clicks and making workflow minimal, while ensuring accuracy and big results.
Lightroom Classic
Other than obtaining its very own LrC logo, Lightroom has received some big updates.
Hue adjustment tool
"We're excited to introduce a tool that will let photographers really dive into the details of colour in their photos," says Greg Zulkie, a designer on the Camera Raw team.
This is exactly what the 'Local Hue' slider does. It allows you to edit hue within a certain section of a photo in a more subtle way. This is possible because the tool edits the hue of the underlying pixels, while keeping the white balance the same.
It works by shifting the hue on the slider to the source colour, which you will have selected as the area in your photo you want to edit. This will therefore become point zero and will help you to visualise the colour shift in either direction of this point.
This tool is perfect for minor adjustments, such as editing skin tones to more bold edits such as changing entire colours in specific parts of your image.
ISO Adaptive Presets
Finally, this new and updated feature allows the same edit to adjust differently to the specific ISO of the image being edited. This looks to be very helpful when editing photos with extremely high or low ISO values, such as images taken at night.
Overall, the new updates and features Adobe has dropped are exciting for photographers and have opened up new possibilities for taking image manipulations to the next level.
If you would like to try some of these features for yourself, simply update your applications via your Adobe CC application. Or, to find out more about these new features and updates, check out the Adobe blog or the Official Camera Raw update page.