Category Winner
'Manta Space Ship' by Grant Thomas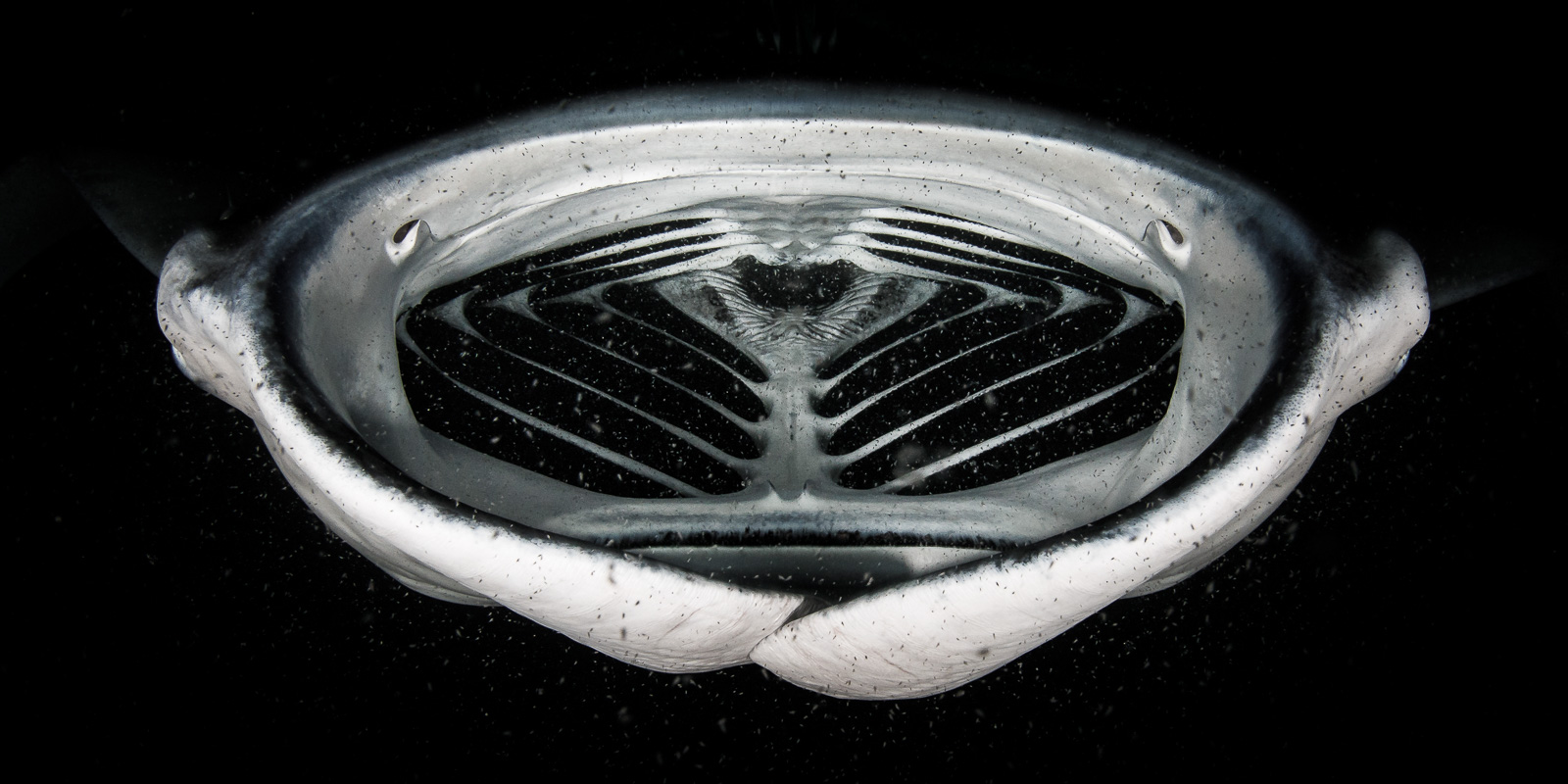 Manta rays are filter feeders, sustaining their huge size by consuming large amounts of plankton and small crustaceans, like krill. The Maldives is one of the only places in the world where you can dive with these majestic animals at night time.
For this image, I was positioned flat on the sand, watching one Manta looping around and around whilst feeding on a cloud of planktonic creatures which had gathered. After some time, the manta drifted closer and closer to me until eventually I was able to capture this shot.
Canon 5D Mark IV with Canon 8-15mm fisheye lens. 1/50th, f/11, ISO 320.
Runner-up
'Round' by Zhi'yue Shi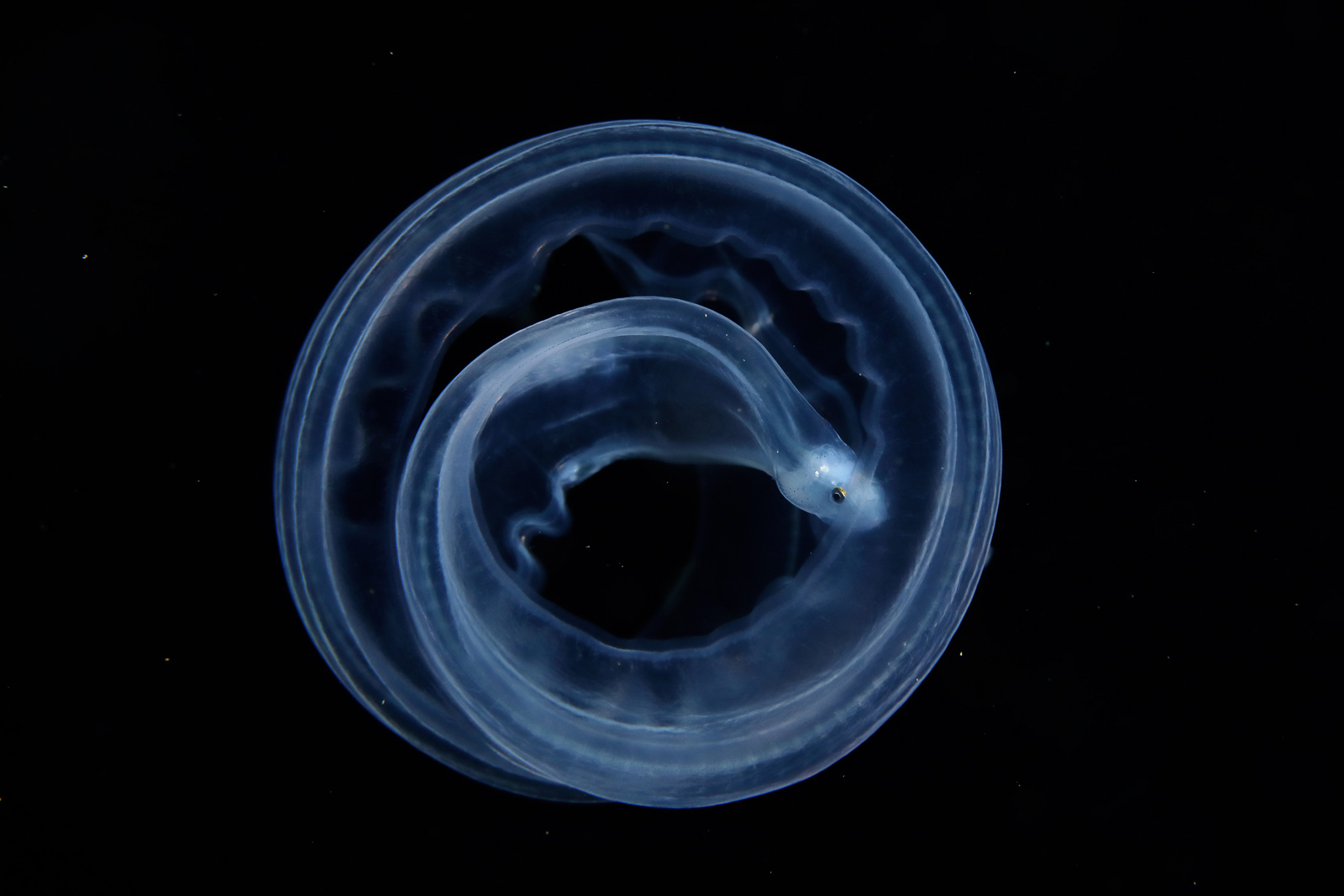 I searched aimlessly for my target underwater, and then I found it. Under the irradiation of light, it presents such a natural circle. Taken in the Philippines.
Canon 5D Mark IV with Canon 100mm macro lens. 1/250th, f/18, ISO 640.
Highly Commended
'My New Toy' by Celia Kujala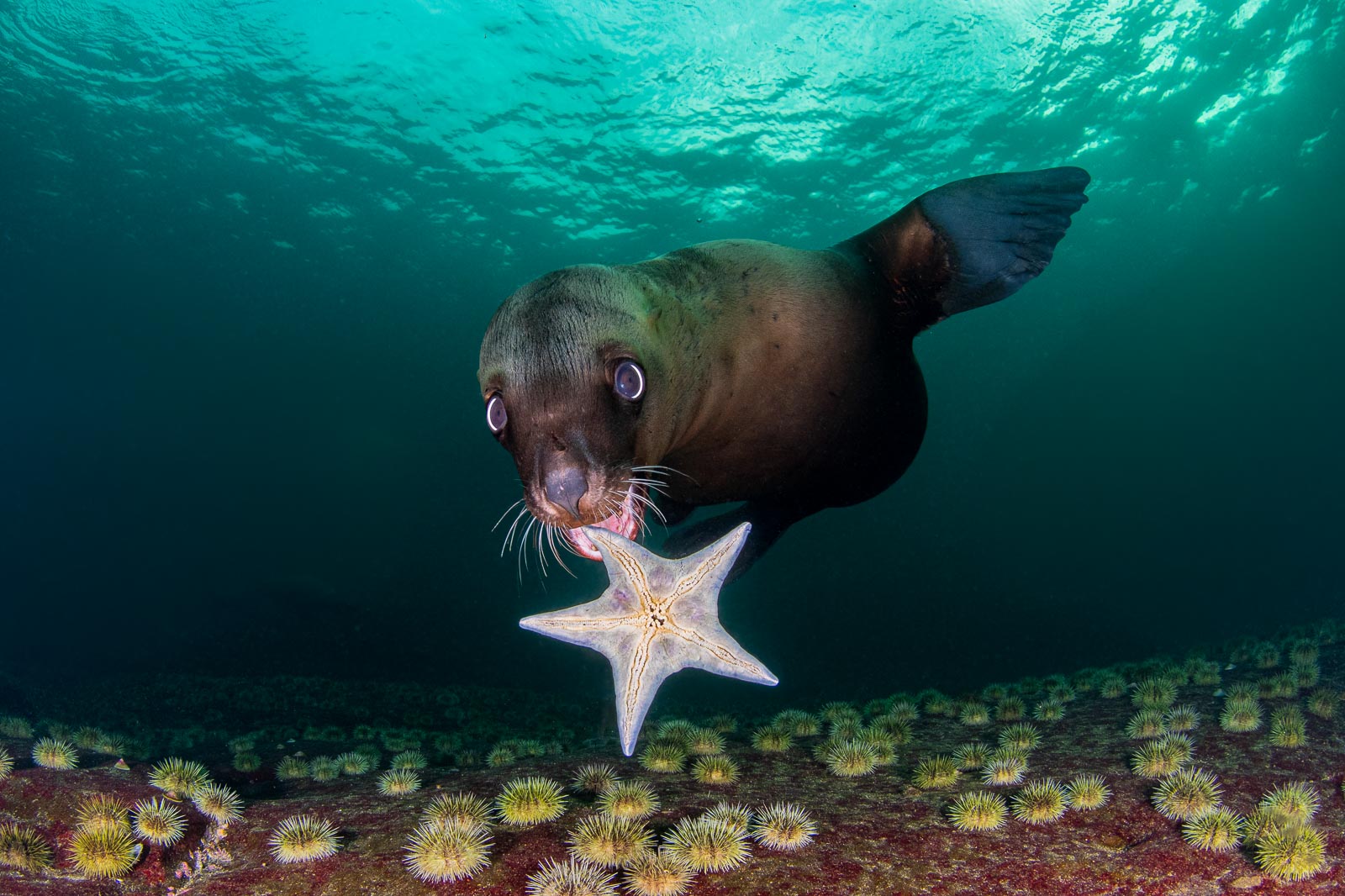 Play is very important in the development of young Steller sea lions and they love playing with anything that they find in their environment. When I was diving at Norris Rocks off Hornby Island in Canada, I watched this young sea lion play with a starfish.
As I watched her, she swam over to me to show me her beautiful toy. I was able to capture the image just as she was presenting the starfish to me.
Sadly, Steller sea lions are listed as Near Threatened on the IUCN Red List. By observing their playful nature, I hope people will feel a connection with them and want to protect them and their environment.
Nikon D500 with Tokina 10-17mm fisheye lens. 1/250th, f/11, ISO 500.
Highly Commended
'Bluebottle Sunrise' by Grant Thomas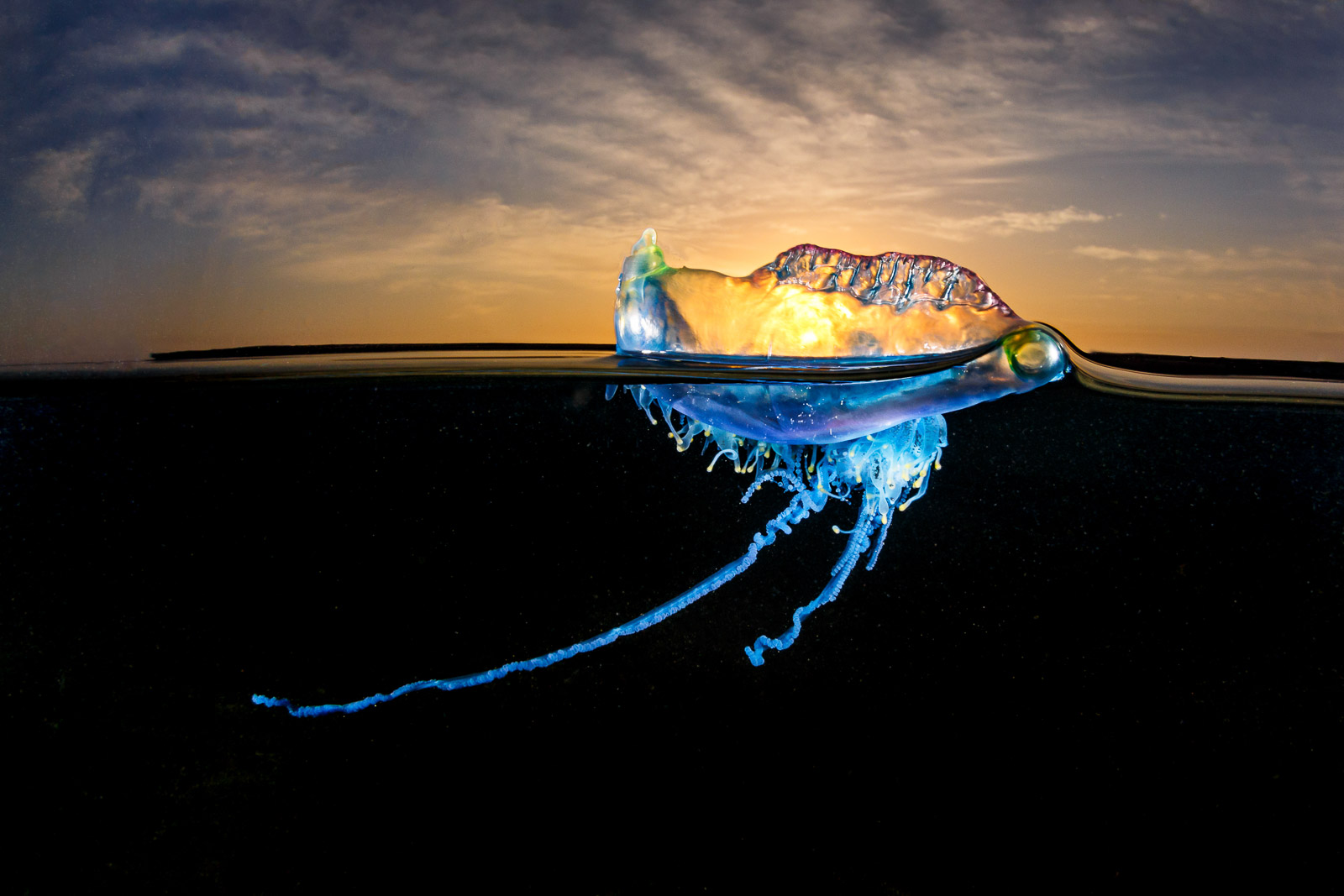 Thousands of bluebottle jellyfish regularly wash up all along the Sydney coastline. They collect in shallow rock pools that offer perfect shooting conditions during sunrise.
With their electric blue-coloured bodies and yellow-tipped tentacles, they contrast beautifully against the dark water background – but be careful as those long tangling tentacles can deliver a nasty sting.
Canon 5D Mark III with Tokina 10-17mm lens. 1/160th, f/29, ISO 400.
Highly Commended
'Dolphin Silhouettes' by Richard Condlyffe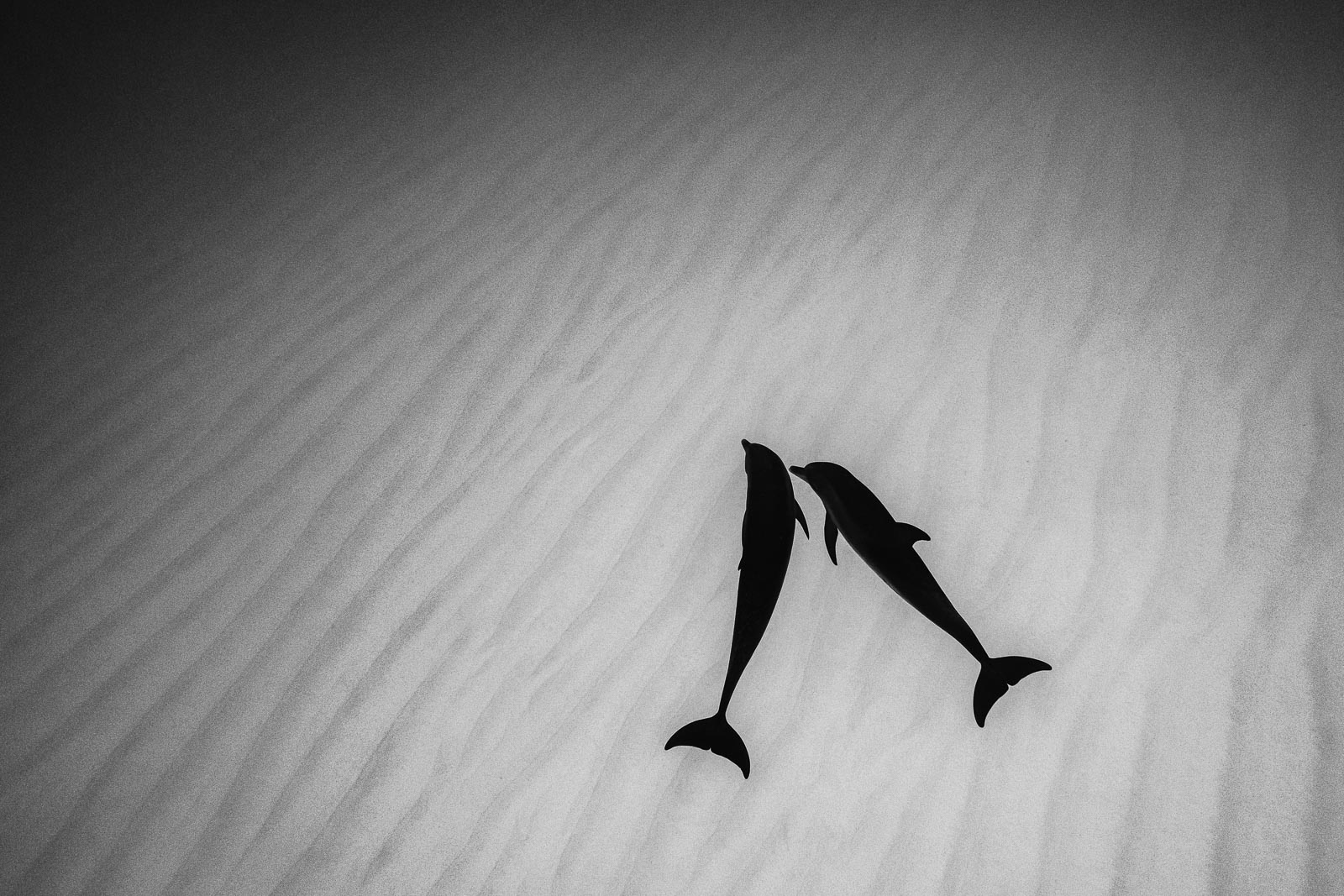 Taken while snorkelling, this image shows the silhouettes of two Spotted Dolphins against sandy ripples. What I particularly enjoy about this image is the clarity of each silhouette, with no overlap of the two creatures. Additionally, the two dolphins look like they're talking to each other and looking towards something out of frame.
Sony A7R II with Sony 16-35mm lens. 1/250th, f/5.6, ISO 1,250.
Highly Commended
'European Whale Sharks' by Nuno Vasco Rodrigues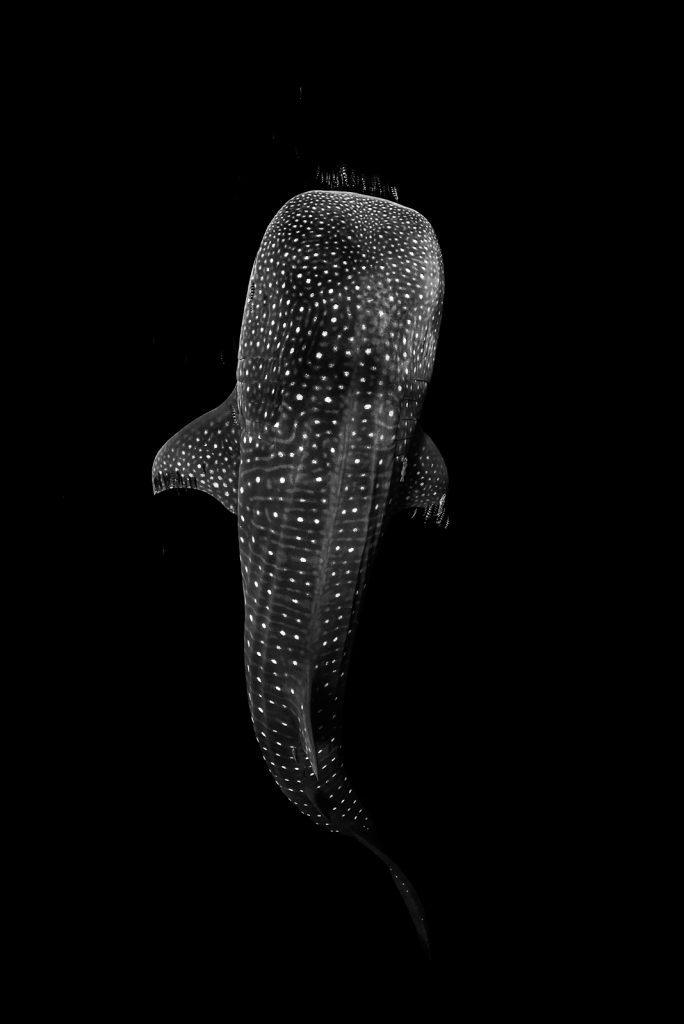 A whale shark ascends from the ocean depths in Santa Maria Island, Azores. In 2020 and for the second year straight, whale sharks showed up great numbers to this island, attracting tourists from all over Europe.
Nikon D750 with Tokina 10-17mm lens. 1/320th, f/6.3, ISO 1,600.