Workshops
Rural Birds of Prey Workshop
£99.00
Head to Northumberland and photograph a range of (captive) birds of prey in picturesque settings. Join a professional photographer, and trained falconer, to develop your skills as a photographer.
Want to give this workshop as a gift? Just put their details in the boxes below. If you'd prefer for them not to get a notification about the booking, make sure to enter your own email.
Need help?
Description
Birds of prey are amongst the most exciting, fascinating and enjoyable subjects you'll ever photograph. This amazing all-day workshop allows you to photograph a range of captive birds in stunning natural settings in rural Northumberland.
The opportunity to work with an experienced photographer and falconer means that you are able to achieve a range of gorgeous photos. All birds are placed in picturesque scenes, such as in front of waterfalls and on gnarled, ornate trees.
You'll be working with a selection of birds (depending on conditions), including: Buzzard, Peregrine, Barn Owl, Little Owl, Tawny Owl, Long-eared Owl, Eagle Owl, Great Grey Owl, Kestrel, and Snowy Owl.
This is a fantastic workshop for those wanting to both appreciate these birds in all their glory, but also to develop and hone their skills as a photographer. Your guide will be on hand to help you throughout the day and teach you everything you want to know.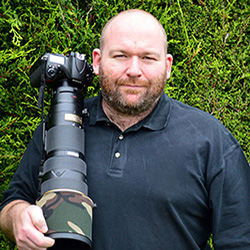 Alan will be conducting the workshop, alongside passionate falconer Andy. Alan is an extremely friendly and knowledgable man, admired by many for his efforts in helping others with their photography.
Alan is an avid supporter of wildlife conservation and uses his photography to support a number of charitable organisations.
Itinerary & Availability
Your day will start at 9.30am, finishing at 4pm in the afternoon. You'll start with some introductions over tea & coffee, running through camera settings and meeting some of your subjects for the day. The first half of the day will be spent in the countryside at a number of locations. These include woodland areas, particularly photogenic trees, drystone walls covered in mosses and lichen, and a beautiful waterfall.
During the second half of the day, you'll photograph more birds back at the centre. There are a range of natural perches, tree stumps, and hollowed trees to enjoy. We'll also try to photograph barn owls in flight and in an abandoned old barn.
Please note: the welfare of the birds always comes first. If conditions are too wet, the waterfall will not be possible to visit as the birds would get too cold. Either way, you'll have a fantastic day photographing a number of beautiful birds, in a variety of great locations.
Available sessions are as follows:
March '17: 19th (Sold Out)
April '17: 23th (Sold Out)
May '17: 28th (Sold Out)
July '17: 30th (6 places left)
Please make sure to book one of the above sessions only.
Extra Information
Location:
You'll meet at the Bird of Prey Centre, just off the A1 a few miles south of Berwick upon Tweed in Northumberland.
Testimonials:
"Alan is always on hand if you require any help with your camera or settings. The attention to detail when placing the birds so you can't see the jesses was the icing on the cake! Over the moon with my final images." – Matt S.
"I have just spent another brilliant day with Alan Hewitt on his Bird of Prey workshop. Alan has a vast knowledge of his subjects and equipment, and is great at passing on that experience to everyone. He has infinite patience and I would recommend this workshop to anyone." – Bob B.
Recommended Equipment:
Minimum focal length of 200mm
Wide-angle lens and/or medium zoom
Tripod essential for waterfall shoot
Spare batteries and memory cards
Waterproof cover for camera and lens
Outdoor boots and/or wellies; warm waterproofs
Accommodation:
If you require accommodation, we recommend booking through Airbnb. There are a number of listings available in the area. Use this link for £30 credit towards your stay.
Accessibility:
Very little walking is required for this workshop. The exception is the path to the waterfall, which involves a short walk. The footpath is a steep accent so a modest level of agility / mobility is needed for this part of the workshop.
As a result, this workshop is not suitable for those in a wheelchair or with impaired mobility.
Other:
There will be up to 8 participants on this workshop. We need a minimum of 5 to run the session. In the unlikely event there are not enough bookings, you will be given a full refund.