Workshops
Otter Photography Workshop
with Richard Shucksmith
£300.00
Head to the Shetland Isles and join a professional photographer to find wild otters on the coast.
Want to give this workshop as a gift? Just put their details in the boxes below. If you'd prefer for them not to get a notification about the booking, make sure to enter your own email.
Need help?
Description
Shetland is the best place in the UK to photograph otters because it has one of the highest densities of otters in Europe. There are often multiple family groups living along a single stretch of coastline. These coastlines are also excellent for photography and can offer many opportunities to photograph this charismatic mammal.
If you've always wanted to photograph otters, but never quite managed to capture more than a fleeting glimpse, then this is the workshop for you. The journey out to Shetland is worth it for the images and experiences that you'll return with.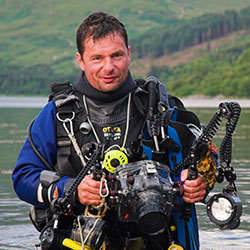 Your guide for the day is Richard Shucksmith.
Count yourself lucky if you catch him on solid ground; Richard is a trained marine biologist and loves to scuba dive with his camera equipment.
He's a very friendly bloke; you're in safe hands with Richard and will have a memorable trip to Shetland.
Itinerary & Availability
Workshops last between 6 and 8 hours, following low tide periods. You'll spend the time with Richard exploring the Shetland Isles' coasts to find the elusive otters. Richard is an expert when it comes to finding otters, so you're in safe hands. The day will largely be played by ear, following movements of otters in the area.
Upon booking your workshop, you will then be able to discuss with Richard the best dates for both your schedule and the otters' schedules. Workshops are available all year round.
Extra Information
Recommended Equipment:
Minimum of 300mm lens
Teleconverters (1.4x, 1.7x or 2x)
Warm clothing & waterproofs
Rubber boots (wellies)
Packed lunch and drinks
Access to the Shetland Isles:
You can access the Shetlands by plane or ferry. Flybe (www.flybe.com) runs flights to Shetland (Samburgh Airport) from all Scottish cities. You can then hire transport on the island or arrange for your guide to collect you (for an extra fee). There are also buses and taxis on the island.
You can bring your own car to the island if you are accessing Shetland by ferry. The provider is Northland Ferries (www.northlinkferries.co.uk) and will leave Aberdeen at either 5pm or 7pm in the evening. The ferry will arrive at 7.30am the following day in Lerwick, Shetland.